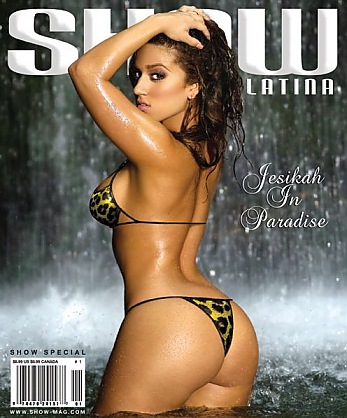 SHOWPIECE: PR - December 31st 2008 - Cover: Jesikah Maximus

124 Photos / 11 Galleries
/ now online.
JESIKAH IN PARADISE
STARRING: JESIKAH MAXIMUS, www.jesikahmaximus.com
EXECUTIVE PRODUCER AND STORY BY: SEAN CUMMINGS, www.showgirlzexclusive.com
PRODUCED AND PHOTOGRAPHED BY: NICK SAGLIMBENI, www.nicksaglembeni.com
CREATIVE DIRECTOR: EMILY SIY, www.emilysiy.com
DIGITAL IMAGING: JOYCE PARK, www.slickforce.com
HAIR AND MAKEUP BY: DAVID RODRIQUEZ
STYLING BY: MEGAN HALPIN, www.skinnyknickers.com
PHOTOGRAPHY ASSISTANT: ZACK FLEMING
LOCATION DIRECTOR: JAMIE HARPER, www.beautybyharper.com
SHOT ENTIRELY ON LOCATION IN: PUERTO RICO
The magnificence of the Caribbean has a way of revealing all things beautiful. The sand, the seas and the sunshine are a perfect showcase for natures gems. One such masterpiece is Jesikah Maximus. The picturesque scenery found through-out Puerto Rico was a perfect complement to the curveascious wonders of this Latina Queen. If you believe in love at first site, then you believe in Jesikah and you definitely believe in Puerto Rico. When you initially feast your eyes on both Jesikah and Puerto Rico, you tend to get that loving feeling in your heart.
Our Odyssey to take SHOWs hottest model out of the studio and into an environment worthy of her sublime good looks led straight to PR from the start. As you will see in this issue, from this tropical paradises majestic waterfalls and its abundant rain forests to its white sandy beaches and fairy tale sunsets, Puerto Rico provided the ideal scenery and locals for SHOWs first ever on location production. Jesikah Maximus, of course, adds everything else we needed to make it what you have come to expect from SHOW!
Photography Director Nick Saglimbeni who has shot every image in every issue of SHOW, save for the Premiere issue, produced and executed every aspect of this shoot from choosing the locations to managing all of the logistics for the trip as well. Creatively speaking, he and I normally collaborate on the vision for each issue. Mainly he executes the SHOW aesthetic that we have developed together. In this case I encouraged Nick to completely take the reins and mold this book with his golden touch. What you see here is his hard work and commitment that makes this issue one of the hottest SHOWs ever! No great task is accomplished alone as we have to thank our talented crew David, Megan and Joyce for adding their personal touches to this exemplary edition as well. We hope you enjoy it!
Hello Everyone. This is yours truly Jesikah Maximus, and I want to welcome you to paradise. It was exactly a year ago that I was introduced to you on the cover of the second issue of SHOW Black Lingerie. To this day, that issue remains one of our best sellers and because of that I am here in the sexy Caribbean to give you even more! You most recently saw me on the cover of the first ever issue of SHOW Latina. However, now I have the spotlight all to myself and I love it. What an honor to be the first ever SHOW Girl to have an entire issue dedicated to her and her alone. Of course, I am not the only beautiful creature in this issue. My co-star, the lovely island of Puerto Rico is here to dazzle you as well. Come along with us as we take you on a hedonistic journey filled with beauty, intimate fantasy and pure delight.
Stepping off the plane in San Juan the first thing you notice is the beautiful weather. The tropical breeze caresses your body while the heat from the sun warms your soul. The capital city of Puerto Rico is an urban oasis as modern and sophisticated as any city in the continental US and as gentile and welcoming as any vacation destination should be. The nightlife is vibrant and the food is delectable. I love Puerto Rico and Im so happy to be here to bring you this issue.
The second thing you notice is that Puerto Ricans are happy to have you here. True, its still a part of America, but the reality is its feels a world away. I feel very welcome here. They treat me like royalty. I can stay here forever. The third and most important thing I notice is the diversity of the islands natural beauty. I posed under a towering waterfall that cascaded down from ten stories above, trekked through a lush rain forest, rode a horse on the beach, and braved a torrential rain storm in the middle of the sea to bring you these incredible images. From coast to coast, Puerto Rico is a treasure trove of nature preserved and presented the way God intended.
My dreams are all coming true and it started all here in Puerto Rico. I am well on my way to being thought of along the lines of Carmen Electra and Pam Anderson. I owe it the fans who continually ask for more and to my wonderful team who keep me looking my best, so thank you! Thank you Nick and thank you Sean as well. A very special thank you goes to my manager St Gian of NeXlyfe Entertainment!
I have dreams of being the next great model who is also an entertainer and an actress, and I plan on pleasing for a long time. Being here in Puerto Rico has inspired me to always keep it hot and sexy the way you like it. The water here is so warm and soothing. I very much enjoy just letting it just run all over my body. It touches me everywhere and I love how it feels. This place, and especially the water, keeps you in a sexual state of mind. Its so romantic and the water is like an aphrodisiac. I really wish you could all be here with me in the water. Next time!
Sexy is posing in next to nothing in a suggestive position with that look in your eyes that drives the guys and the girls wild. I love being sexy for my fans and I know you love seeing me this way. Whats even hotter is that we were able to do this in one of the worlds beautiful locations. It makes pleasing you guys that much sweeter.
Here we go again in the water, and Im so hot! Can you tell how much I love being wet? Lol. Close your eyes and pretend you are here with me right now. Better yet, leave them open and look at me. What are you thinking? What more do you want to see? I tell you what, once you start breathing again visit my brand new website www.jesikahmaximus.com and tell me there. We will continue our escapades on line. Log on to see exclusive outtakes and video from my wet and wild adventures in beautiful Puerto Rico. Please also pick up my Puerto Rico DVD available on my site as well as www.show-mag.com. You can see some special moments from my shoot as well as exclusive hot and sizzling action. I will also be releasing a large format calendar to commemorate our time together in Paradise.
Photographing a beautiful woman in a sexy Caribbean hotel room is the type of shoot that makes this issue complete. SHOW ventured out of the studio for the first time and it was a huge success thanks mainly to the individuals that made these visuals possible. I want to thank Celebrity photographer Nick Saglimbeni for producing every aspect of our trip and executing it to perfection. I would also like to thank the entire Cummings Media family and Emily Siy our talented Creative Director. My warm appreciation goes out to our Puerto Rico crew Jamie, David, Megan and Zack. Most of all I would like to thank Jesikah for keeping it sexy as well as her management team. Finally, the people and the Island of Puerto Rico deserve all of our appretiation and thanks for making our stay so special and this issue so HOT!
Photos:
11
Galleries Online
Photos:
124
Photos Online
Photos:
86.8
MB of Photos Online
Issue: SHOWPIECE: PR
Release Date
: December 31st 2008
Cover Girl
: JESIKAH MAXIMUS