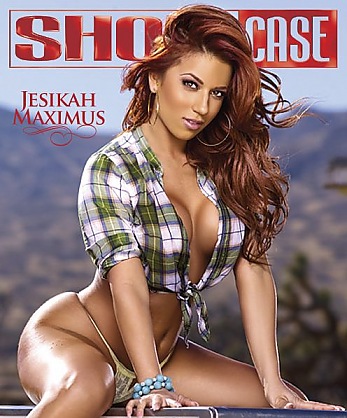 SHOWCASE 2 - September 2009 - Cover: Jesikah/Jessica

110 Photos / 11 Galleries
/ now online.
SHOWCase #2 is very special to me because it features Jesikah Maximus and Jessica Burciaga, two of our highest selling models, by far. These two lovely Latina cuties both hail from Orange County, California and, as you may or may not know, are both named Jessica, although the former changed the spelling of her name. Jesikah Maximus was SHOWs first breakout star and remains #1 in terms of magazine sales. Her three covers are in the top 5 all time. She was the first SHOW Girl to have her own issue, Jesikah in Paradise. Her Cummings Media produced website, www.jesikahmaximus.com, has done very well from its launch. Jessica Burciagas first cover for SHOW Latina #2 became and instant classic and sold out quicker than any other SHOW issue, ever. She is undoubtedly our biggest crossover success. Jessica graced three covers of SHOW faster than anyone else and she has at least three more coming. She will be joining our family of websites next year as well.
Of course there would be no SHOWCase #2 without the runaway success of the premier issue, which featured Vanessa Veasley and Sweetie Cyanide. The response from our first multiple model foray outside of the studio was overwhelming to say the least. We must once again thank those two SHOW Celebs for leading the way and doing it better than it has ever been done. The fan response was so incredible that we hope to do many more SHOWCase issues featuring similar dynamic duos. The idea of shooting two equally hot models who both compliment and contrast each other and combining them into what amounts to two individual issues joined as one, is a SHOW original and only something that the creative minds at Cummings Media and SlickforceStudio could produce and execute to the incredible extent that we have.
The majestic Mojave Desert was once again the setting for this spectacular display of imagery, albeit with more props and backdrops. And once again, Nick Saglimbeni and crew delivered a masterpiece and classic illustration of their supreme artistry. Fashion stylist Diana Chan, makeup artist Gaby Ramos and hair stylist Tony Jones turned in an unparalleled repeat performance. It is important to understand that none of this is possible without them, or the digital imaging of SlickforceStudio and the graphic design of Von Jackson. Please join me in thanking all of these incredible artists, as well as Jesikah and Jessica. Let us know if you love this issue, as we all cant wait to do it again!
Let the SHOW begin!
Photos:
11
Galleries Online
Photos:
110
Photos Online
Photos:
77
MB of Photos Online
Issue: SHOWCASE 2
Release Date
: September 2009
Cover Girl
: JESIKAH/JESSICA