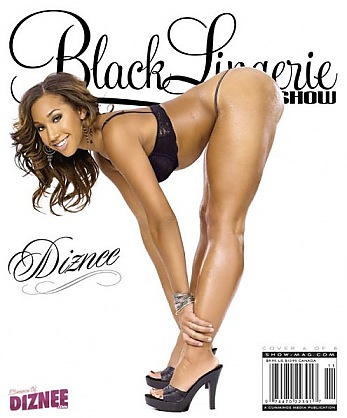 BLACK LINGERIE #11 - May 7th, 2010 - Cover: Diznee

383 Photos / 23 Galleries
/ now online.
This is the third edition of Black Lingerie since it was officially spun off from its sister title SHOW. Black Lingerie 11, as this issue is known, is filled from cover to cover with perhaps our finest collection of models and images that the new Black Lingerie has ever seen.BL9 featuring the lovely Coco was incredibly hot and the best way to spin off the title, for sure. Super Model Laura Doré graced all four covers of BL10 as we celebrated this monumental issue, and owned the issue like only she can. However, from top to bottom,side to side and back to front, this book is in a class off its own!
The list of names reads like a whos who of todays top models. Diznee, Vanessa Veasley, Brittany Dailey, Summer Walker and Alexis Walker to name a few, are all coveted SHOW Girlz, who on their own, command the attention of the entire marketplace. Im most excited about the return of the original "SHOW Stopper" from the premier issue of SHOW, the sweet and voluptuous Khrystie Hill. Add in sensational new comers Draya and Marisa Elise and you get the idea. We normally do two to four covers for Black Lingerie, but the abundance of talent compiled in this issue warranted no less than eight. Make sure you collect them all.
From the very beginning, Black Lingerie was designed as a strip tease where the SHOW Girlz would start off with a sexy black dress and slowly peel off a piece of her lingerie, bra, panty, stockings, etc, until all was left were her heels and a thong – sometimes less, even. This title is celebration of what is fundamentally sexy about women and the simplicity of her Black Lingerie as it is removed to reveal her beautiful body in all its splendor. No issue of Black Lingerie does this better than the one you are lucky enough to have in your hands right now. Cherish it as you would something you love, and it will surely continue to bring you joy for as long as you do.
Enjoy the SHOW!
Sean Cummings
CEO
Photos:
23
Galleries Online
Photos:
383
Photos Online
Photos:
268.1
MB of Photos Online
Issue: BLACK LINGERIE #11
Release Date
: May 7th, 2010
Cover Girl
: DIZNEE