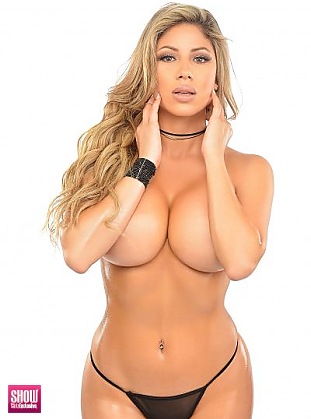 SGE Content for
Ericka Kristen in
BLACK LINGERIE #31
Photos:
1
Galleries and growing
Photos:
7
Photos and growing
Photos:
4.9
MB of Photos
Videos:
4
Videos
Videos:
16
mins of footage
Videos:
168
MB of video
View
BLACK LINGERIE #31
issue information and galleries >>
Ericka Kristen
PHOTOS BY:
Sean Cummings, @SHOWMagazine_
GRAPHIC DESIGN: @cmkdesigns
HAIR STYLIST: Christian, @christianthemua
MAKEUP ARTIST: Christian, @christianthemua
BOOKING INFO:
: erickakristen@live.com
Visit: www.SHOWGirlzExclusive.com for exclusive images and video from this issue.
Hey its Ericka Kristen from Texas! This year has been so much fun! Ive worked with some incredible photographers in LA and got a chance to step into the East coast! Currently, I am on the cover of BABES 2017 Calendar nationwide, which can be found in a Barnes and Nobles and other various retailers. I have a lot more coming for December; including gracing Maxim magazines in four different countries for the first time! My journey continues to take me everywhere Ive ever wanted and I cant wait to see where it takes me next! Who knew that starring in local commercials or being a ring girl in Las Vegas would ever light my path to where I am today.
I cant say it started there; at 4 years old my mom placed me in a pageant in Ohio, where I was raised the first half of my life. During that experience, I had an epiphany as to what beauty was from the outside. The lights, the glamour and the stage moved me. Soon after, I began to participate in ballet, tap and jazz. I will always be thankful of my performance background; little did I know I was starting my modeling resume. Just before college, I moved to the lone star state to better my education. Thats where I thought it was all going to come to a halt but it only opened up more doors!
I was scouted to do local commercials that were soon purchased by Santikos theaters. I went onto doing promotional modeling, opening up for large Texas festivals for Tiesto and working in Las Vegas for the first time at age 18. From there my social media ranked high and I was the number one Google search "iPhone girl" for 5 years plus. I never moved to LA but every trip I made built more of a foundation for me. Representing Texas is what Ive always wanted. I am very proud of the 5 back-to-back International MMA magazines that have come out, all standing for Texas. Im the face of a Texas salon called Threadz with locations here and in California, who said I couldnt have both? My resume has forever expanded! Its been an honor to be featured on dozens of magazines internationally and be noticed on Playboy and Sports Illustrated.
Life to me is more than this though. I look back and see my accomplishments, I see family and friends and all the ups and downs that made me stronger. I am a huge animal advocate as well. I can now use my modeling and publicity as a voice for the voiceless. Im currently in the works of creating a lasting way to do my part; because since the start Ive always seen that as the ultimate destination on this journey!
BOOKING: erickakristen@live.com
INSTAGRAM: @erickakristen
TWITTER: @erickakristen
FACEBOOK: Ericka Kristen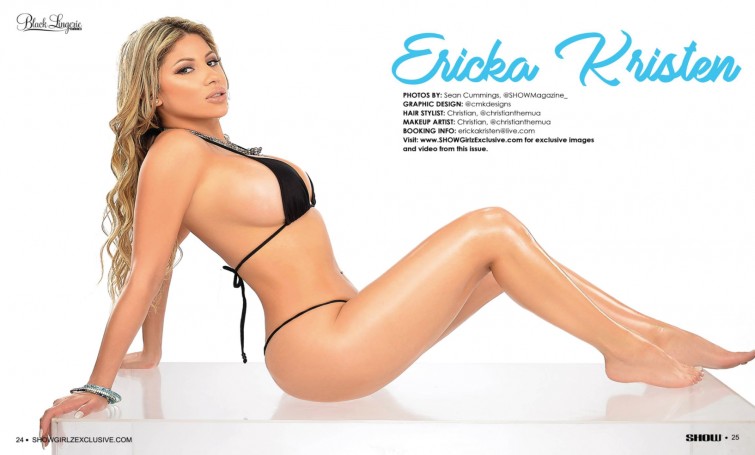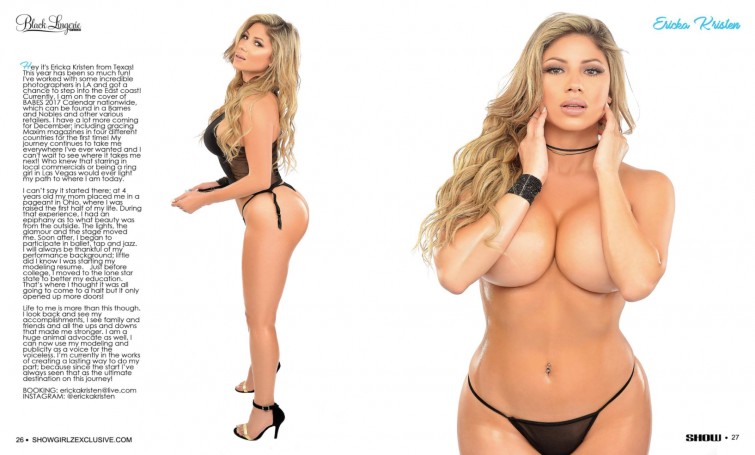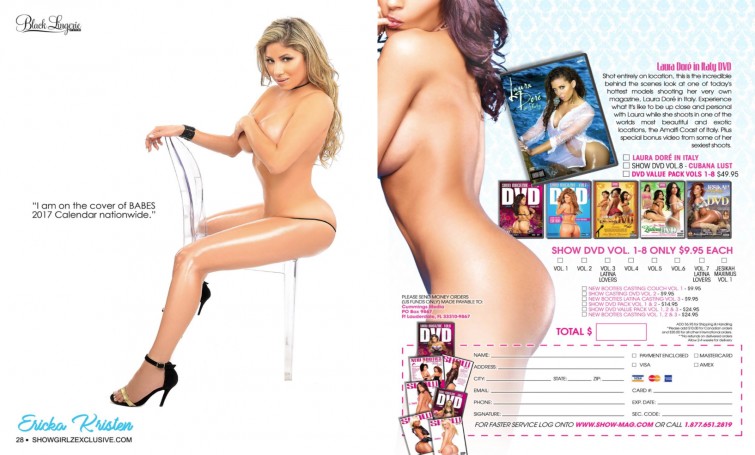 1
Total Galleries with
7
total photos of
Ericka Kristen
from
BLACK LINGERIE #31
and other Issues