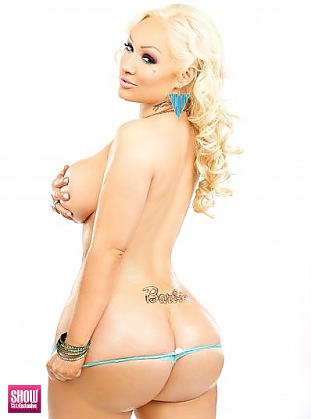 SGE Content for
Sexi Barbie in
SHOW #30
Photos:
0
Galleries and growing
Photos:
7
Photos and growing
Photos:
4.9
MB of Photos
Videos:
2
Videos
Videos:
8
mins of footage
Videos:
84
MB of video
View
SHOW #30
issue information and galleries >>
AGE:
N/A |
FROM:
Toronto, Canada |
FEATURED IN:
SHOW #30
Sexi Barbie
PHOTOS BY:
Sean Cummings, @SHOWMagazine__
GRAPHIC DESIGN: @cmkdesigns
HAIR STYLIST: Christian, @christianthemua
MAKEUP ARTIST: Christian, @christianthemua
BOOKING INFO:
: TanyaBarbieLieder@gmail.com
Visit: www.SHOWGirlzExclusive.com for exclusive images and video from this issue.
This is Tanya Lieder aka Sexi Barbie. She is a Canadian model living in Toronto. This is her first magazine appearance and she is super excited about it. Things you should know about Tanya is that she loves to travel and enjoy the company of her close friends as well as meeting new people. She is also a very intelligent and independent woman. She owns her own business, RockStar Nails. With one open now she is looking to franchise and open a few more in the near future. Shes always thinking about the future and how she can grow her empire. Lets get to know her better...
So Tanya, tell us something about yourself that most people would never know from looking at you?
I think a lot of people pass negative judgment about me based off the way I look. My image is only one side of me. I say one side of me I show to the world is Barbie and the real me is Tanya. Anybody who knows me knows that I have a big heart when it comes to the people I care about most. I always try to help the people around me to think about business and the future. So many people are just focused on tomorrow and not thinking down the road. And I think thats important.
So lets hear about your personal life. Have you dated anybody famous?
Im attracted to smart, successful, attractive men like Im sure most women are. I have dated men that are most womens fantasies. Im not going to say any names but Ive dated your favorite rappers and ballers. Lets just say if I were to ever to write a book, it would be real juicy.
Can you talk about your sex life? What are you into?
I have a very exciting sex life I must say. I am a freak in every sense of the word. I will try almost anything once. I am definitely freakier than all of my girlfriends. Only select people know what it really is. Ill just leave the rest to your imagination.
Interesting, so Ive watched your WSHH video and it was pretty sexy. What do you have to say about that?
Well I would always make Instagram videos with my girlfriends so when I was asked to do a WSHH video I thought it would be fun and it was. Staci Doll and me came up with the whole concept and tried to make it as entertaining as possible. I was really happy with the result. I think it was sexy, I even got turned on watching it.
So what else do you have planned coming up?
Im really excited to say Im working with MTV Canada on a TV show about the lifestyle of exotic dancers. I am a main person on the show and it is reality. It has a lot to do with the transition of being a dancer to having a career where dancing is left behind as well as the positives and the negatives of that life. We have shot a couple episodes and I have had the most fun doing that. It has been my favorite job so far. Theres so much drama and different personalities. I can wait for that to come out. Im just happy with keeping busy right now and I have so much more for people to see. So stay tuned.
WEBSITE: TanyaLieder.com
BOOKING: TanyaBarbieLieder@gmail.com
INSTAGRAM: @TanyaBarbieLieder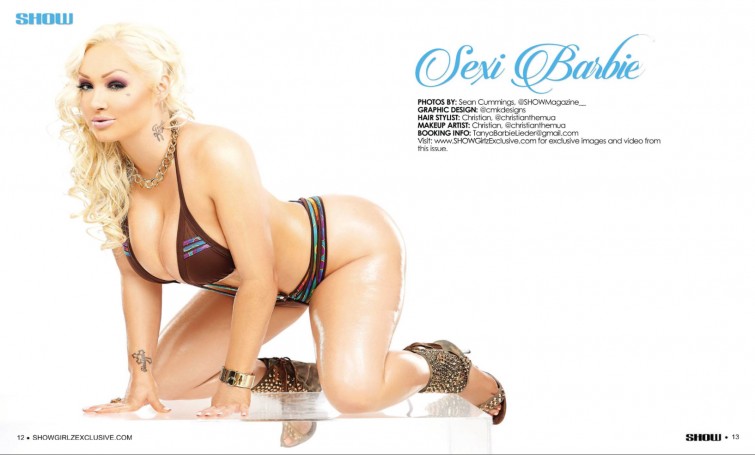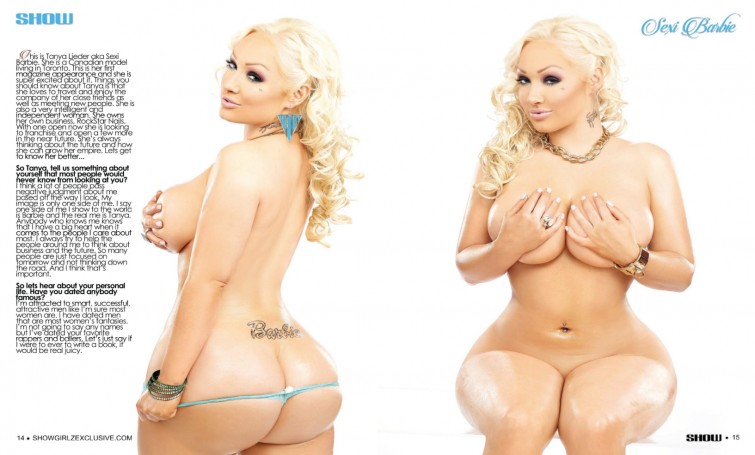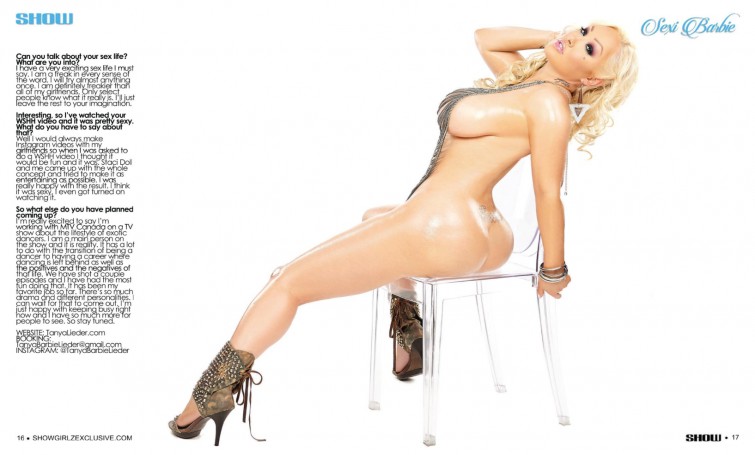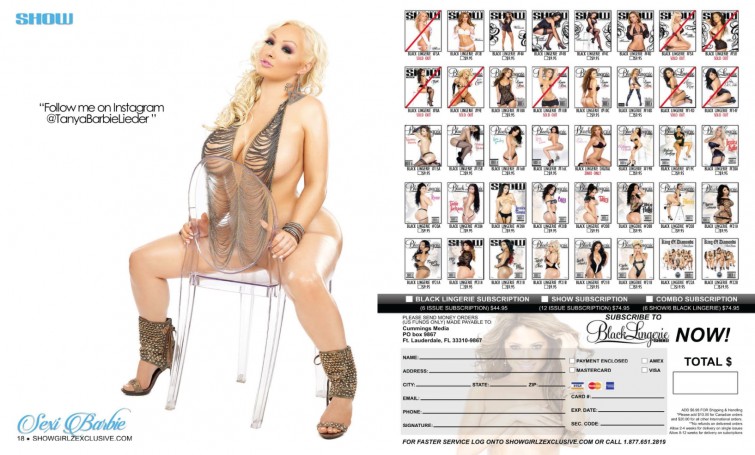 2
Total Galleries with
13
total photos of
Sexi Barbie
from
SHOW #30
and other Issues