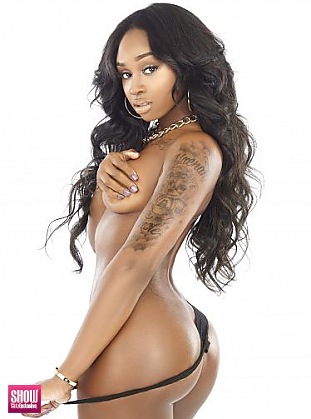 SGE Content for
Ronique Nashe in
BLACK LINGERIE #24
Photos:
1
Galleries and growing
Photos:
7
Photos and growing
Photos:
4.9
MB of Photos
Videos:
1
Videos
Videos:
4
mins of footage
Videos:
42
MB of video
View
BLACK LINGERIE #24
issue information and galleries >>
Ronique Nashe
PHOTOS BY:
Sean Cummings, @SHOWMagazine_
GRAPHIC DESIGN: @cmkdesigns
HAIR STYLIST: Chevelle Brown, @newagehairsalon
MAKEUP ARTIST: Krystal Knowles, @BrownCoutureMakeup
BOOKING INFO:
: Roniquenashe@gmail.com
Visit: www.SHOWGirlzExclusive.com for exclusive images and video from this issue.
Hello ladies & gents my name is Ronique Nashe, Im a Virgo, and I currently reside in Houston, Tx.
What do you consider fun?
Im pretty chill. I go out sometimes just to show my face and socialize, but Im a homebody. I like to go to the movies or out to a restaurant.
What type of guys do you prefer?
I like an intimate guy and he has to be very dominant. He also has to have a bomb ass personality and treat me like a princess;)!
Whats the sexiest thing youve done?
Hmm Ill have to say dressing up as a schoolteacher. Lol and the rest is history. Just know I had him behaving! Lol
Do you like girls?
(Laughing) Not in that kind of way. But I love beautiful women, give props when props are due.
How far do you want modeling to take you?
Well this is just a stepping-stone for bigger and better things. I want the whole world to know my name and know my face.
How do you feel about all the attention you get?
Well Im very humble so it doesnt mean that much to me but Im grateful for, it always puts a smile on my face to hear, "danggg youre so beautiful" or when their tapping their friends to look at me lol. But what matters the most is who you are on the inside as well.
What do you see in your near future?
Growth, success, and money babyyyy...
INSTAGRAM: @roniquenashe
BOOKING: Roniquenashe@gmail.com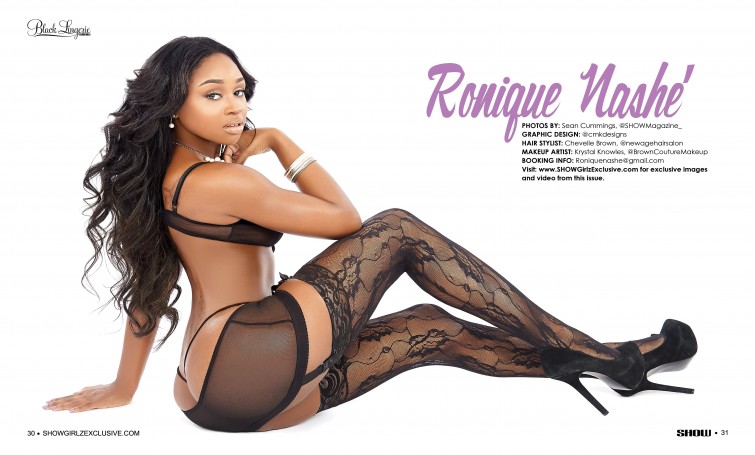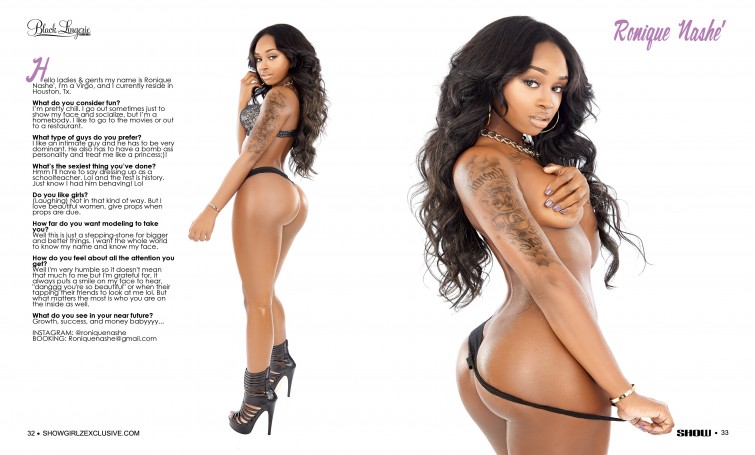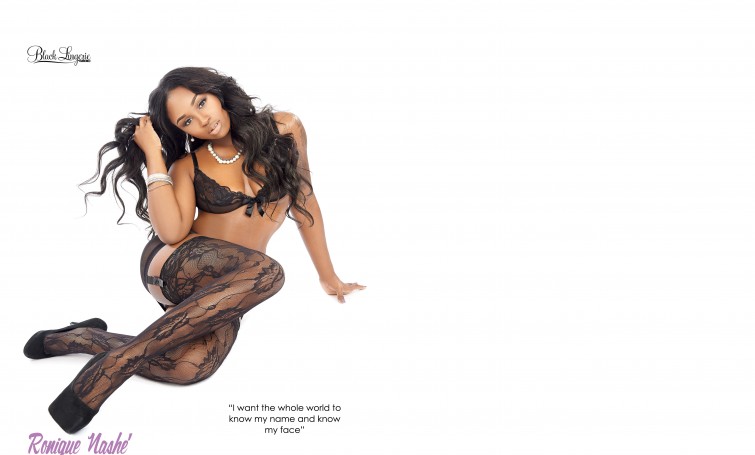 1
Total Galleries with
7
total photos of
Ronique Nashe
from
BLACK LINGERIE #24
and other Issues