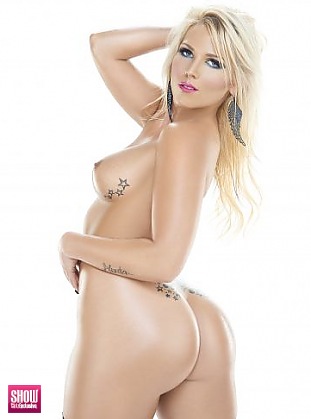 SGE Content for
Ms Bailey in
ART OF SEXY # 5
Photos:
0
Galleries and growing
Photos:
11
Photos and growing
Photos:
7.7
MB of Photos
Videos:
2
Videos
Videos:
8
mins of footage
Videos:
84
MB of video
View
ART OF SEXY # 5
issue information and galleries >>
MS BAILEY
PHOTOS BY:
Sean Cummings, @SHOWMagazine_
GRAPHIC DESIGN: @cmkdesigns
HAIR STYLIST: Al Ingram, @AlSexyHair
MAKEUP ARTIST: Angela January, @Angela_January
BOOKING INFO:
: @MsBaileyE
Visit: www.SHOWGirlzExclusive.com for exclusive images and video from this issue.
First Id like to say this is my third feature in SHOW Magazine and the best part is Im on the cover! I am so thankful and excited to have this appearance because this is The Art of Sexy FULL NUDE issue. I have always loved posing nude over any type of modeling. I believe nudity is sexy and beautiful and there is nothing better than feeling comfortable in your own skin. The first time I ever posed naked was for Playboy in 2009 and I am very happy that my naked curves have found a home amongst SHOW Magazine yet again! Be sure to check me out in SHOW 26 and Black Lingerie 21.
Ive answered many questions about myself recently in my last interviews. This time I want to take it back to the beginning. This may not be what you typically hear…but hey its me :) I was born and raised in a tiny town called Columbus, WI. In the 2012 Census Columbus had an estimated 5,108 people. I grew up dealing with a lot of hate in my life, being the pretty girl in class, - I was bullied a lot. No need to get into it… so I switched high schools as a junior to bigger "city" called Sun Prairie, WI – 30, 430 people in 2012. There I met some of the best friends a girl could ask for. Everything went well for me there, I was partying, meeting new people… having the time of my life; until I landed myself in some trouble a couple years down the road. Nothing crazy, no felonies or anything. Anyway, I was on an ankle monitor at 19 years old. When I got off, I moved out of my moms house and started living on my own. I had a job since I was 13 – and by this time in my life I had two managerial positions at our local malls. Oh yea, this is in Madison, WI now…population 240,323 people in 2012. By 19, maybe six months after I moved out I quit the retail business and went into what a lot of ladies do these days…adult entertainment. I hustled my way through College; fully paid off with a Business Degree and Personal Training Certificate. At 20 – I posed for Playboy in Chicago. I always wanted to be a nude model and it was obvious throughout my life that I was a very desirable and unique person as far as my looks. I had some amazing things happen almost immediately. Within a year and a half I was at the Playboy Mansion three times. I started building my portfolio during this time trying to figure out the art of modeling – I had a lot of small online features amongst blog sites and was working on building my social media pages. My favorite was being in the Top 10 Heavenly Angels for Maxim.com. It was for the sexiest ski and snowboard models. It seemed for me everything was going very well considering I was working and going through college. By the age of 24 – I was graduated, and ready to move out of Wisconsin. I moved to Chicago, IL – population 2.7 million in 2012. And here I was at my first significant photo shoot to try and be published by Sean Cummings from SHOW Magazine last August. And here I am everyone :) just one year later.
So what do I have to say about all this? Well…its been an amazing journey. I want to thank everyone who has supported me and has been a part of this crazy rollercoaster ride called life. Im just a small town girl trying to make it. I hope this story gives some inspiration to follow your dreams no matter what they may be. I look forward to what the future has for me, and sharing it all with you!! Lots of love!! XOXO
- MsBailey ;)
Stats:
54
140 lbs
Blonde
Hazel eyes
34C-26-40
Where do you see yourself going next?
I would like to branch out into more hosting events, videos, and possibly acting.
Do you plan on doing more nude modeling?
Yes definitely! Once MsBaileyLive is launched it will give fans the opportunity to view photos, videos and web cam shows.
Tell something about yourself that most people dont know?
One day I would like to be married and have kids – thats so Midwest of me! :)
Favorite Quote(s)?
"Hustle until you no longer have to introduce yourself" –Anonymous
"Imperfection is beauty, madness is genius and its better to be absolutely ridiculous than absolutely boring." –Marilyn Monroe
WEBSITE: Coming Soon! - MsBaileyLive.com
INSTAGRAM: @MsBaileyE
TWITTER: MsBaileyE
FACEBOOK: MsBaileyE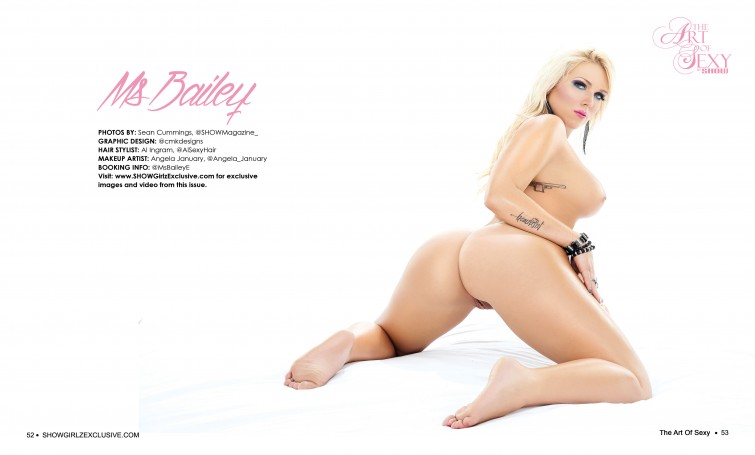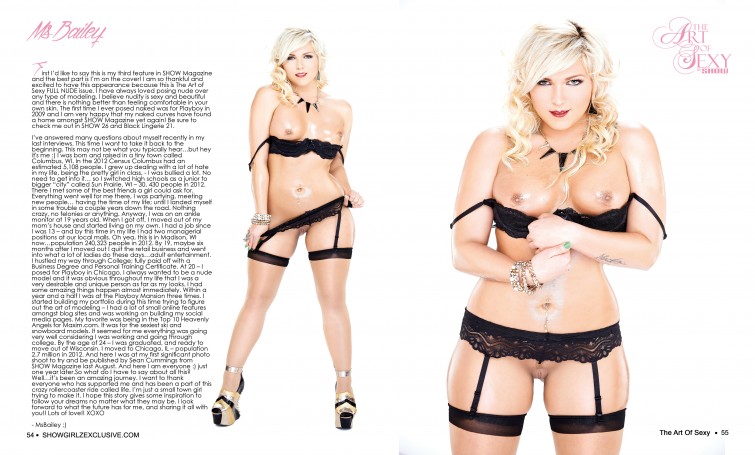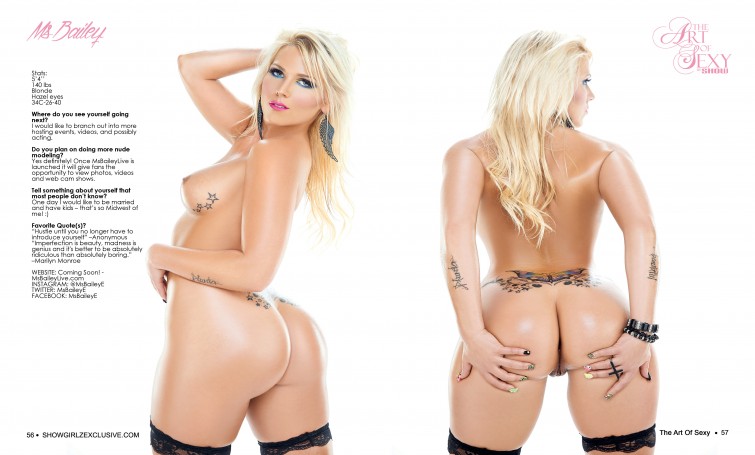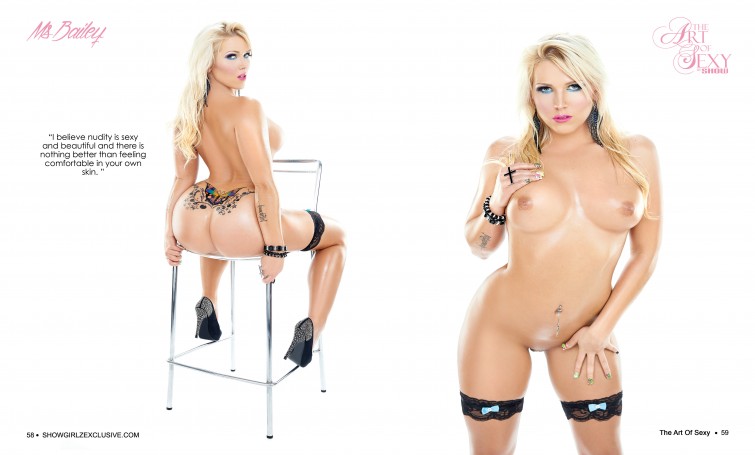 2
Total Galleries with
20
total photos of
Ms Bailey
from
ART OF SEXY # 5
and other Issues