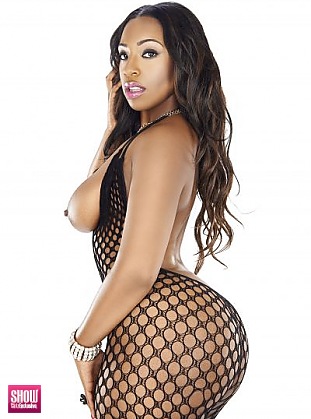 SGE Content for
Layla Monroe in
ART OF SEXY # 5
Photos:
0
Galleries and growing
Photos:
7
Photos and growing
Photos:
4.9
MB of Photos
Videos:
2
Videos
Videos:
8
mins of footage
Videos:
84
MB of video
View
ART OF SEXY # 5
issue information and galleries >>
LAYLA MONROE
PHOTOS BY:
Sean Cummings, @SHOWMagazine_
GRAPHIC DESIGN: @cmkdesigns
HAIR STYLIST: Al Ingram, @AlSexyHair
MAKEUP ARTIST: Angela January, @Angela_January
BOOKING INFO:
: @Laylamonroexrated
Visit: www.SHOWGirlzExclusive.com for exclusive images and video from this issue.
Whats your nationality?
Im African American, Native American, Hispanic, West Indian, and Arabic. Lets hash tag it out. #teamamericandream, #teampocahontas #teamlatina, #teamforeign, #teamblackisbeautiful, #arabmoney, #teamexoticbeauty. And I love every part of me.
Do you watch porn?
I don watch porn except for my custom videos I do at home. I think Ive made some personal videos and watched them like who the hell is that. LOL
Name one thing your fans would be surprised to know about you?
Im really shy, lol my alter ego is not of course but in real life Im extra dainty and shy.
What are you most known for?
LOL my fans know me for having ass for days and doing great scenes with some of the best in business. My family and friends know me for being non-judgmental and listening. You can talk to me about anything, nothing shocks me. I stay sipping tea!!!!!!
Are you single?
UNFORTUNATELY YES! Lol
Whats one thing you look for in a man?
Heyyyyyyy Man or Women! Loyalty is always the best attribute in a person for me. I could give two fucks less about race, religion, age, if your fat and bald as long as your goal is to protect me and keep me safe we can work any other problems out. OHHHHHHH I do need you to have more money than me. Im still a princess.
What do you hate about the industry?
I hate being compared to other stars and starlets. This industry is huge and its always changing. There have been so many women to pioneer this game and I salute them all. Think about it…Ten years ago it was almost unheard of for a vixen like myself to own her own production company. Im grateful to be in the position to make my own decisions about my career. But Im just a little girl in a BIG world trying to build my own empire and make sure my team makes it to the top. The top of what you may ask. The top of what ever, who knows? Im just plan old LAYLA
Would you like to say anything to your fans?
Over so soon I had a lot more to talk about. LOL. Thanks for supporting me. I started in this business a year ago and its been pretty interesting so to say. There has been many predators lurking try to prey on me but my fan have given me the motivation and surprisingly enough answered a lot of questions I really needed answered. I love you guys for that. I also thank my haters because they are just undercover supporters. If you follow me on twitter to talk shit, guess what you still follow me. If youre on instagram talking fuck guess what your still taking the time out of your regular scheduled programming to tune in to LAYLA and I love you for that. "If you really want to be unbothered you should try making people invisible in your mind, because even hate can be used as motivation to a enemy"
WEBSITE: LAYLAMONROEXXX.COM
INSTAGRAM: @Laylamonroexrated
BOOKING: thebillionheiressclubinc@gmail.com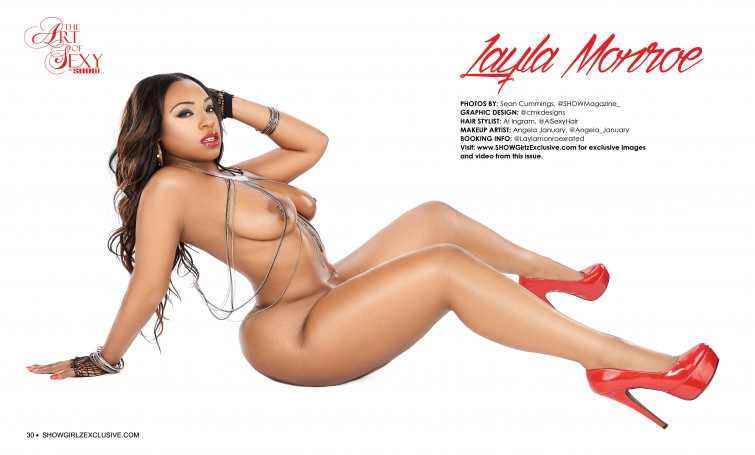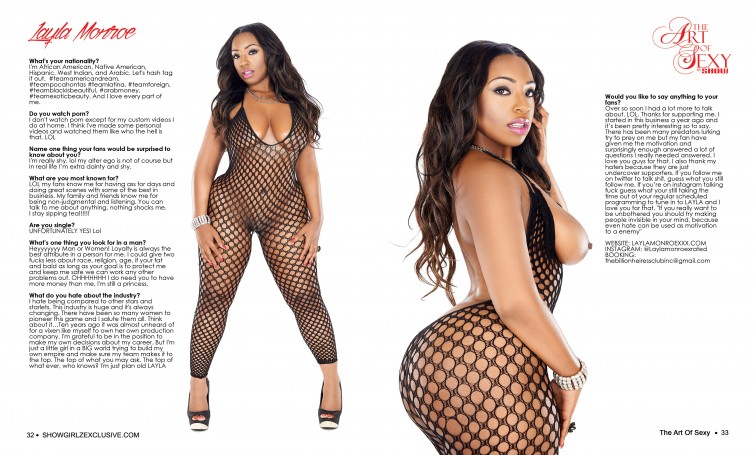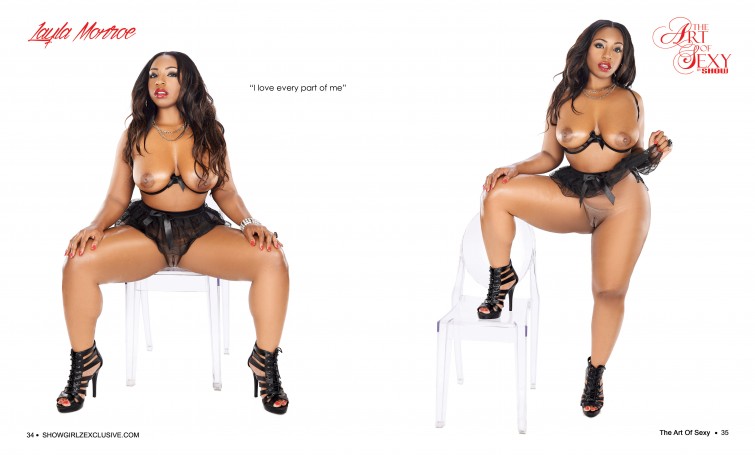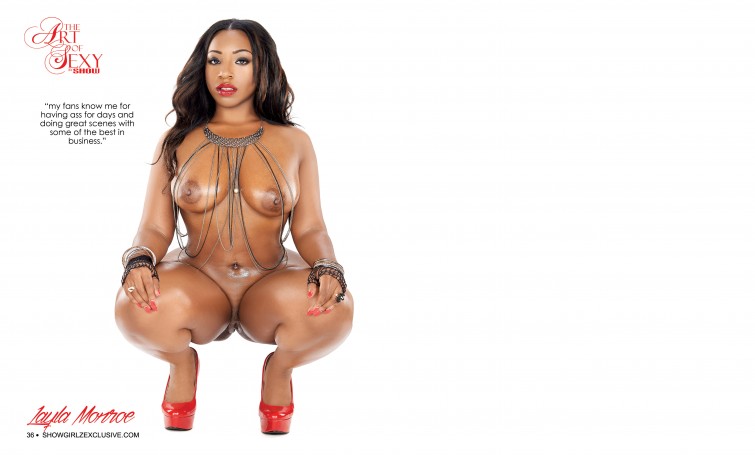 1
Total Galleries with
7
total photos of
Layla Monroe
from
ART OF SEXY # 5
and other Issues