SGE Content for
Dominique DVita in
ART OF SEXY # 5
Photos:
0
Galleries and growing
Photos:
7
Photos and growing
Photos:
4.9
MB of Photos
Videos:
1
Videos
Videos:
4
mins of footage
Videos:
42
MB of video
View
ART OF SEXY # 5
issue information and galleries >>
DOMINIQUE DVITA
PHOTOS BY:
Sean Cummings, @SHOWMagazine_
GRAPHIC DESIGN: Chris Kelly, @goonrillabullyboy
HAIR STYLIST: Al Ingram, @AlSexyHair
MAKEUP ARTIST: Angela January, @Angela_January
BOOKING INFO:
: @DomeDVita
Visit: www.SHOWGirlzExclusive.com for exclusive images and video from this issue.
Sean, thank you for this opportunity. I truly appreciate you.
"Booty & Brains"
My name is Dominique DVita and I am a Nurse, Model, Dominatrix and Burlesque Performer. As a nurse, I have specialized training (RNFA) that allows me to take the role of an assisting surgeon in the operating room. Not only do I break hearts, I mend them as well.
How and why did you get started modeling?
While living in Texas, I did a Pin Up shoot for fun and a monster was born. Modeling is a creative outlet for me and allows me to express myself artistically.
Where are you originally from and where are you based now?
I was born in Austin, Texas and now live in Los Angeles, CA.
Is it true that you are also a dominatrix?
Yes, I am also a Pro Domme aka Dominatrix.
How did you become interested in becoming a dominatrix?
I realized the parallel between the role of a Nurse and Dominatrix. As a nurse, I have done f*cked up things to people to make them feel better. Both professions require understanding anatomy and psychology to ensure safety.
Do dominatrices give "happy endings?"
No, that is a common misconception. The practice of BDSM and sensual sadism isn prostitution. Dominatrices provide abuse and a typical session includes spanking, whipping, physical abuse and bondage (see "Therapeutics" on my website).
Are you dominant in your personal life?
I keep the Dungeon life separate from the bedroom. I have zero interest in inflicting pain on my partner. I am a sensual lover and have recently been exploring Tantric Sex.
Are you single?
Yes, I am a Free Agent.
What is your ethnicity?
Im a mutt! A mix of Native American Indian, German & Irish.
What are your measurements?
36-26-42
What is your sign?
I was born on Halloween and am a Scorpio.
Besides modeling, what else do you like to do for fun?
Spend time with family and friends. I love to travel, dance and roller skate. Im also a humanitarian, I have done volunteer work as a nurse in Mexico, Haiti and Vietnam. I plan to make more time for mission work. I have been blessed with a wonderful life and helping others brings me great joy.
I am thrilled to be featured in SHOW Magazine. I bought the first issue in Houston, Texas and have been a fan ever since. I want to thank Sean Cummings for this amazing opportunity. I also want to thank his Glam Squad for being so talented AND fun!
MODELING WEBSITE: DominiqueDVita.com
PRO DOMME SITE: NurseDVIta.com
INSTAGRAM: @DommeDVita
TWITTER: DVITA
TUMBLR: DominiqueDVita.tumblr.com
BOOKING: BookDVita@gmail.com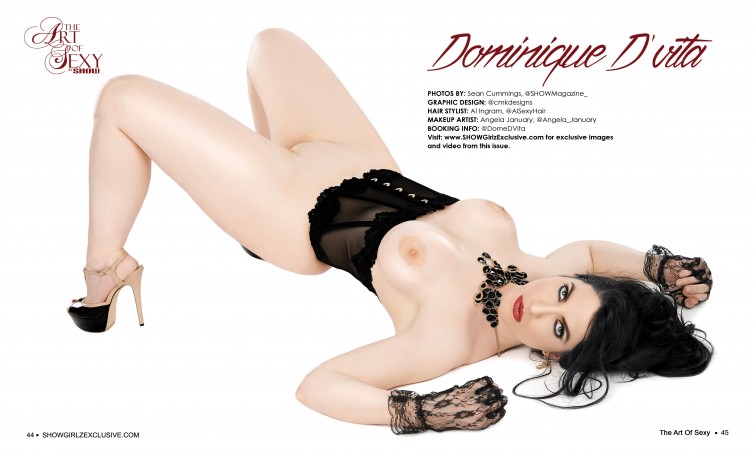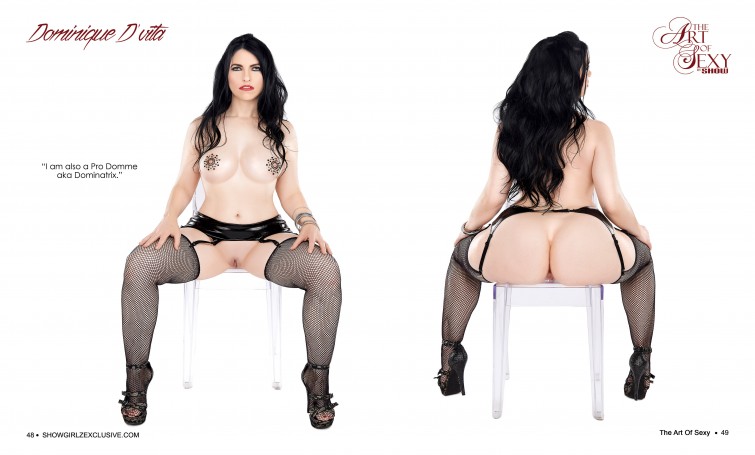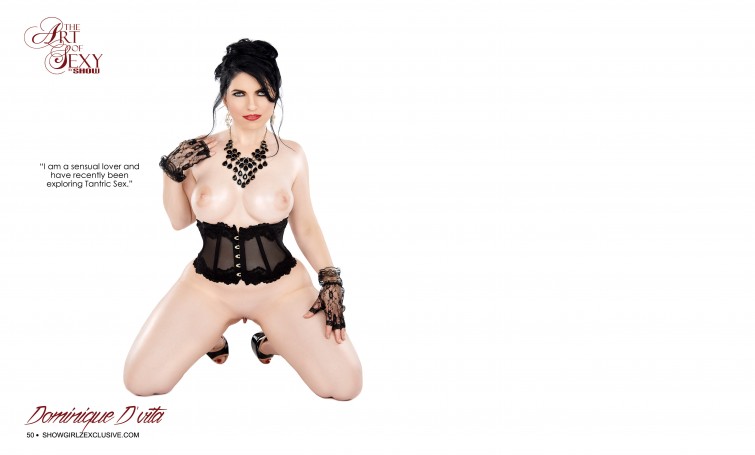 1
Total Galleries with
7
total photos of
Dominique DVita
from
ART OF SEXY # 5
and other Issues