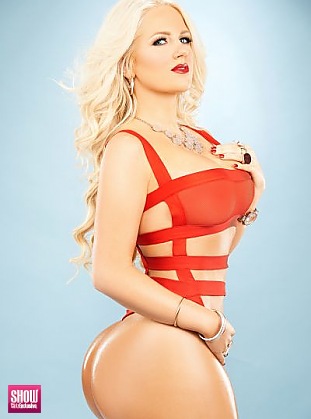 SGE Content for
Allie Verseau in
SHOW #28
Photos:
1
Galleries and growing
Photos:
10
Photos and growing
Photos:
7
MB of Photos
Videos:
1
Videos
Videos:
4
mins of footage
Videos:
42
MB of video
View
SHOW #28
issue information and galleries >>
AGE:
N/A |
FROM:
Dallas, TX |
FEATURED IN:
SHOW #28
ALLIE VERSEAU
PHOTOS BY:
Sean Cummings, @SHOWMagazine_
GRAPHIC DESIGN: @cmkdesigns
HAIR STYLIST: Al Ingram, @AlSexyHair
MAKEUP ARTIST: Angela January, @Angela_January
BOOKING INFO:
: @allieverseau
Visit: www.SHOWGirlzExclusive.com for exclusive images and video from this issue.
My name is Allie Verseau! (Pronounced ver.so) I am from Dallas, TX!
WHAT MADE YOU WANT TO BE A PROFESSIONAL MODEL?
I love all things to do with beauty and glamour; including hair, makeup, and fashion! A photo shoot is taking all of my favorite things and putting them together!
WHAT KIND OF MEN ARE YOU ATTRACTED TO?
I do not really have a physical type. No, honestly I dont. What REALLY gets me going is a man that works hard and strives to be successful. Intelligence and the drive for success trumps looks any day of the week, for me.
DO YOU LIKE WOMEN?
I love women! Honestly, who doesn ? They are beautiful! The female body is so much more visually pleasing than a mans; it just is!
WHAT DO YOU DO TO TAKE CARE OF YOUR BODY TO BE CAMERA READY?
Well, what a lot of people don understand is the hard work and dedication that it takes to look presentable at all times. That in itself is a full time job! It is non-stop between hair, skin, nails, tanning, working out, eating healthy, etc. I have definitely grown to appreciate the super attractive people since I have been modeling because I have a better understanding of all that goes into it!
WHAT IS YOUR GOAL IN LIFE?
I have very high standards and expectations for my life and myself. I want to be financially free. That to me doesn mean "comfortable". What it means to me is having so much money that I can do whatever I want, whenever I want. You only live once and the only way to live completely free is to be completely financially free.
WEBSITE: www.AllieVerseau.com
INSTAGRAM: @allieverseau
TWITTER: @allieverseau
BOOKING: booking@lakristic.com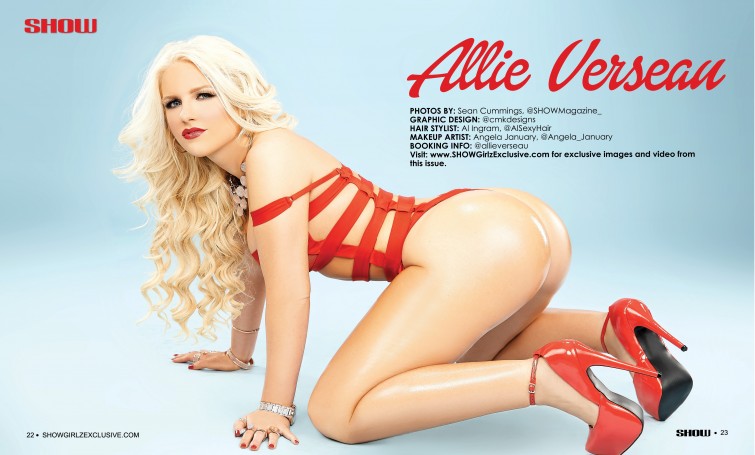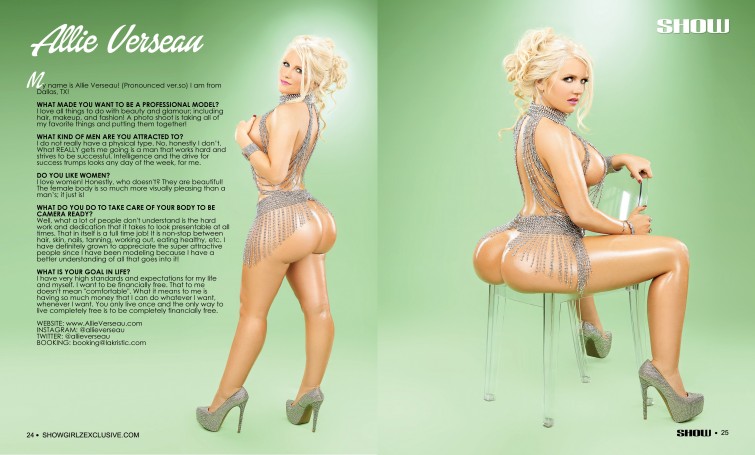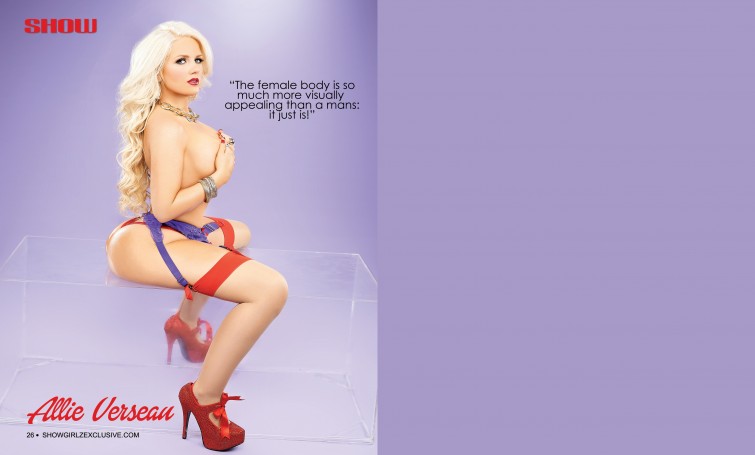 2
Total Galleries with
20
total photos of
Allie Verseau
from
SHOW #28
and other Issues