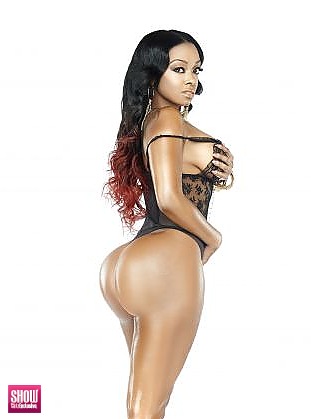 SGE Content for
Paris Milan in
BLACK LINGERIE #21
Photos:
1
Galleries and growing
Photos:
5
Photos and growing
Photos:
3.5
MB of Photos
Videos:
0
Videos
Videos:
0
mins of footage
Videos:
0
MB of video
View
BLACK LINGERIE #21
issue information and galleries >>
PARIS MILAN
PHOTOS BY:
Sean Cummings, @SHOW_Magazine
GRAPHIC DESIGN: Chris Kelly, @goonrillabullyboy
MAKEUP ARTIST: Tanya Miller, @thebeautibot
HAIR STYLIST: Ketta Kelley, @kettakelleyhair
BOOKING INFO:
: @MZPARISMILAN
Visit: www.SHOWGirlzExclusive.com for exclusive images and video from this issue.
Whats it like to be a featured cover girl in SHOW MAGAZINE?
Ive always been a huge fan of SHOW MAGAZINE and to be featured and a cover model for this magazine is so amazing.
How was it working with Publisher Sean Cummings?
Out of all the shoots Ive done I enjoyed this 1 the most, I feel like this is 1 of my best shoots thus far. Sean is a really good and creative photographer, he pushes you to your limit so you have no choice but to do your best and thats what I like.
What are you measurements and how tall are you?
34DD-27-46 and Im 59, 165 pounds Amazon Chick lol
Last time we heard from you, you were modeling and experimenting with some acting roles. How is that working out for you?
Ive started back modeling recently; I have some new projects coming out soon. And yes! I recently played a role in a comedy film called The Spot which will be coming out very soon, so look out for that.
If you had the opportunity to be on a reality show which 1 would you choose?
I love reality TV shows! Lol if I could be on 1 I would definitely have to say Basketball Wives even though Im not a wife nor am I or ever dated a basketball player. But I think it would be a fun and interesting experience!
So what do you besides modeling? Do you work or go to school?
I have an online hair and clothing boutique called glamdollcollection.com I am also a car dealer and tax preparer. As you can see I have my hands in a little bit of everything.
What would be your fantasy date?
Im a hopeless romance so my ideal date would to be on a romantic beach just me and my date well have wine a candle light dinner in the sand right by the water. Then after that hell give me a full body massage with oil then well make love on the beach in the sand with the water brushing up again our bodies.
How can a guy make you fall in love?
Treat me like the princess that I am and be real and genuine with me. He has to be able to show me hes down for me and has my best interest. I also love a guy that can make me laugh, and knows how to please me sexually! Thats a must.
What turns you off?
A man that trys too hard to make me like him, I feel like you
e not being real with me. And bad breath is definitely a major turn off!
Instagram @MZPARISMILAN & @GLAMDOLLCOLLECTION Twitter MzParisMilan website www.glamdollcollection.com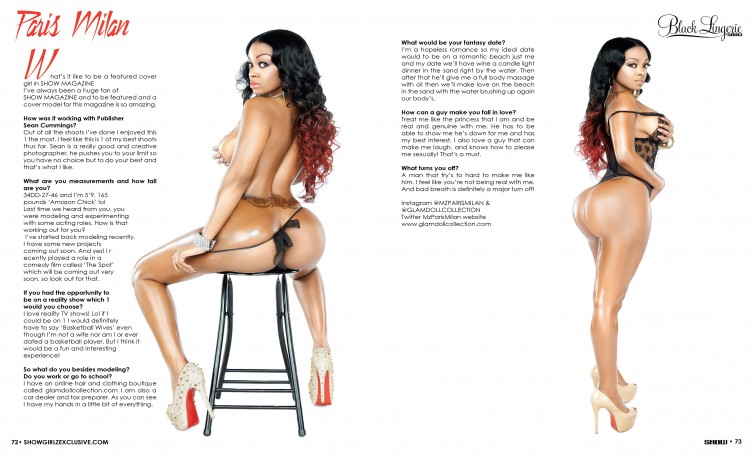 1
Total Galleries with
5
total photos of
Paris Milan
from
BLACK LINGERIE #21
and other Issues