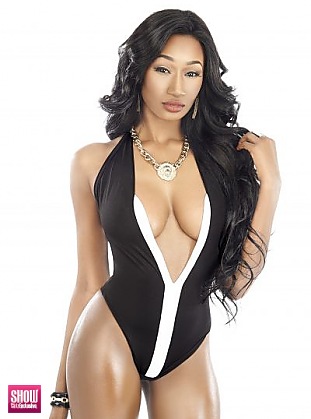 SGE Content for
Janelle Shanks in
BLACK LINGERIE #21
Photos:
1
Galleries and growing
Photos:
7
Photos and growing
Photos:
4.9
MB of Photos
Videos:
0
Videos
Videos:
0
mins of footage
Videos:
0
MB of video
View
BLACK LINGERIE #21
issue information and galleries >>
JANELLE SHANKS
PHOTOS BY:
Sean Cummings, @SHOW_Magazine
GRAPHIC DESIGN: Chris Kelly, @goonrillabullyboy
MAKEUP ARTIST: Krystal Knowles. @BrowCoutureMakeup
HAIR STYLIST: Chevelle Brown, @newagehairsalon
BOOKING INFO:
: BookJanelleShanks@gmail.com
Visit: www.SHOWGirlzExclusive.com for exclusive images and video from this issue.
Hey its Janelle Shanks, Im 23 years old, and Im from Houston, TX! You might know me from being the star of Oxygens hit show "the Bad Girls Club Miami" and "Bad Girls Club All Star Battle Season 2"!!! Im infamously known for flipping my 30 inch hair, my sassy smart-ass mouth, and being one of the funniest bad girls of all time!!!
What is your ethnicity?
I am Black and Native American and I think Im the closest it gets to Black Barbie and Pocahontas! Lol
What do you think is your most stand out feature?
Gosh theres so many! I think its a tie between my face and my boobs. My facial features like my almond shaped eyes, high cheekbones, and full lips give me that exotic look, but my boobs are literally perfect!!! Seriously they
e the best on the planet!! 32D and baby thats all me!
You
e quite petite. Upon first look, one would assume you can easily go the fashion model route, what made you want to pose for Show Magazine?
Well number 1, I love a challenge and Ive always loved Show Magazine! Although I might be 57" 115lbs, Im Still Curvy, Just on a smaller frame. So posing for a top urban magazine was definitely on my list of personal goals, and thanks to Sean Cummings, I can check that bitch off! Lol
What have you been up to since the show?
I currently host parties for a living and I love it!! Im one of the first and only bad girls to have an appearance in South Korea, let alone Asia so I plan on taking it up a notch! Im only 23 and I love traveling the world, experiencing new cultures, and meeting my fans all across the globe.
What are your upcoming projects?
I think I can do it all. Im very passionate about hair, especially after notoriously being known for whipping it all over the "extras" on the show! So my mentor Jaeda who owns Princess Hair Shop has been helping me with the beginning stages of starting my own luxury hair extension line! I also sing, and Ive been blessed to work with some of the best people in the business so you can expect my first single to be released by the end of the summer!!!
You were the star of hit Television show "Bad Girls Club", what type of bad things do you do in the bedroom?
I love Burlesque shows and I love Beyonce, so in the bedroom I like to combine the two and put on sexy show for my man. Im talking lights, camera, and action, without the sex tape!! Ill have my sexy red love lamps to set the mood, vanilla scented candles, my slow jams playing in the background, and a bottle of Moscato (or shots of vodka if Im feeling frisky! lol) I love to put on sexy lingerie and just give my man lap dances that show my flexibility until he can take it anymore. Then I let him take control.
What do you think is your best personality trait?
I think my best personality trait BY FAR is the fact that I am genuinely LOYAL to my friends, family, and my man. Im the one literally everyone calls when they
e going through something, and I take pride in the fact I will always be there for them. In the entertainment industry there are SO many people who pretend they like you, and as soon as you surpass their level, they
e thinking of every single way to destroy you and tear you down.
What else do you pride yourself on?
I pride myself on first being independent!! I think its so important for a woman to know that if she needed to, she could take care of herself. Being independent helps my self-confidence and helps me look for the right qualities in a potential mate. I also pride myself on always being professional and my work ethic. If I want something, you can bet your ass Im going to do everything in my power to get it.
What turns you on in a potential mate?
I think Im Barbie so of course I want my significant other to be Ken! Lol He needs to be good looking, clean cut, hard working, honest, and considerate. What turns me on exactly? A guy with a pretty smile, who knows what he wants, and takes charge.
Who are your role models?
As far as reality TV is concerned, I admire women like Nene Leakes because shes like the Queen Bee and shes taken her opportunity and used to it to brand herself make the transition into becoming a real Hollywood Actress!
With music, I admire Beyonce because she is the epitome of class, grace, confidence, and sexiness. Shes from my hometown of Houston, TX and shes the best female performer on the planet.
Twitter: @badgirljanelle
Instagram: badgirljanelle
Bookings: BookJanelleShanks@gmail.com
Website: www.janelleshanks.com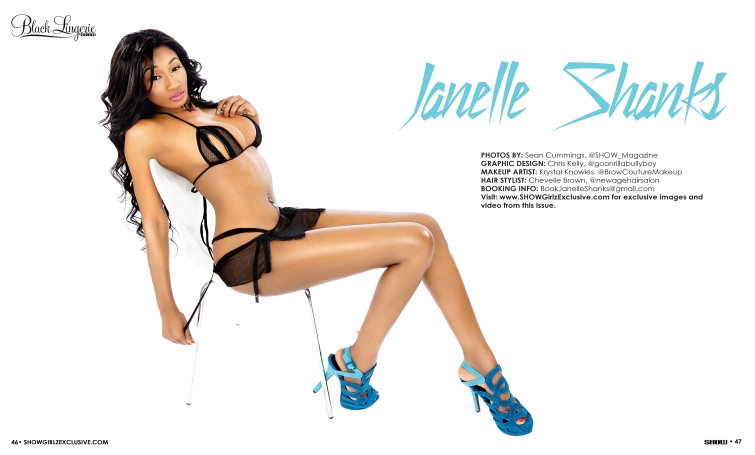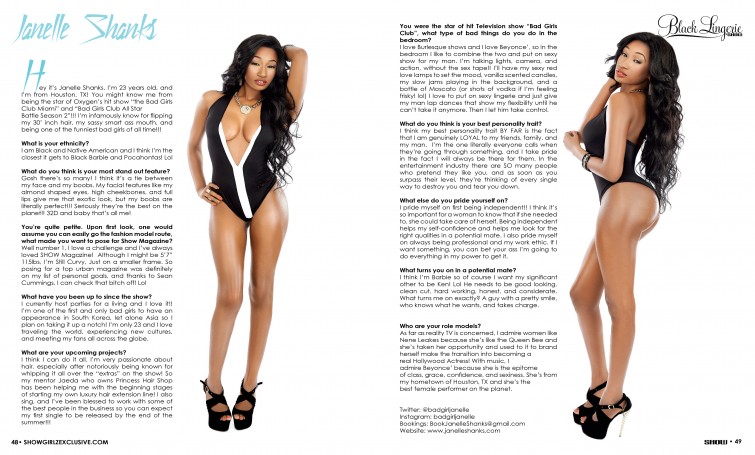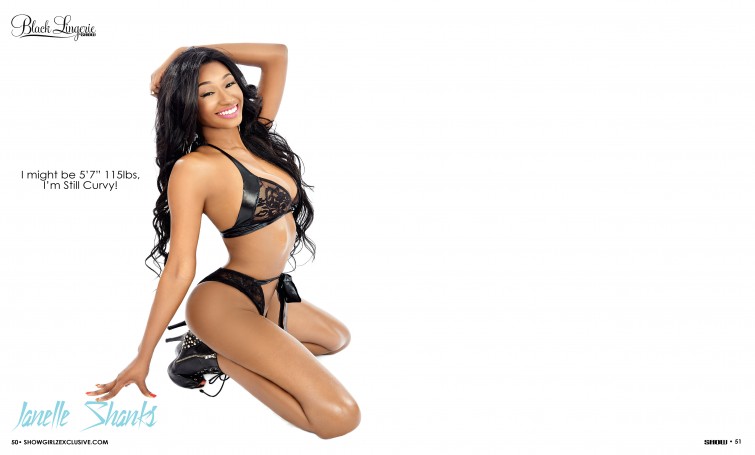 1
Total Galleries with
7
total photos of
Janelle Shanks
from
BLACK LINGERIE #21
and other Issues