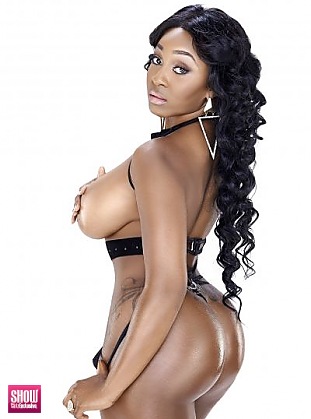 SGE Content for
Krissy Brixz in
BLACK LINGERIE #21
Photos:
1
Galleries and growing
Photos:
6
Photos and growing
Photos:
4.2
MB of Photos
Videos:
1
Videos
Videos:
4
mins of footage
Videos:
42
MB of video
View
BLACK LINGERIE #21
issue information and galleries >>
KRISSY BRIXZ
PHOTOS BY:
Sean Cummings, @SHOW_Magazine
GRAPHIC DESIGN: Chris Kelly, @goonrillabullyboy
HAIR & MAKEUP BY: Brooke Hill, @MakeupbyBrookeHill
BOOKING: @KrissyBrixz
Visit: www.SHOWGirlzExclusive.com for exclusive images and video from this issue.
So lets start with your name, how did you come up with the name Krissy Brixz?
Well one of my close friends use to always sing "Brick House" by the Commodores and would dedicate that song to me, so one day I just decided to incorporate it into my name and I came up with Krissy Brixz.
When did you decide to pursue modeling and why?
I started pursuing modeling in 2013 show is actually my first feature. The reason I started modeling is because Ive always been self-confident in my body and the way I look, as well as receiving compliments from pictures Ive taken so that inspired me to become a model plus whats better than the brick house? lol
What is one thing that you would hope to achieve in modeling and why?
I would like to do a cover because the cover is what captures the viewers attention, its always sexy and seductive and Ive been told Im both.
If you were to seduce a man how would you go about doing it?
Thats easy; put on a skintight dress without a bra with the nips poking through (all men love nipples) when I approach that will be the first thing he notices and from there hes seduced.
What do you consider your best asset and why?
My ass of course because When Im intimate my ass is always the first thing grabbed.
While we are on the subject of assets what are your measurements?
I am a 38DD-22-40.
What are some of the qualities you look for in a man?
Honesty, selfless courageous but also gentle and of course he has to be handsome and have lots and lots of stamina, a muscular chest area is always a plus too.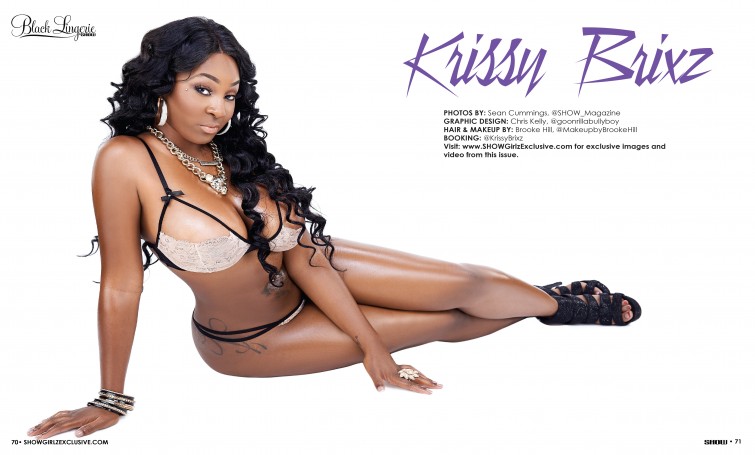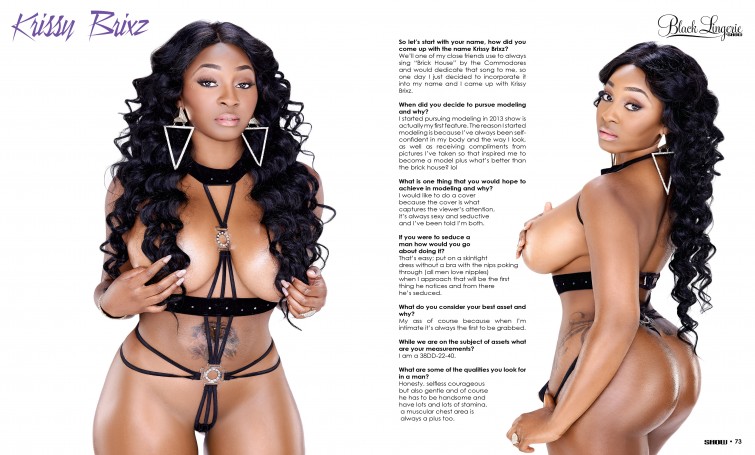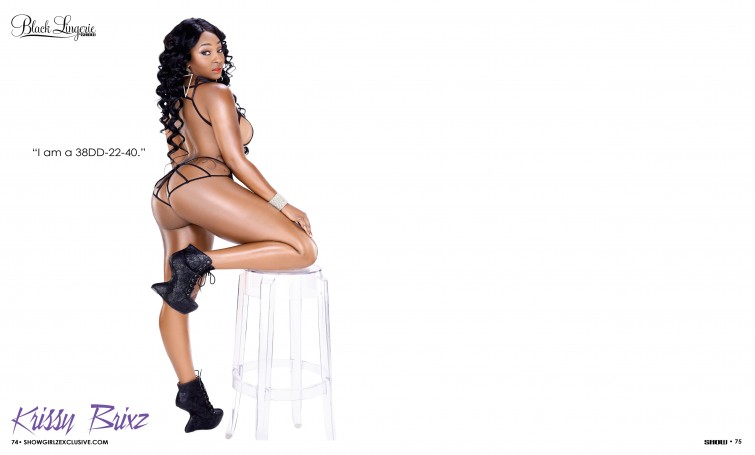 1
Total Galleries with
6
total photos of
Krissy Brixz
from
BLACK LINGERIE #21
and other Issues