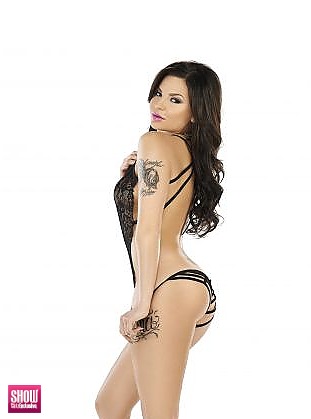 SGE Content for
Karina Alexandra in
BLACK LINGERIE #21
Photos:
1
Galleries and growing
Photos:
6
Photos and growing
Photos:
4.2
MB of Photos
Videos:
0
Videos
Videos:
0
mins of footage
Videos:
0
MB of video
View
BLACK LINGERIE #21
issue information and galleries >>
KARINA ALEXANDER
PHOTOS BY:
Sean Cummings, @SHOW_Magazine
GRAPHIC DESIGN: Chris Kelly, @goonrillabullyboy
MAKEUP ARTIST: Monique Peters, @Ornatebeautybymo
HAIR STYLIST: Shaunte Dolphy, @royaltysmith
BOOKING INFO:
: bookings@karinaalexandra.com
Visit: www.SHOWGirlzExclusive.com for exclusive images and video from this issue.
Who are you?
My name is Karina Alexandra. Im 23 and Im a model.
Where were you born/raised and live now?
I was born in Ukraine but came to Toronto at a young age where I was raised and live now.
Have you been in SHOW magazine before?
This is my first time working with SHOW magazine and the experience has been amazing. You can look forward to seeing me in their future issues as well as some of your other favorite magazines.
What is your specialty?
I come from a film background and Ive worked on a bunch of video sets. Although print is quite different its been a natural transition. I love being in front of the camera.
How did you get into the industry?
As a little girl I was always playing dress up and loved taking pictures. I can remember my mom taking my little sister and I to auditions and casting calls so Ive always had an interest in modeling. I didnt get into the industry until I was 19. I took a chance auditioning for a music video for the first time in Snoop Dogg and Belly – "HOT GIRL". After being selected as one of the leads from hundreds of girls I began to seek out other casting calls. Since then Ive had the pleasure of working on set with Juicy J, Rich Kidd, Massari, Fito Blanko and Sensato to name a few.
What is one of your most exciting accomplishments?
Id have to say being printed on the cover of a bridal magazine. Although I consider myself to be in the urban industry, it was exciting to see myself transition into a whole new genre. This gives me confidence I can pursue any form of modeling.
Give us three words that best describe you.
Giving. Passionate. Confident
Are you single?
Well, Im not married.
What is one thing your readers would be surprised to know about you?
I attended the National Ballet School of Canada and took it very seriously. Im super flexible because of it.
What are some of your interests?
I love creating and have an appreciation for art and design. I had a Jewelry line at one point and was always coming out with new and original pieces. I still find myself making custom articles for friends and myself. I also have a love for cars. Especially sports cars. I try to keep myself busy by cooking, going to the gym and the obvious, shopping!
Whats your favorite place to shop?
Sex stores! There are so many interesting gadgets and sexy outfits. It kind of turns me on.
What part of your body are you most complimented on and what is your favorite asset on you?
Im most complimented on my hazel eyes but my favorite asset would have to be my legs!
What can we expect to see from you in the near future?
More published work! I only got into print modeling a year ago and have been blessed with the opportunity to shoot with some of the industries top photographers. Ive also been training with a modeling coach whos been assisting me with my transition into commercial and high fashion.
How can we reach you?
For Bookings – bookings@karinaalexandra.com
Instagram - @Karina_Alexandra_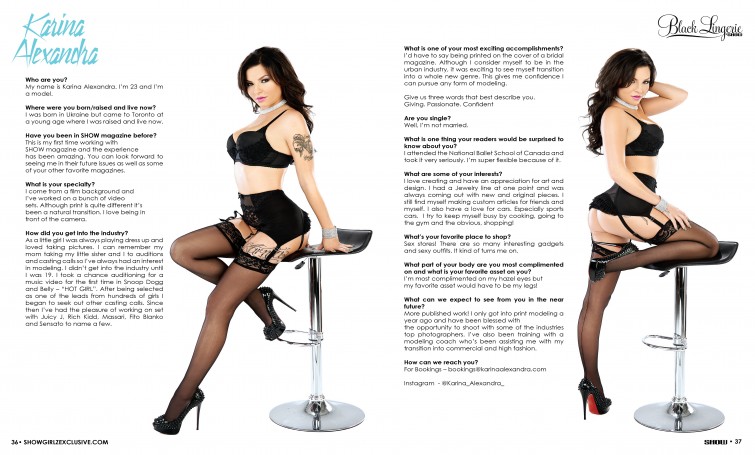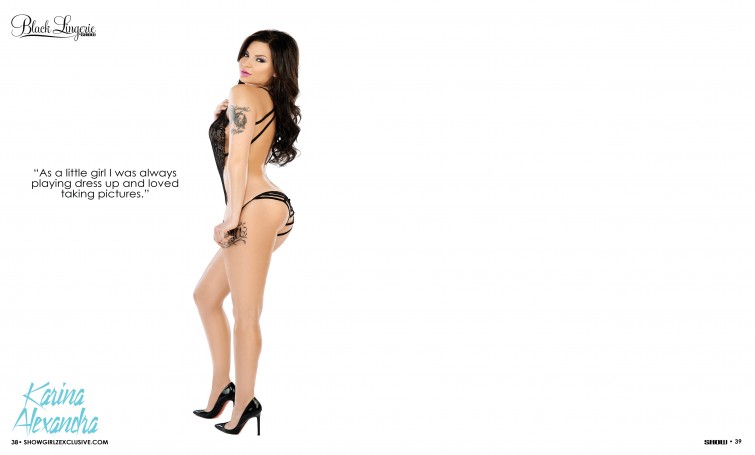 1
Total Galleries with
6
total photos of
Karina Alexandra
from
BLACK LINGERIE #21
and other Issues