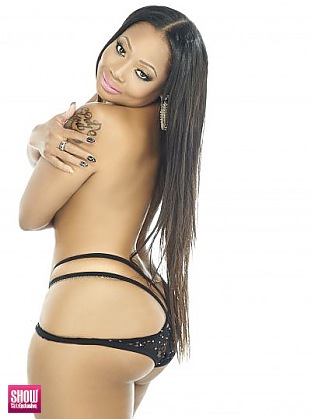 SGE Content for
Kay Dee in
BLACK LINGERIE #21
Photos:
0
Galleries and growing
Photos:
6
Photos and growing
Photos:
4.2
MB of Photos
Videos:
0
Videos
Videos:
0
mins of footage
Videos:
0
MB of video
View
BLACK LINGERIE #21
issue information and galleries >>
KAY DEE
PHOTOS BY:
Sean Cummings, @SHOW_Magazine
GRAPHIC DESIGN: Chris Kelly, @goonrillabullyboy
MAKEUP ARTIST: Regina Trawick, @reginatrawick
HAIR STYLIST: E. Monique Moore, @mooreuniquehair
BOOKING INFO:
: @stacked_right, bookstackedright@gmail.com
Visit: www.SHOWGirlzExclusive.com for exclusive images and video from this issue.
My name is Kay Dee, known as Stacked Right. I was raised in New Orleans & decided to leave home after graduating. I joined the Navy & was stationed in Jacksonville, FL when shit got real. I fell in love with a powerful dope boi & my life hasnt been the same since.
I went on to get a bachelors degree in Psychology, and currently in school for my masters. I am a freaky well-educated wild child with brains, beauty, and booty…. Mommy taught me how to be a lady, but life taught me how to survive. CAUTION: Enter at your own risk… ;-)
What city/state do you reside?
Atlanta, GA
Who or What gave you the motivation to want to become a model?
No matter what other profession I tried, opportunities to be an urban model always knocked on my door… I finally decided to answer it.
What ethnicity are you?
I am Black with a hint of Asian.
Whats your zodiac sign?
Seductive Scorpio! *Slowly licks lips*
Who are some of your favorite women in the industry?
Maliah Michel, Stephanie Santiago, and Bernice Burgos… All three can get it!
Are you single, dating, married?
Single ready to mingle
What are your measurements/height?
34-27-42/54
What kind of music are you into?
Rap, R&B, Pop, Ill even twerk to Taylor Swift every now and then.
Whats your favorite sexual position?
It would be the "Splitting Bamboo"… yea, go look that stroke action up!
What are you complimented on the most?
How soft my ass/body feel… people really be amazed. I thought all women felt that way, but I guess not.
Stacked Right give your final statement to the readers.
Love yourself and dont ever be afraid to bring the gifts that God has blessed you with to the table. Follow me on Instagram @Stacked_Right to find out all the yummy things brewing for the future. I come! I fxck shxt up!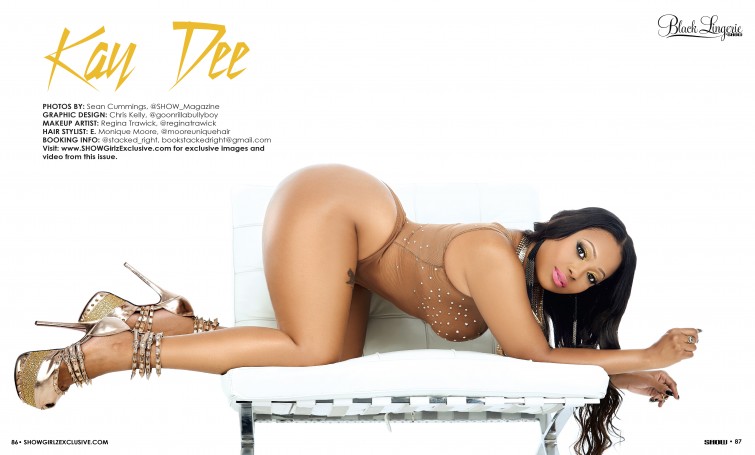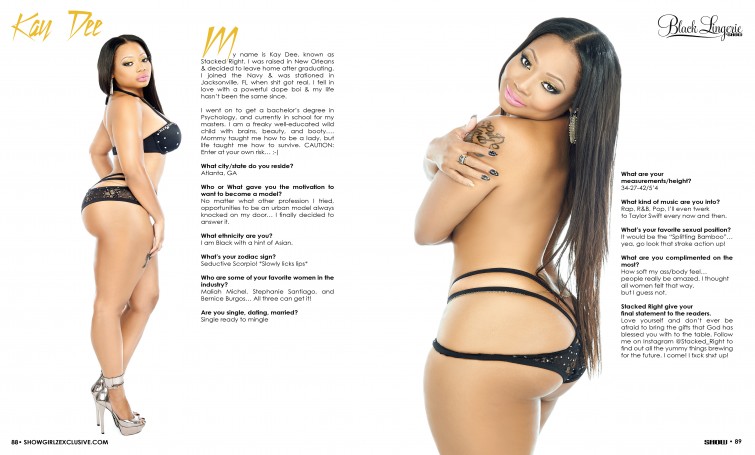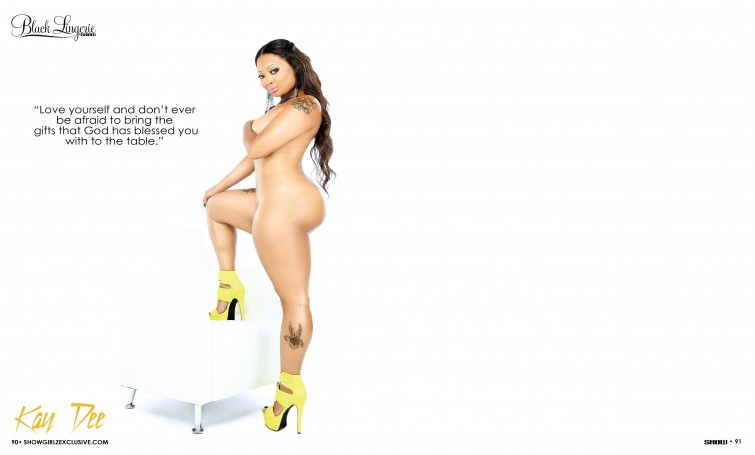 1
Total Galleries with
6
total photos of
Kay Dee
from
BLACK LINGERIE #21
and other Issues