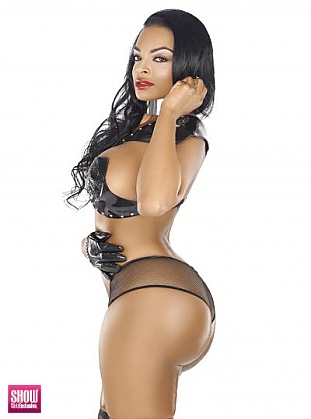 SGE Content for
Brooke Bailey in
BLACK LINGERIE #21
Photos:
0
Galleries and growing
Photos:
7
Photos and growing
Photos:
4.9
MB of Photos
Videos:
0
Videos
Videos:
0
mins of footage
Videos:
0
MB of video
View
BLACK LINGERIE #21
issue information and galleries >>
BROOKE BAILEY
PHOTOS BY:
Sean Cummings, @SHOW_Magazine
GRAPHIC DESIGN: Chris Kelly, @goonrillabullyboy
FASHION STYLIST: Mr. Bradshaw, @themrbradshaw
HAIR STYLIST: Al Ingram, @AlSexyHair
MAKEUP ARTIST: Angela January, @Angela_January
BOOKING INFO:
: @BrookeBaileyinc
Visit: www.SHOWGirlzExclusive.com for exclusive images and video from this issue.
Hey loves! Im so happy to be back for my second cover with SHOW
Magazine. I hope you enjoy my Black Lingerie spread.
When you last saw me in SHOW Magazine, I was just wrapping up a season of Basketball Wives LA and working on my ever-present modeling and acting career. While BBWLA was not my first experience on national television or reality TV, it was an amazing platform that allowed me to manifest my dreams.
My vision has always been to share my passion for wellness, and alternative medicine. So when my fans on social media and at meet and greets seemed to care less about my involvement on the show and more about my skin, body, hair and overall health secrets, I knew it was time to make my routine accessible to all. I started My Life Cleanse; a total, yet simple all natural detox system which promotes total body health. The response was immediate and overwhelming. Im now working hard on formulating my hair, skin and nail vitamin. www.MyLifeCleanse.com
Ladies want to be worshiped for their curves, but curves are wack if they aren wrapped in tight glowing skin or supported by a clean system. My insides are just as pretty as my outside. Not every woman in this game can say that, but Id love to change that.
Its not easy balancing my new businesses, my career in entertainment, continuing my education, and above all else being a full-time mommy. People always ask me how I do it all, and sometimes I wonder myself! [Laughs]
I just aim to stay positive above all else. I like that I can be an example that you don have to sacrifice being sexy, for being an entrepreneur. Being desired for your outside does not mean you neglect working on the inside. I believe true beauty includes your mind, body, and soul and I relish every opportunity to connect and share more than my exterior with you all. My fans mean so much to me. As long as you all keep requesting me in magazines and to come host in your cities, I will make the time to SHOW up and SHOW out. Peace, love, & light! Xo
-BB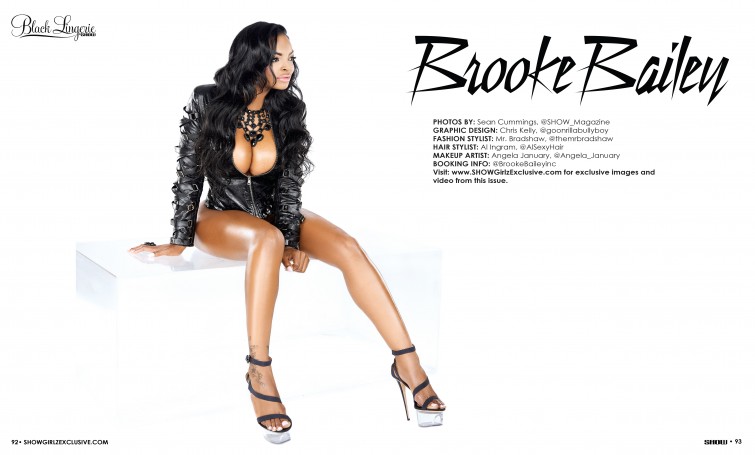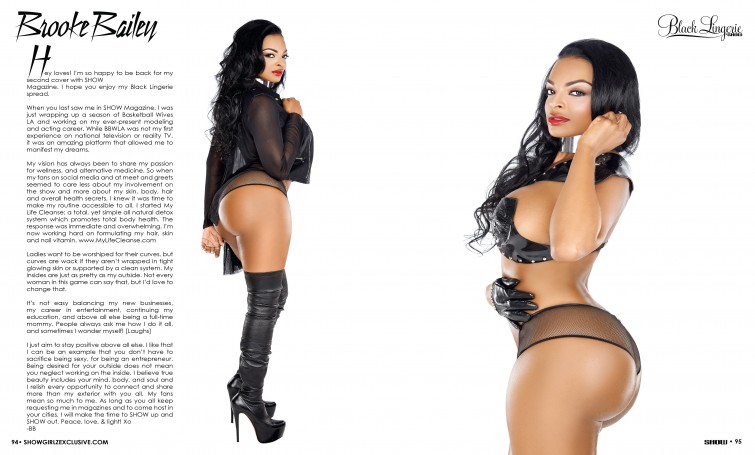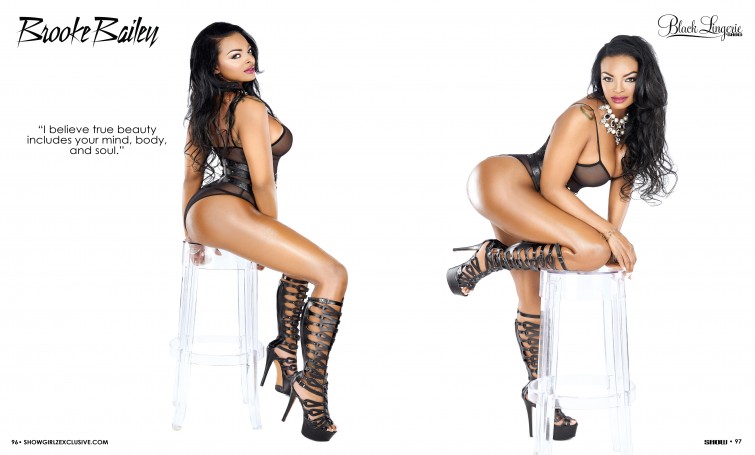 2
Total Galleries with
22
total photos of
Brooke Bailey
from
BLACK LINGERIE #21
and other Issues