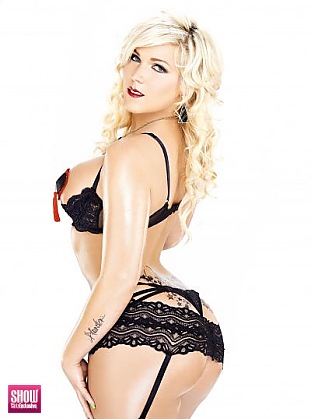 SGE Content for
Ms. Bailey in
BLACK LINGERIE #21
Photos:
0
Galleries and growing
Photos:
5
Photos and growing
Photos:
3.5
MB of Photos
Videos:
0
Videos
Videos:
0
mins of footage
Videos:
0
MB of video
View
BLACK LINGERIE #21
issue information and galleries >>
BIO:

Whets up everyone! Its Ms Bailey Back at it again!! For those of you who dont know me I am a mix of Polish, Welsh and Norwegian. My birthday is October 24th giving me the zodiac sign of a Scorpio, and I was born and raised in Wisconsin! Yes, I said Wisconsin! I am about as small town as you can come from…Go Badgers! Xoxo

This is also my second feature in SHOW Magazine and I am very proud and honored to be a part of the team!! I love taking sexy photos and showing off my body!! Some of my other hobbies include Go Go dancing; Burlesque dancing, working out and snowboarding. I inspire to own my own gym some day for I have my Business Degree and Personal Training Certificates. I really enjoy being active and entertaining whatever audience I have in front of me! Dont hesitate to check out my social media pages for new updates on whose pages I might be gracing next! ;)

INTERVIEW:

Lets start with the basics: how old are you, what are your stats/measurements?

I am 25 and my measurements are 34C-26-40

Do you have any secret weaknesses or guilty pleasures?

I love being kissed on my collarbone area and on the side of my neck…its a huge turn on!

Do you think foreplay is necessary?

Ummm I do not think its necessary but it is definitely more fun if you can take some time to turn each other on. There is nothing wrong with a quickie without foreplay every now and again ;)

What do you look for in a man?

I love when a man can make me laugh! Im a class clown myself and I enjoy when someone can return the favor. Looks are important to me too…I want to be sexually attracted to him so we can get our freak on…haha! I also really just want to be myself around him…comfortable in any atmosphere <3



Whats your favorite part of your body? Why?

Haha! My ass for sure! I love to dance and shaking that ass is the best part! There are a lot of different ways to do it and the men AND the women love it.

Describe yourself in a few words -

Funny, dedicated, inspiring, sexy, and nice!

If someone wants to see more of you where can they look?

Thanks for asking! I have a website in the making that will be launched very soon - MsBaileyLive.com - there will be photos, videos, and webcam;)

My facebook fan page is www.facebook.com/MsBaileyE

Twitter and Instagram @MsBaileyE

Also keep an eye out for me on the SHOW Website - www.showgirlzexclusives.com for pictures and exclusive video!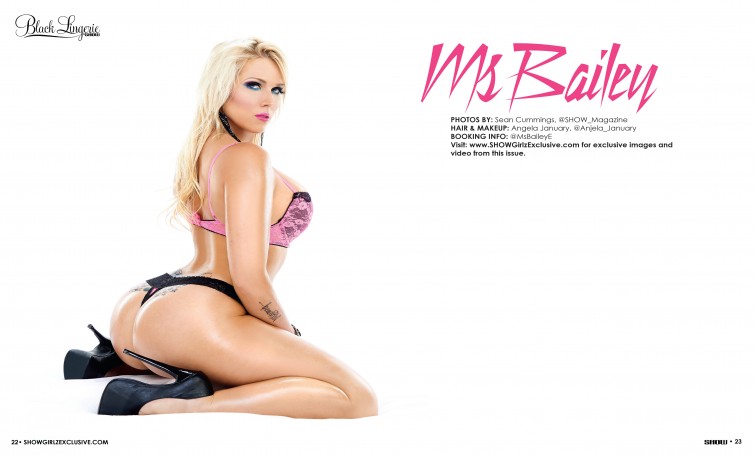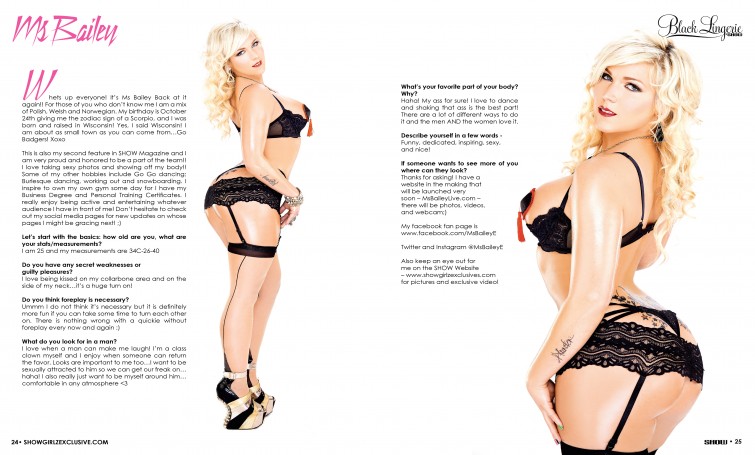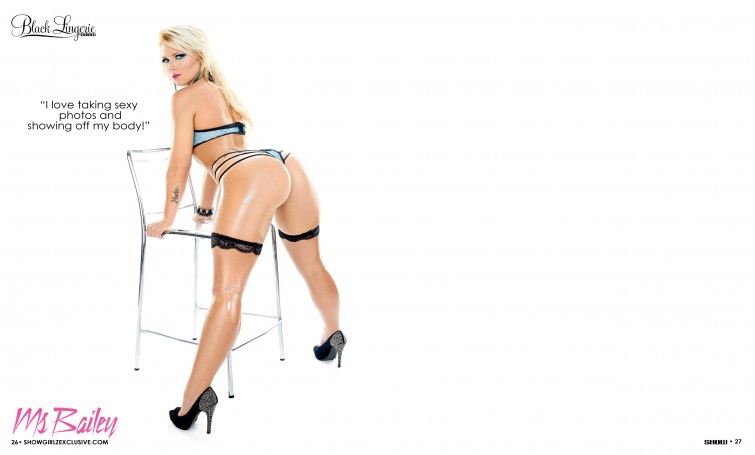 1
Total Galleries with
5
total photos of
Ms. Bailey
from
BLACK LINGERIE #21
and other Issues