SGE Content for
Mehgan James in
SHOW #27
Photos:
0
Galleries and growing
Photos:
7
Photos and growing
Photos:
4.9
MB of Photos
Videos:
0
Videos
Videos:
0
mins of footage
Videos:
0
MB of video
View
SHOW #27
issue information and galleries >>
AGE:
N/A |
FROM:
N/A |
FEATURED IN:
SHOW #27
MEHGAN JAMES
PHOTOS BY:
Sean Cummings, @SHOW_MAGAZINE
DESIGNED BY: Chris Kelly, @goonrillabullyboy
HAIR BY: Al Ingram, @AlSexyHair
MAKEUP BY: Angela January, @Angela_January
BOOKING INFO:
: info@mehganjamesonline.com
Visit: www.SHOWgirlzExclusive.com for exclusive images and video from this issue.
Hey everyone! Im Mehgan James Im 23 and I like to have sex ( laughs ) . Just kidding! Ill keep it G rated. Im currently a television personality on the infamous series " Bad Girls Club" in which Ive completed 3 seasons with the network. I also have a BA in Public Relations and a minor in business.
I think is sexy to be smart, so I don hide it. My favorite color lingerie is black because I feel like its mysterious. I have a very witty/sarcastic sense of humor and I feel that its important to invest in your self. My future goals are to become an actress, own a few restaurants and make "Mehgan James " a household name. Shooting with SHOW was an amazing experience. SHOW will be the first magazine that Ive been published in and lucky for me , Ive had the opportunity to grace the cover of Issue 27.
What do you look for in a man?
I must admit Im very materialistic. You have to have nice teeth and nice shoes lol. I like very clean cut guys, not to metro though. And Of course I look for guys who are ambitious and have goals.
Whats the hardest part about being on reality TV?
You have absolutely no privacy. Everyone thinks they know you but they don understand how production works. You have to learn to ignore the negativity. And Im recognized everywhere I go. Lol, no late night creeping for my ass.
Whats up next for you?
I spend most of my time resigning items for my clothing line " the A-List" .Im currently working on several Television projects.
The craziest place youve had sex?
AHhH.... It would have to be in a mall dressing room! Im Very spontaneous and fun! Its good to keep things interesting.
- Xo
Mehg
Twitter @mehganjames
Ig: @xoxomehg
To book me contact : info@mehganjamesonline.com
Website: mehganjamesonline.com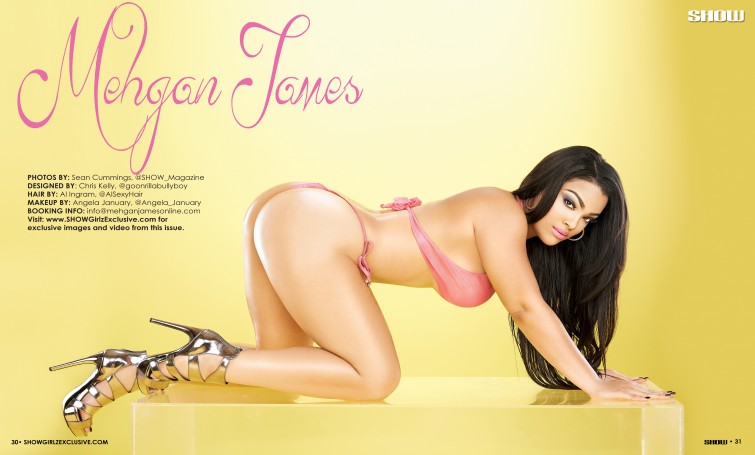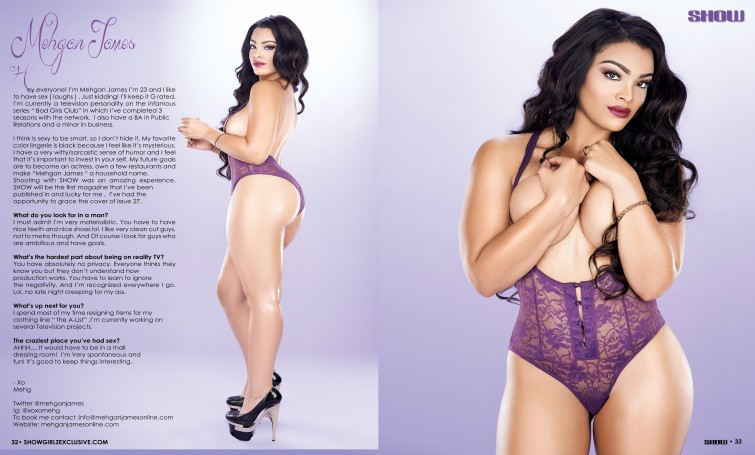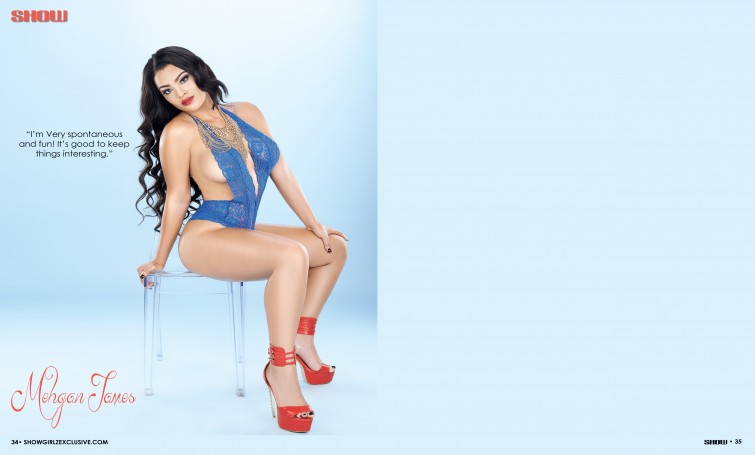 1
Total Galleries with
7
total photos of
Mehgan James
from
SHOW #27
and other Issues