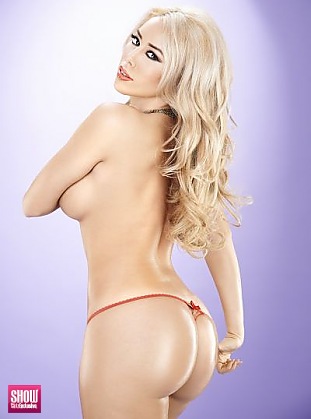 SGE Content for
Lux in
SHOW #27
Photos:
0
Galleries and growing
Photos:
8
Photos and growing
Photos:
5.6
MB of Photos
Videos:
0
Videos
Videos:
0
mins of footage
Videos:
0
MB of video
View
SHOW #27
issue information and galleries >>
AGE:
N/A |
FROM:
N/A |
FEATURED IN:
SHOW #27
LUX
PHOTOS BY:
Sean Cummings, @SHOW_MAGAZINE
DESIGNED BY: Chris Kelly, @goonrillabullyboy
HAIR BY: Al Ingram, @AlSexyHair
MAKEUP BY: Angela January, @Angela_January
BOOKING INFO:
: @LuxiBoo
Visit: www.SHOWGirlzExclusive.com for exclusive images and video from this issue.
Well, well, well....we meet again my SHOW Magazine lovers & friends! Its been a year since I was first welcomed into the SHOW family in Black Lingerie 17, and this year Im so excited to be an official SHOW cover girl!
So many awesome things have happened since I was last in SHOW. I can thank editor Sean Cummings enough for his support of my career since weve first started working together. Over the past year, Ive travelled internationally & have appeared multiple times on Istanbul television show A9TV, performed with a burlesque dance troupe in Hong Kong, & got to work in the Philippines with their top celebrity photographer, Xander Angeles, which led to a full feature in FHM Philippines January 2014!
Nationwide, you may have seen me in Rick Ross ft. Meek Mill "Believe It" music video acting out next to Machine Gun Kelly, or dancing in B.o.B. ft. TI & Juicy J "We Still in This B*tch" music video. This was my second time working with Juicy J since we did "Im Ballin\", and hes definitely one of my favorite artists on set. I was also proud to represent world famous radio station KROQ as the Kevin & Bean shows Miss Double D-cember 2013.
As if my life wasn crazy-busy enough, Ive launched a couple projects that revolve around my love of food. One being a sexy novelty cookbook, called Mothers Milk. As you can guess, the primary reason I authored this with my partners was for nursing moms who utilize their extra breastmilk in cooking. But I had to put my own spin on it. Inside the glossy pages Ive featured the industrys hottest models posing with the recipes & their beautiful *ahem* milk jugs. The names of the recipes are all hilarious too. Motorboating Muffins & Lactating Lasagna to name a few. Its the perfect gift for baby showers or just a gag gift for friends who love boobies. We were featured on KROQ, the news, & multiple online blogs which all praised the idea. Dr. Drew Pinsky even personally told me he loved the whole concept & shared authoring advice.
My other foodie-project is a food blog called FastFoodPorn.com. As you can probably guess, in addition to a write up on the fast food items, there are a dozen hot chicks devouring the food from start to finish (the full galleries are high quality, and available to download ;)). Weve started with national chains, now we
e looking for local eats to feature.
My website www.ilovelux.com has undergone some great changes. The intro page video is being redone, weve got sexier scenes, more motorcycle stunts done by yours truly, and completely different yet amazing locations. Im always trying to step up, improve my brand, and set the bar higher for other models/entertainers.
You can find me on Facebook, Twitter, Instagram, & YouTube. Full travel schedule to see if Im visiting your city soon will be on ilovelux.com!
Facebook: facebook.com/luxiboo1
Twitter: @luxiboo
Instagram: @luxiboo
YouTube: youtube.com/luxiboo1
Booking Info:
info@ilovelux.com
xoxoxoxo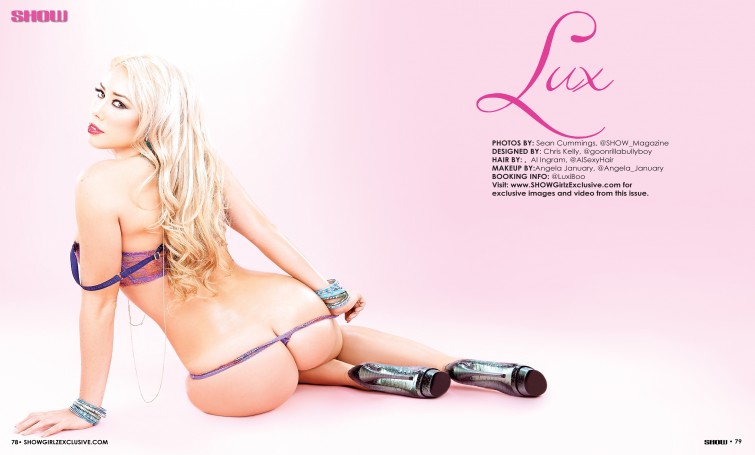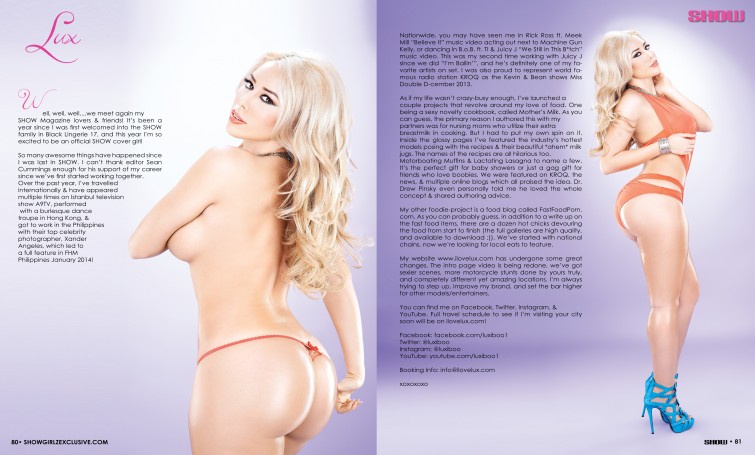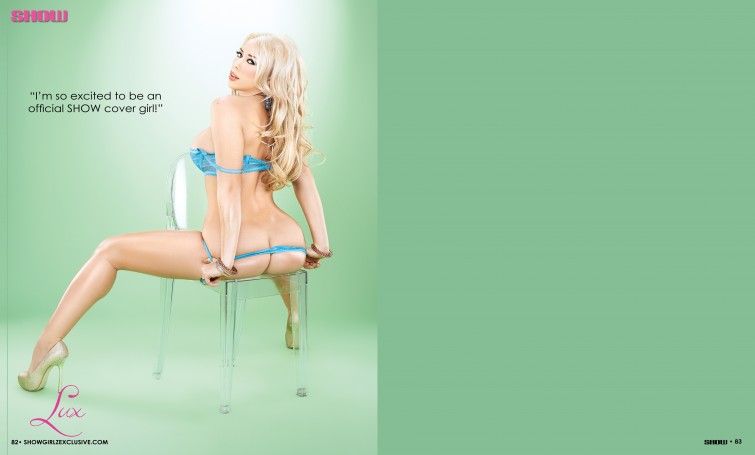 2
Total Galleries with
24
total photos of
Lux
from
SHOW #27
and other Issues