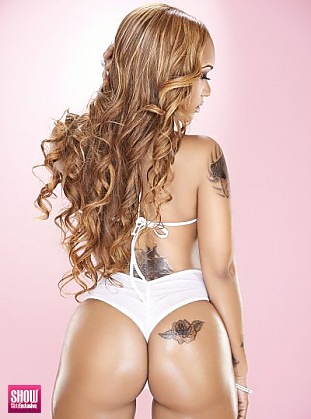 SGE Content for
Larae James in
SHOW #27
Photos:
1
Galleries and growing
Photos:
6
Photos and growing
Photos:
4.2
MB of Photos
Videos:
0
Videos
Videos:
0
mins of footage
Videos:
0
MB of video
View
SHOW #27
issue information and galleries >>
AGE:
N/A |
FROM:
N/A |
FEATURED IN:
SHOW #27
LARAE JAMES
PHOTOS BY:
Sean Cummings, @SHOW_MAGAZINE
DESIGNED BY: Chris Kelly, @goonrillabullyboy
HAIR & MAKEUP BY: Angela January, @Angela_January
BOOKING INFO:
: @LaraeJames
Visit: www.SHOWGirlzExclusive.com for exclusive images and video from this issue.
Hey its Larae James. I am Cherokee and African American. Born and raised in Fresno, CA now residing in Las Vegas, NV. My measurements: 34D-27-38Find me on: Twitter: Larae_james Instagram: Laraejames
Describe yourself
Im humorous, creative, compassionate and the life of the party.
How long have you been modeling?
I have been modeling for 10 months now.
What are your best two features?
I think my best features are my light brown eyes and my natural but.
What is your favorite place to be kissed?
I love to be kissed on my neck and on my breast, it makes me feel hot.
How can a guy get my attention?
Its not easy to get my attention; guys come with the corniest lines. He must be respectful and humorous with his approach. I love to laugh; if he can make me laugh he will have my attention all the way.
What type of experience should a man expect being with Larae James?
He can expect an experience of a lifetime. I love to treat my man like a king serving him a hot meal, giving him a back rub and love making where ever.
When it comes to sex does size really matter?
When it comes to sex size doesnt matter when you love someone, but if hes a cuddy buddy then he needs to have a big piece.
What do you hope to accomplish?
My ultimate goal is to be successful. I want to have my own little girls jean line. I also want to direct my own reality SHOW. In ten years I want my businesses to be able to speak for themselves. With my success I want to help the unfortunate.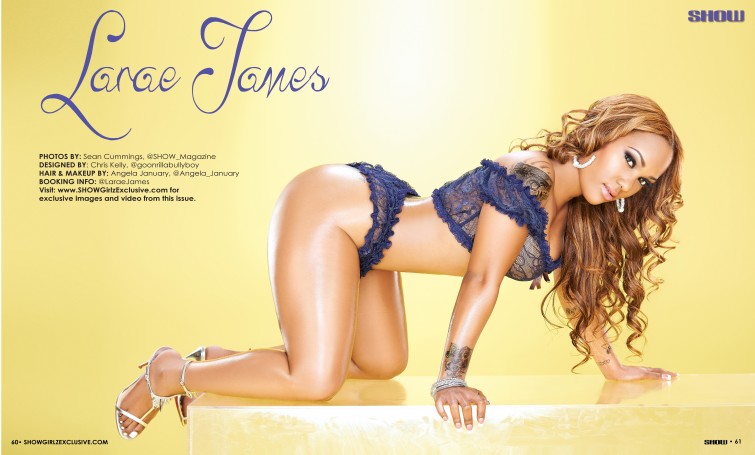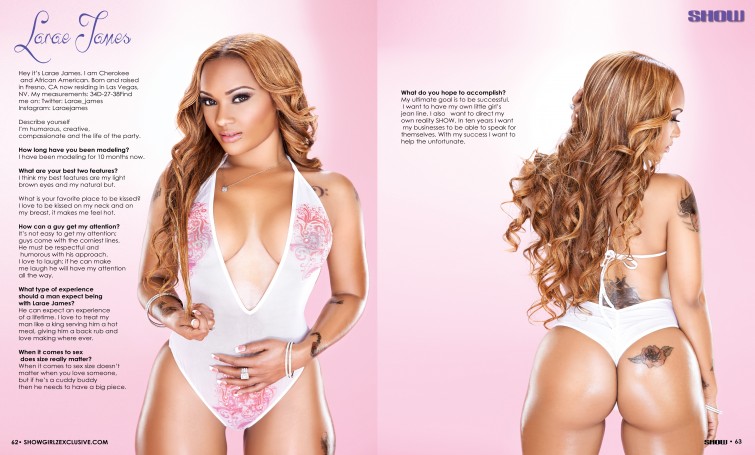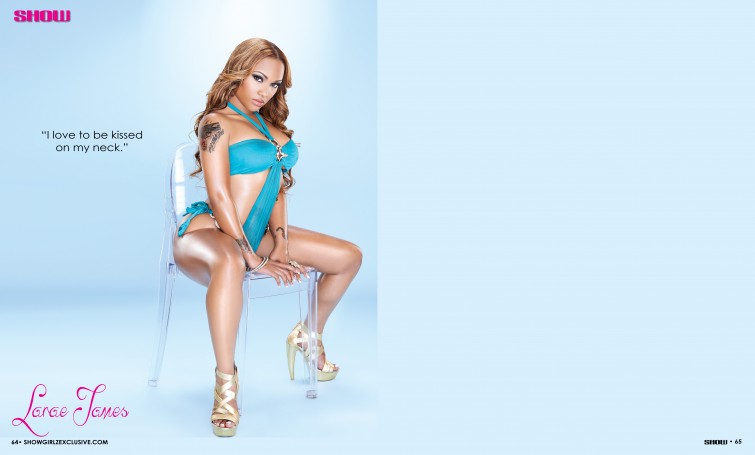 2
Total Galleries with
13
total photos of
Larae James
from
SHOW #27
and other Issues