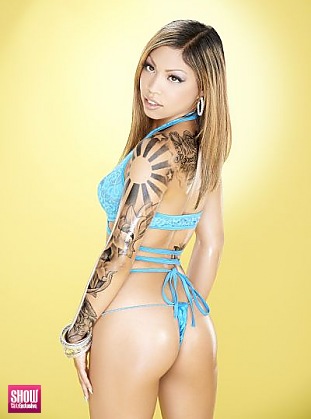 SGE Content for
Honey Milani in
SHOW #27
Photos:
0
Galleries and growing
Photos:
7
Photos and growing
Photos:
4.9
MB of Photos
Videos:
0
Videos
Videos:
0
mins of footage
Videos:
0
MB of video
View
SHOW #27
issue information and galleries >>
AGE:
N/A |
FROM:
N/A |
FEATURED IN:
SHOW #27
HONEY MILANI
PHOTOS BY:
Sean Cummings, @SHOW_MAGAZINE
DESIGNED BY: Chris Kelly, @goonrillabullyboy
HAIR & MAKEUP BY: Angela January, @Angela_January
BOOKING INFO:
: HoneyMilaniBookings@Gmail.com
Visit: www.SHOWGirlzExclusive.com for exclusive images and video from this issue.
Get use to seeing this face...Sexy and Petite Filipina from San Diego California that can get down with Houstons dance scene. Im a Traveling Entertainer that has to leave an impression everywhere I go. So, I could be dancing in your Citys best club or shooting with your favorite Photographer. I like to incorporate myself in multiple aspects, Ive shot Adult films with Nuru network "Honey Milani garden Noise", "All Girl Massage", & Zero Tolerance "Cheerleaders Gone bad 3". When Im not working my favorite thing to do is strip down and relax. As in my "Fantasy Film" I know how to unwind. Also, I like going out, networking, making appearances. You will be seeing a lot of this Dancer, Model/Entertainer.
Im a 20 year old Scorpio, the freakiest sign. So, I was told. Born in the Philippines but raised in Cali. So I got that Exotic look and Kick back feel. Most of my time is spent working. And if Im not working, Im thinking of another way to get ahead. I said I Incorporate myself in multiple aspects and I love that I am able to travel and dance wherever, and that I can film whenever and wherever I want. Being able to catch me in motion loving my body on camera, whenever I feel like it. I have the best job ever!!! I get to dress down in sexy lingerie outfits and please myself. I love my job. Ive met really cool people and Ill continue to because my brand will continue to expand. It is all about business. Watch out for your New Asian Sensation, Honey Milani an Official SHOW Girl!!
Keep On Following!!! Twitter: @misshoneymilani Instagram: @HoneysPlayhouse
Get more personal with me on my website with more Photos and Live Videos!!
www.honeysplayhouse.com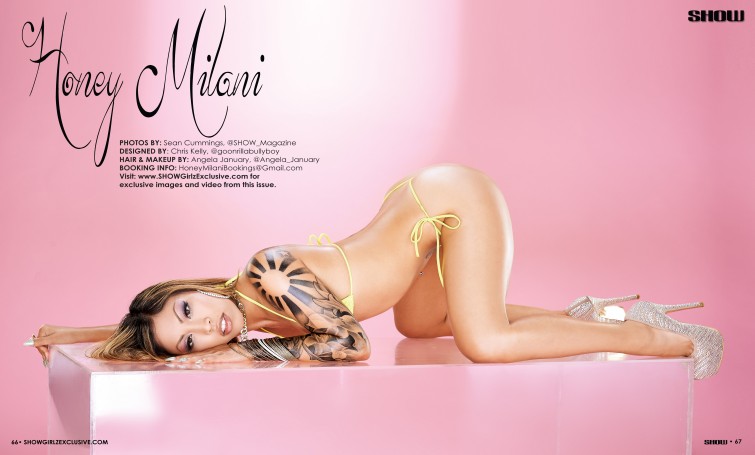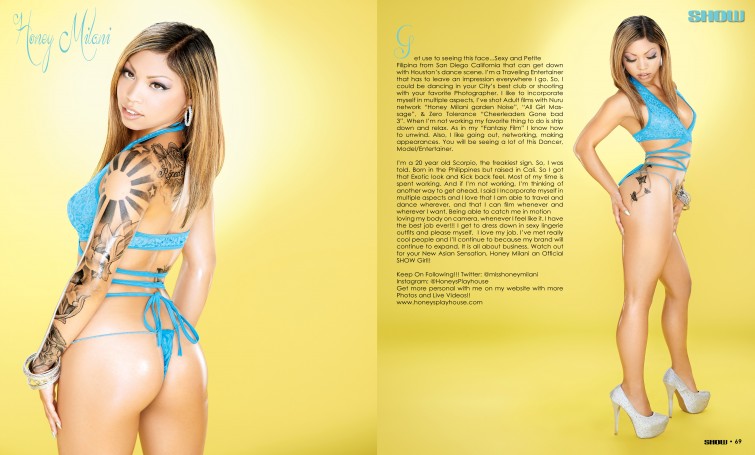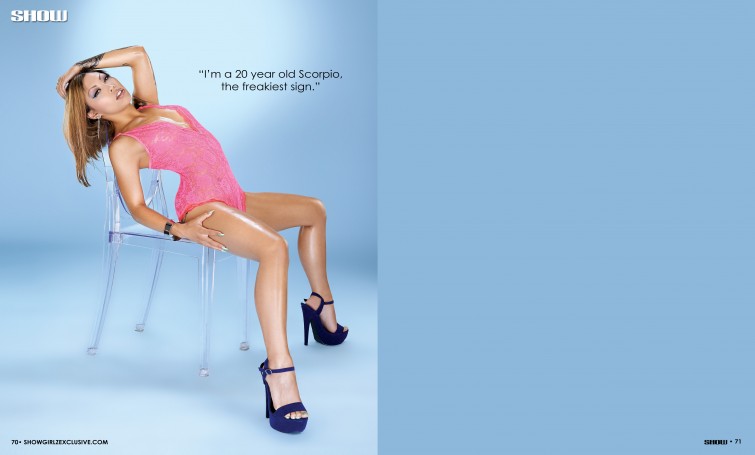 1
Total Galleries with
7
total photos of
Honey Milani
from
SHOW #27
and other Issues