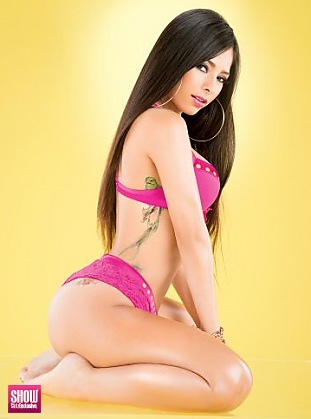 SGE Content for
Lex Bunny in
SHOW #26
Photos:
0
Galleries and growing
Photos:
7
Photos and growing
Photos:
4.9
MB of Photos
Videos:
1
Videos
Videos:
4
mins of footage
Videos:
42
MB of video
View
SHOW #26
issue information and galleries >>
AGE:
N/A |
FROM:
Los Angeles, CA |
FEATURED IN:
SHOW #26
LEX BUNNY
PHOTOS BY:
Sean Cummings, @SHOWMAGIG
STYLIST: Karina Guerrero, @karilexa
MAKEUP ARTIST: Brooke Hill, @MakeupByBrookeHill
HAIR STYLIST: Sophia Gabriella, @sophriella
BOOKING INFO:
: @LexBunny
Visit: www.SHOWGirlzExclusive.com for exclusive images and video from this issue.
Hey my name is Alexia AKA LexBunnyy. I was born in Costa Rica, raised in west LA. When I was younger dance was my passion, I was on a competitive team for many years traveling and winning 1st place almost every time. I became interested in modeling a few years ago and its become something I love doing and it came so natural. Being able to incorporate my flexibility and alter ego from being a dancer makes it easy to bring the sexy passionate and confident bunny out in pictures. Ive also had the pleasure of being in a few videos, most recent being Eric Bellingers video for his hits Nude and ASAP. Im blessed to have the opportunities I have and am always thankful to the man above. Xoxo Bunny ;)
What is your ethnicity?
Im Costa Rican with a hint of Nicaraguan.
What is your favorite body part on you?
My legs. I used to hate them as a kid but now I embrace them. Petite yet strong and well proportioned.
What attracts you to a man?
I love a mysterious man with a sense of humor. A man that can take my feistiness yet put me in my place when needed and a man that knows what he wants.
What turns you on?
Oh man lol a few things turn me on but thats only for my man to know ;)
What are your measurements?
34/25/36 Im a petite woman with curves and 100% natural from head to toe ;)
Where can we find you?
You can find me on twitter and Instagram @LexBunnyy.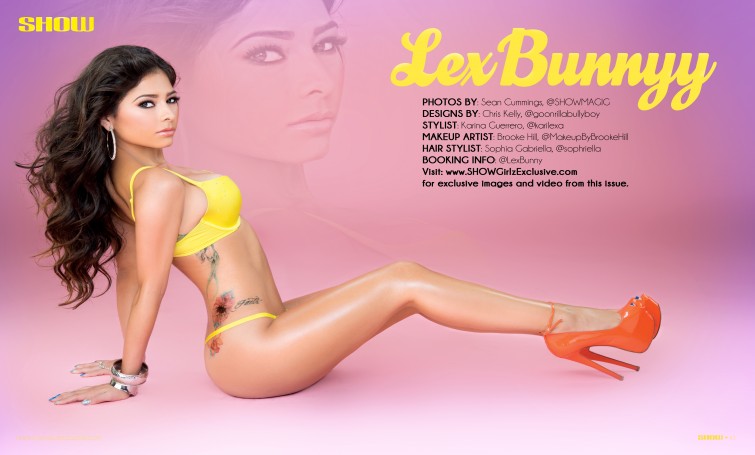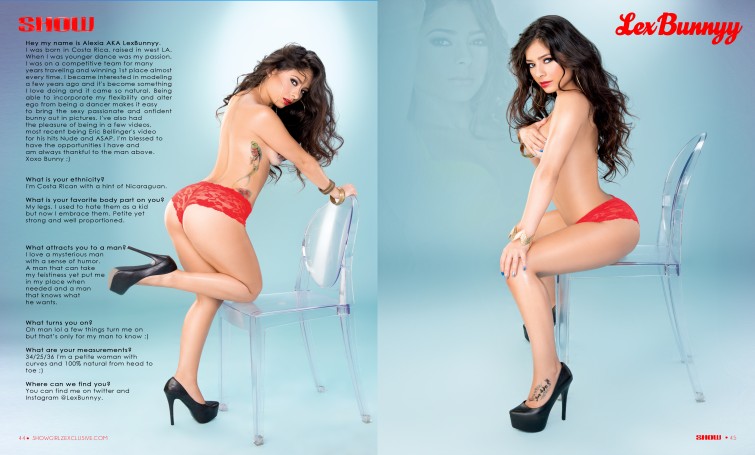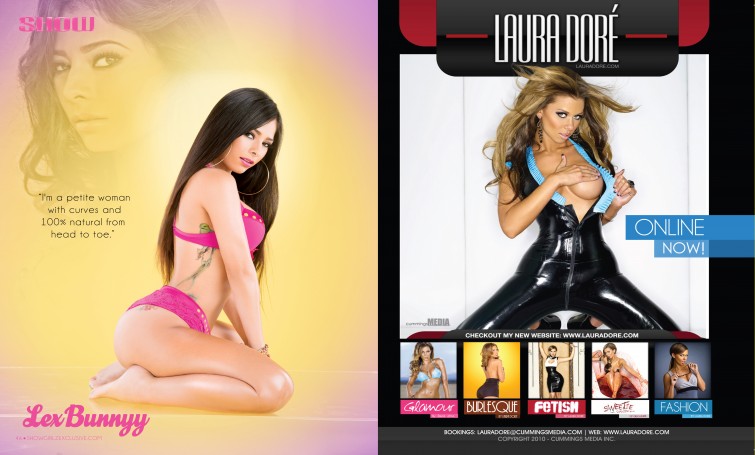 1
Total Galleries with
7
total photos of
Lex Bunny
from
SHOW #26
and other Issues