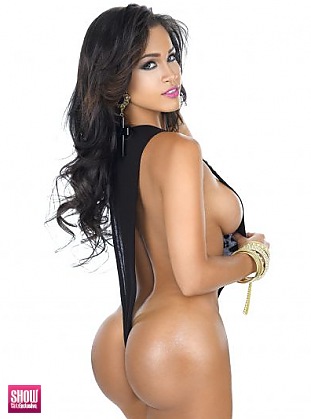 SGE Content for
Rosa Acosta in
BLACK LINGERIE #17
Photos:
1
Galleries and growing
Photos:
16
Photos and growing
Photos:
11.2
MB of Photos
Videos:
2
Videos
Videos:
8
mins of footage
Videos:
84
MB of video
View
BLACK LINGERIE #17
issue information and galleries >>
Rosa Acosta

Booking: @RosaAcosta

Rosa Initiated her modeling career in 2004, doing magazines and TV commercials for the most prestigious companies in her native Dominican Republic. She moved to the United States in 2006, where she continued to work as a model and actress doing music videos and magazine covers. In 2010 Rosa became a fitness competitor/personality, participating in The NYC Metropolitan Championships. She is currently a Certified Personal Trainer/ Zumba Instructor and Massage Therapist, and trough her website and personal blog www.rosaacosta.com, she provides her fans with fitness, diet tips and fitness video clips.

Whats been your most satisfying modeling experience?
All the magazines I have done are a dream come true to me, in addition to the music videos. I loved doing the Supreme Campaign with Terry Richardson, too.

How important is your fitness to your modeling career, and how does it help you?
Fitness is one of my main focuses right now. I have always been passionate about working out. Im really happy that I have been able to inspire and help others to get in shape and love their bodies. I used to struggle with anorexia and bulimia while growing up because I wasnt skinny enough to be a ballet dancer. Fitness has taught me that health is the key to being happy; that and accepting your body. Now, I dont try to look like anyone else. Im trying to make the best of my body. The responses I get from my female fan base are really rewarding and they keep me going.


What celebrities can you name who are among your fans?
Kanye West told me he was a fan of my work. He liked that I came from a background of 18 years of classical ballet training. He appreciates the art form. Also, not too long ago Jeremiah made a song called "Rosa Acosta", its a really sexy song! He said in an interview that he was a fan of mine. I had the chance to tell him that I really liked the song, and I thank him for also being really nice about it, because it could have gotten twisted in the streets, SMH, you know how that goes.

What can a man do to make you feel good as a woman?
Be grateful. On a daily basis I will do things to make you feel like a king so the only thing I ask in return is that you show me that you noticed, and that you are grateful and appreciative of me.

How do you use social networking to grow your fan base, and in turn cater to those fans? I love social media. I have to admit it can be time consuming and exhausting and a total distraction when you are trying to be productive but, I have managed to find the tricks to make the best of it. I try to find a balance between interacting, promoting my projects and also giving my fans a little taste of who I am. Not only do I have a big following on twitter, but my following is consistent on all other media outlets including my website.

How do you see your career progressing from here?
Im really excited about my workout clothing line, Body By Rosa Acosta. I sold out the first few hundred items I put on sale and now I have a few other pieces available. Im also working on a plus-size line. And Ill be releasing my workout DVD soon as well. Currently, Im working on my calendar/fitness agenda so this time girls will also be able to enjoy and get a useful calendar. Im also working on a line of 100% natural fitness and beauty products. As far as acting this year, I have just finish shooting a guest appearance for the show "The Hustle" on Fuse TV and I had a leading role on the Hot 97 Original Series "Los Blancos". I started recording music ( Spanish) and by the time this magazine is published the first single would be released. Im really excited to finally do and work on some projects in Spanish!

Whats the juiciest gossip youve heard about yourself that hasnt been true at all? Every single gossip about me dating an artist hasnt been true. The people I dated are not news worthy, they are not famous in any kind of way. I like my men vintage and artist and athletes are usually younger than my preferred age.




2
Total Galleries with
32
total photos of
Rosa Acosta
from
BLACK LINGERIE #17
and other Issues