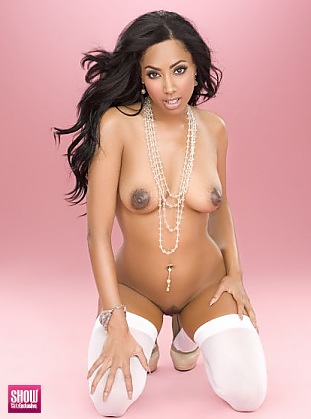 SGE Content for
Natasha Jones in
ART OF SEXY #4
Photos:
1
Galleries and growing
Photos:
16
Photos and growing
Photos:
11.2
MB of Photos
Videos:
2
Videos
Videos:
8
mins of footage
Videos:
84
MB of video
View
ART OF SEXY #4
issue information and galleries >>
TASHA JONES
My name is Natasha and I originally hail from the beautiful land down under Australia, Perth. I am of Portuguese/Polynesian & African American descent and my measurements are 34, 26, 36.
At the age of 16 I made the decision to move to San Diego, CA to follow and pursue my dreams of becoming a model. Since a young age I have found myself fascinated with the Beauty & Fashion Industry. I would sit for hours at a time flipping through the latest issue of high fashion magazines and picture myself one day gracing them. Since my move to the states I have been actively working on my portfolio and going after gigs and small rolls in television. Some of my appearances include:
TV pilot - "Mocha" co- staring Joe Torrey in (The Jump Off) on Cinamax in the fall 2012
Music video - Flo Rida ft Akon -Who Dat Girl
Outside of pursuing a career in the industry I am also currently a college student studying Cosmetology at Paul Mitchell the School and Business. I have also been formally trained and received my certificate for makeup artistry. I love to feel sexy and I enjoy making other people feel sexy.
Some of my hobbies include cooking, singing, and traveling. My favorite music artists are 2Pac, The Game, Chris Brown, R. Kelly, Aaliyah, Toni Braxton and Beyoncé. A major turn on for me is a confident man that is well put together and smells good. Also a man that can give me that look he already knows. My major turn off is an over confident man that comes across as arrogant and cocky.
The thing that makes me feel sexy is when I get straight out of the shower, hop into my boy shorts, white wife beater and my caramel Aussie UGG boots with my hair slicked back into a ponytail just lounging around at home eating my favorite chocolates. My favorite body part is my lips and one of my fantasies is to fulfill all of my career goals and have the luxury of relaxing in my dream home, sipping expensive wine and laughing at all the people who doubted me and put me down.
The future goal Im working toward is to one day own a small business in the Beauty & Fashion field and I want to own my own home by the time I am 30 years old. I recently gave birth to a beautiful little girl and she is my main motivation. I want to be a good example to as an independent woman and mother.
My
Booking info
- jonestasha17@yahoo.com & aussieunique@aol.com
- Twitter/Natasharogers87


1
Total Galleries with
10
total photos of
Natasha Jones
from
ART OF SEXY #4
and other Issues