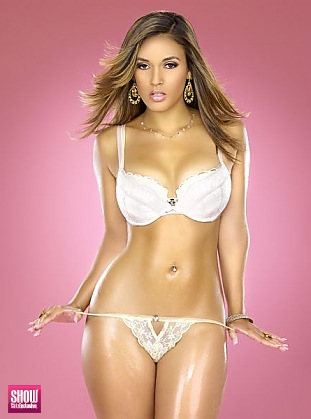 SGE Content for
Alissa Ross in
SHOW 22
Photos:
0
Galleries and growing
Photos:
16
Photos and growing
Photos:
11.2
MB of Photos
Videos:
2
Videos
Videos:
8
mins of footage
Videos:
84
MB of video
View
SHOW 22
issue information and galleries >>
AGE:
N/A |
FROM:
Northern, CA |
FEATURED IN:
SHOW 22
My Name is Alissa Rae Ross. I am from a small town called Sonora but I
have lived in the bay area since I was 18yrs. I am African American ,
German , and Cherrokee Indian. I am 22yrs and I am a Gemini.

I love the modeling industry. These past years Ive been studying photographyand had the chance to play a role as an Art Director. I love my
curves! I think my favorite thing about my body is my stomach. I am
currently a CNA / EMT and soon to be Cosmetologist. I can never seem
to settle at one job in my life, the world is to big to only view from
one side of it. I am Percocious and Ambitious! Those are two major
things about me. I love music and art, I use to be in a Performing
Arts Academy and act and sing.

My Goals in life are to contiue my education and learn everything and anything possible. This is my first appeArance in SHOW Magazine and I am honored to be one of these beautiful ladies. I can now say I am a SHOW Girl! Nick is an amazing photographer! I loved the crew and I can forget the wonderful Gaby Ramos she has helped me alot and I thank her for everything.

I would like to thank Vanessa Veasley for always being that older sister for
me in the Modeling industry she has really helped me grow. I can
forget to thank Sean Cummings for believing in me and giving me the
opportunity to be apart of his creation. With out Arthur from Arabelle
Modeling, I wouldnt have been in these pages today. Thank you! I also
would like to thank all the photographers who have worked with me and
everyone else in the industry for making this possible. Last but, not
least... I would like to thank GOD! He is amazing and I thank him
every day for giving me a beautiful life.

1
Total Galleries with
16
total photos of
Alissa Ross
from
SHOW 22
and other Issues