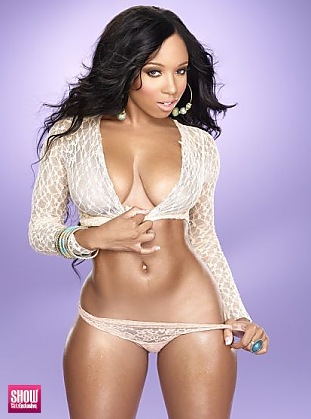 SGE Content for
Sheneka Adams in
SHOW 22
Photos:
0
Galleries and growing
Photos:
17
Photos and growing
Photos:
11.9
MB of Photos
Videos:
2
Videos
Videos:
8
mins of footage
Videos:
84
MB of video
View
SHOW 22
issue information and galleries >>
AGE:
N/A |
FROM:
Atlanta, GA |
FEATURED IN:
SHOW 22
Sheneka Adams is the definition of your fantasy girl. With hypnotizing brown eyes, the face of a porcelain doll and the curves of a Nubian goddess, its hard to believe the authentic Georgia peach is as sweet inside as she is outside.

As a teen Shenekas role model was her father. The successful businessman was the first to play baseball in the county and later transitioned that success into a million dollar business. While Shenekas father doted on her and cultivated his daughter as a social southern belle, he also taught her the value and rewards of hard work. Working for her father enabled her to help her mother and her siblings, but most importantly it showed her that she could accomplish anything if she put her mind to it.

It wasnt long before she became aware of another avenue to claim the spotlight. A huge Beyonce fan, Sheneka was intrigued with magazines, music videos and movies featuring her favorite heroine. "I thought her attitude was so fly," she says. Her penchant for entertainment became an obsession. Sheneka immediately knew shed found her niche. She wanted to
be a star. She wanted all eyes on her, and she wanted them to stay there.

Not long after relocating to Atlanta, Sheneka did a photoshoot with a photographer she met on online. The camera loved her and film lens adored her; soon Sheneka found herself starring in a video with Soulja Boy and Bow Wow for their hit single "Marco Polo." Almost overnight, Sheneka was one of the most in- demand models in the south. Casting directors were vying to cast her, promoters began booking her to host their parties, and she was a hot ticket for publicists at social events.

Little things may make her happy, but Shenekas goals were never simple. Today she is focused on growing her brand and heading a million dollar empire.

A beauty correspondent, she currently has a deal with a cosmetics company and several others on the table. "I want to get into so many things and Im grateful Ive been given the opportunity to have a voice," Sheneka says. In addition to being a spokesperson, Sheneka authors a popular urban blog and is currently working on a book.

What began with a pretty little girl watching her fathers example, has blossomed into a business-savvy young woman who plans to utilize her voice to lead an empire. In addition to entertainment, Sheneka enjoys doing non-profit work and making a difference in the lives of young women. She enjoys interacting with her females on twitter and facebook and giving advice to young girls who have stars in their eyes like she did years ago in Athens. "You have to know what path you want to take in life and then you need a strong team, she advises. Years ago Sheneka Adams visualized where she is today, and today she sees her future is even brighter.

1
Total Galleries with
17
total photos of
Sheneka Adams
from
SHOW 22
and other Issues