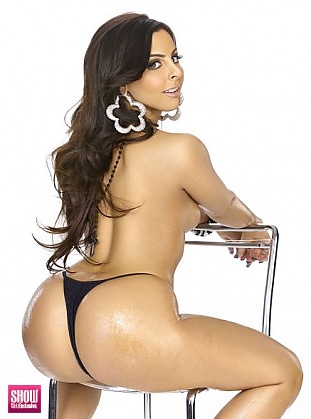 SGE Content for
Stephanie A. in
BLACK LINGERIE #15
Photos:
0
Galleries and growing
Photos:
16
Photos and growing
Photos:
11.2
MB of Photos
Videos:
2
Videos
Videos:
8
mins of footage
Videos:
84
MB of video
View
BLACK LINGERIE #15
issue information and galleries >>
Howdy Show Magazine! My name is Stephanie Arakel also known as "Ms. Cakes". I currently reside in Southern California where I was born and raised. Some of you may recognize me from my first Show Magazine appearance where I graced the cover of "The Art of Sexy" premiere issue. More than just a pretty face, I pride myself on my education and ability to create and master anything my little heart desires.

I was always involved in sports throughout my child hood and high school years. Saying I was a tomboy back in the day wouldve been an understatement. I was always that girl with a pair of fresh kicks, sweat pants, and a pony tail. It wasnt until after high school I let my hair down and traded in my track spikes for some heels. Modeling started off as just something that took my mind off of homework. I quickly realized I could make a lot of money off of my newfound hobby and started to pursue it more. Fresh out of college I began touring with LMFAO as their Polka Dot Bikini Girl and before I knew it I was a feature model on more than 20+ websites, in 10+ music videos, magazines, TV shows, and doing radio interviews. Needless to say my tuition was paid off rather quickly.

Measuring in at an ALL NATURAL 32C-23-39 there is a lot more to me than my vicious curves. I graduated with a degree in business marketing, as well as obtained a patisserie & baking degree from Le Cordon Bleu. I currently own and operate Ms. Cakes Bakery specializing in over 40 custom cupcake and cake flavors. Naturally, I had to name my bakery after my nickname I got for my booty. Currently all my orders are done online but I plan on opening up my own shop within the next 5 years.

As if being Ms. Cakes wasnt enough, I am currently aiding in the development process of an up & coming hip-hop artist who goes by the name of Jayoh Jr. and his company Unlimited Intellectual Property. In addition to the music, Unlimited Intellectual Property will house all creations of the mind, including their own clothing line, which yours truly is designing. The line is set to release in the spring of 2012 and I couldnt be more excited about it.
To find out whats going on in my life, see new pictures, order cupcakes, or get booking information just follow me on twitter. I always respond to everyone. Tweet me & Ill tweet you back ;)

www.twitter.com/StephanieArakel
www.UnlimitedIP.com
www.MsCakesBakery.com



3
Total Galleries with
63
total photos of
Stephanie A.
from
BLACK LINGERIE #15
and other Issues