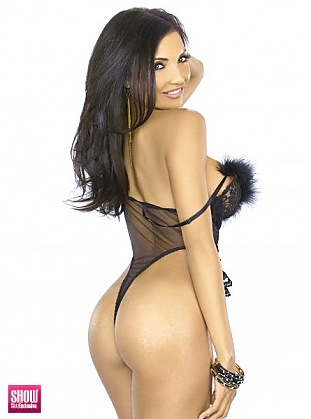 SGE Content for
Raven Lexy in
BLACK LINGERIE #15
Photos:
1
Galleries and growing
Photos:
16
Photos and growing
Photos:
11.2
MB of Photos
Videos:
0
Videos
Videos:
0
mins of footage
Videos:
0
MB of video
View
BLACK LINGERIE #15
issue information and galleries >>
Raven Lexy is actress, television host, model, and businessperson. Initially known as a leading glamour model, this San Diego native, Raven Lexy, is becoming a talented actress and a successful businessperson.
After the start of her modeling career, and first billboard campaign with Morongo Casino, she went on to win a contest as Savvys search for the Million Dollar Woman and Playboys Miss December 2009 for Palms Casino. Raven Lexy also appeared on the cover of the January 2009 Iron Man Fitness Magazine, an honor coveted by many models. She continued to gain modeling momentum appearing on the covers of Physique Magazine , & Las Vegas magazine, with spreads in Girls of Lowrider, Fighters Only, and many other lingerie and swimsuit prints.
Alongside her success with modeling, Raven quickly landed and currently maintains television work in the Latin Community with Estudio 2, and A Que No Puedes?, which helped rekindle a lifelong passion for a television and film career.

One of her early roles was a featured appearance on the NBC pilot Zip with Steven Weber. Television continued to create opportunities with small roles in Entourage, Greek, Chuck, 90210, and Numbers.
With the combination of her developing acting skills and model looks, she landed the lead role in Eminems Crack the Bottle music video and a highly visible AT&T and Cash for Gold commercials. Although Raven has appeared in many other music videos mainly in the Latin community, her main focus pushed her back to film.

Making the jump to the big screen, Raven appeared in the electrifying, action packed Crank High Voltage (2009) with Jason Stratham, Amy Smart, and Efren Ramirez. A few more roles on the big screen Zombie Strippers (2008) with Jenna Jameson , Forget Me Not (2009) with Carly Schroeder and Cody Linley. Raven had her first principle role in Obsidian Hearts (2011). And continued with two Lead roles in Ninja Rampage (2012), and The Good The Bad and The Dead (2012).

On the business front, Raven has partnered up with an innovative group to launch a "hip, sexy, trendy, exotic" social networking site called My Social Night Life . com. She also became the sites spokes model in addition to serving as one of the Vice Presidents of PR. The group anticipates huge success with the site which as just recently launched.
Raven Lexy continues to build her professional resume as she anticipates the "break-through role" to share her passion for the arts and become a household name.










1
Total Galleries with
16
total photos of
Raven Lexy
from
BLACK LINGERIE #15
and other Issues