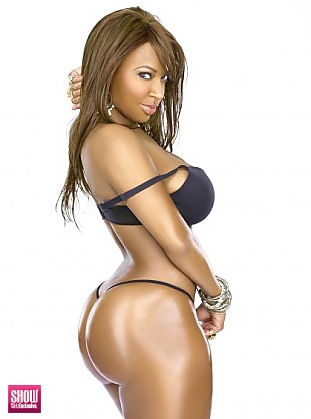 SGE Content for
Khrysti Hill in
BLACK LINGERIE #15
Photos:
1
Galleries and growing
Photos:
8
Photos and growing
Photos:
5.6
MB of Photos
Videos:
0
Videos
Videos:
0
mins of footage
Videos:
0
MB of video
View
BLACK LINGERIE #15
issue information and galleries >>
Khrysti Hill was born on July 24, 1984 in Greenwood, MS., big shocker right! All that thickness was raised in a few different cities in Ohio before turning into the model bombshell we know of her today. Khrysti, sometimes known as Khrys Deyon, is a model, writer, artist, and philanthropist who has appeared in over 20 of
the most popular urban publications in the united states!

Over the last few years she has become one of the most esteemed and sexiest urban models/vixens of our time. Khrysti is , by far, the most down to earth of all the beautiful women in her field and has maintained a great presence even after taking a 2 YEAR hiatus from the modeling world to focus on music! She is a natural beauty with astonishing measurements... 34DD-26-43 to be exact, and has carried these features since the age of 18!

Ms. Hill is proud of her adoring fan base and plans to re-emerge with new projects at the top of 2012! Such businesses include a new online store and a nonprofit organization. Her long awaited return has been documented on her new blogsite http://VspotBlog.com (which she shares with her management, Donna Soublet of Vivacious Models) and her music endeavors also produced a well liked mixtape, "Forever 21" over the summer of 2011!! She has intrigued so many followers and fans with her return and plans to take over the game once again! Khrysti has definitely earned the confidence she now holds, and proudly displays it with a certain grace that only she possess. Growing up with out a lot of money and 3 younger siblings, Khrysti has lived a life of taking care of everyone around her. These skills will be used to bless many more with her non-profit which will focus on hardships and experiences of young women and teen girls. Khrysti Hill will once again branch out and command the attention and respect of her peers and fans alike while striving to help other ladies find their purpose. Her knew attitude and approach to the business is already doing just that!

Being featured on the pages and covers of Black Mens Magazine, Allechantbelles Magazine, King Magazine, Show Magazine and more as well as writing and producing her own music and starting a new Brand, Khrys is well on her way to obtaining her victory in showing the world it is okay to fully love yourself...Mind, Spritit, and of course BODY! She is unstoppable. Look out for the newly improved and still breath takingly sexy, KHRYSTI HILL!!!


5
Total Galleries with
54
total photos of
Khrysti Hill
from
BLACK LINGERIE #15
and other Issues