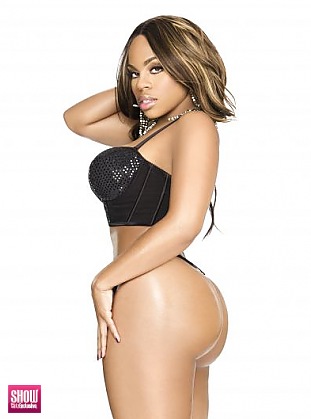 SGE Content for
Dominique C. in
BLACK LINGERIE #15
Photos:
1
Galleries and growing
Photos:
16
Photos and growing
Photos:
11.2
MB of Photos
Videos:
2
Videos
Videos:
8
mins of footage
Videos:
84
MB of video
View
BLACK LINGERIE #15
issue information and galleries >>
Dominique Chinn

This is me in a nutshell: Im 23 years old, born and raised in Houston TX,
the second of three children. I love acting and hold steadfast to the
notion that with my determination and drive I too will one day grace the
Silver screen.

Im no stranger to work. My first job was at the age of 14. I
worked for a clothing store in the mall. Ive had several jobs between then
and now. Im proud to say that Im a realtor, and hair distributor.
A lot of my heart and soul is also poured into modeling and acting. It is my hope
that you find it entertaining and evolving.

To sum me up, I would say Im a really smart, loving, caring person. I enjoy
cooking, shopping, designing clothes, and watching television. My favorite snack is hot Cheetos puffs! I love the color pink. I live by my favorite motto: "Anything is possible if you put God first; put your mind to it."


Website: www.DominiqueChinn.com
Twitter: www.twitter.com/dominiquechinn



1
Total Galleries with
16
total photos of
Dominique C.
from
BLACK LINGERIE #15
and other Issues