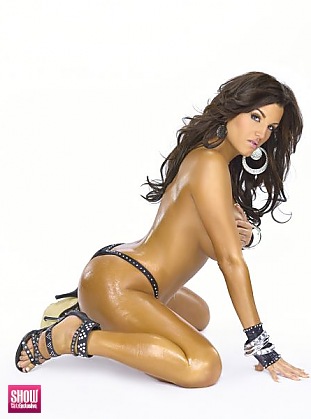 SGE Content for
Mya Jane in
BLACK LINGERIE #14
Photos:
0
Galleries and growing
Photos:
15
Photos and growing
Photos:
10.5
MB of Photos
Videos:
1
Videos
Videos:
4
mins of footage
Videos:
42
MB of video
View
BLACK LINGERIE #14
issue information and galleries >>
Maya Jane

I am Puerto Rican and Italian, living in North Hollywood, CA by way of Parkridge, Illinois. I am a pretty simple, old – fashioned, romantic girl with an inner "Barbie doll" that is very independent with a great since of humor. I live by a rule of doing what I want to do, especially if it doesnt hurt anyone.

I love to work out (cant you tell...lol), the beach, football, basketball, boxing, and
going to the movies. I have been told that I am an amazing cook and the way to my heart is being a man of God, with a great heart and a strong mind full of wisdom. Oh! Dont forget to bring the roses.

I started in the entertainment industry at age 16, pursuing a career in dance, but when an opportunity in 2008 arose to do modeling, I took a chance and have been modeling for over a year and have graced the pages of well-known mens
magazines with a 6 page spread degree of notoriety in these publications.

Currently, I am pursuing modeling full time and trying to find photographers, renowned magazines, and possibly international bookings to enhance my new and innovative visions. These visions are accompanied with my vibrant curves and exotic look to help me transform into a modeling art form through the eye of a camera and appearances.

Through modeling, I aspire to skyrocket myself onto the big or little screen in music videos, TV shows, and television commercials in the near future. I really would like to try my hand at becoming a sexy "action hero" one day.



1
Total Galleries with
15
total photos of
Mya Jane
from
BLACK LINGERIE #14
and other Issues