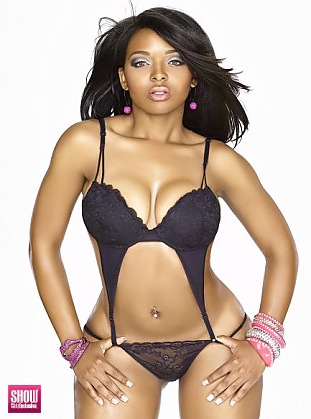 SGE Content for
Sultry Simone in
BLACK LINGERIE #13
Photos:
1
Galleries and growing
Photos:
11
Photos and growing
Photos:
7.7
MB of Photos
Videos:
1
Videos
Videos:
4
mins of footage
Videos:
42
MB of video
View
BLACK LINGERIE #13
issue information and galleries >>
My "SHOW" magazine photo shoot was absolutely awesome! I definitely want to extend much thanks and gratitude to Sean Cummings. The experience felt like a luxury five-day vacation. We started the day with a wonderful breakfast from the Los Angeles four star hotel accommodations; in which SHOW provided and the customer service was superb! Then off to work I went, which in fact to me didnt seem like work at all. And I have done plenty of photo shoots. However, this one felt more like a pampering day at the spa. SHOW magazines staff was so attentive to my needs I almost forgot it was work. The time spent at the studio made a model feel extremely sexy and inviting. The environment was filled with high energy, friendliness and professionalism. Like myself, they love what they do and they do it very well!
Doing the SHOW magazine shoot I had no idea that I would be attended to from head to toe and I mean that literally. SHOW was staffed with an awesome hair stylist, and baby I love my hair to bounce and flow. Ha ha ha. Oh, and the make up artist, one word, FABULOUS! Then there was the wardrobe coordinator that dressed every curve of my body so sexy. I cant forget the assistants that lotion my body from head to toe and made sure that every inch of me was on point. I was definitely feeling great and ready for the photographers. All I had to do was smile for camera. They did all the work! And the photographers took the pictures effortlessly. I loved every minute spent shooting for SHOW Magazine!
So to Sean and all the staff at SHOW, I just want to say that I had a SULTRY experience! Oops, cant forget my shout out to my mom. I love you and you are my rock and to my agency, Arabelle Modeling thanks for all your hard work.
Booking Info:
Arthur@ArabelleModeling.com
Arabelle Modeling, LLC,www.ArabelleModeling.com

1
Total Galleries with
11
total photos of
Sultry Simone
from
BLACK LINGERIE #13
and other Issues