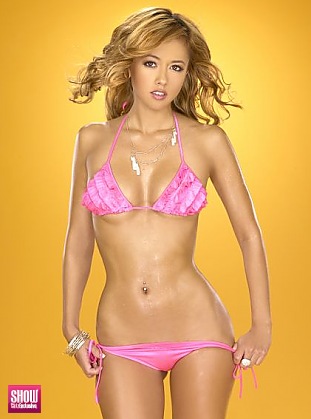 SGE Content for
Maxine in
SHOWGIRLZ LATINA 2
Photos:
1
Galleries and growing
Photos:
14
Photos and growing
Photos:
9.8
MB of Photos
Videos:
0
Videos
Videos:
0
mins of footage
Videos:
0
MB of video
View
SHOWGIRLZ LATINA 2
issue information and galleries >>
A lot of people cannot guess my ethnicity when they first meet me…So, Ill make it easy for you. Im 100% FULL Ecuadorian! I have lived in Southern California all my life and Ill never leave LA County. Theres just too much to do and the weather is unmatched. Id like to say I live in a bubble within my hometown city, but Ive just recently ventured out into some new experiences and am enjoying the realization that theres more to life than whats right in front of you.

I am a very independent person that likes to be treated with care. Although I am petite person, I definitely pack a punch. I can be tough to handle at times, but hey, my dad always said "You deserve to be treated like a Princess"! I am a super out-going social butterfly that enjoys partying at the hottest spots, drinking my favorite wine and the occasional weekend getaway. I love bubble baths and chocolate covered strawberries. Orchids make me melt, and the L.A. Flower District is one of my favorite Saturday morning locations. I guess you can say I cherish the simple things of life.

I was discovered by the wonderful and talented Mr. Sean Cummings, while eating dinner in Downtown L.A. I couldnt believe when he asked me to be in the LATINA edition SHOW Magazine. This is my first appearance in a magazine and cant wait to see what the future holds for my career in modeling!

If you cant get enough of me here you can find me at all the Hollywood and Downtown L.A Hot Spots. My night job allows me to work and play at the same time, while meeting new people on a constant basis! You can also follow me on twitter @CallMeMaxine , which I constantly keep updated about what I am doing and where I am in L.A.

Look out for me in the near future because I dont plan on stopping my hustle anytime soon!



1
Total Galleries with
14
total photos of
Maxine
from
SHOWGIRLZ LATINA 2
and other Issues