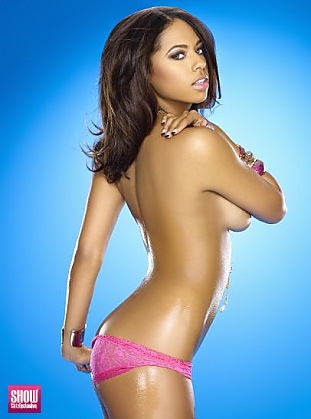 SGE Content for
Raya Reaves in
SHOW #19
Photos:
0
Galleries and growing
Photos:
13
Photos and growing
Photos:
9.1
MB of Photos
Videos:
1
Videos
Videos:
4
mins of footage
Videos:
42
MB of video
View
SHOW #19
issue information and galleries >>
AGE:
N/A |
FROM:
Austin, TX |
FEATURED IN:
SHOW #19
Raya

Hello all! My name is Raya Reaves and I am from Austin, Texas. Im 21 years old and moved to Los Angeles, CA when I was 18 to pursue my dreams and an education. I just recently graduated college with a bachelors degree in Finance. Now I can focus on my acting and modeling goals! Ive been acting since I was 9 years old, working in numerous plays and independent films. I took up modeling about a year ago and was blessed with an opportunity to be featured in SHOW! This will be my first spread in a nationwide magazine and Im ecstatic! You will be seeing a lot more of me!

Im a very chill and laid-back person. When Im not acting or modeling, you can catch me at happy hour watching sports. I love watching movies, reading and working out. Like most girls, I love to shop! While I do enjoy a good club or party, Im not the type to be out all the time. Although, when I do go out, I try to do it big!

When people first meet me, they automatically assume sweet and innocence, there is definitely more to it. Instant turn-ons for me are a sense of humor and originality. I dont want to hear the same thing you told the girl before me. I love trying new things and I think thats a key factor in making any relationship work. I would prefer my man to be athletic, honest and goal-oriented. Intelligence is so sexy in a man. Being able to hold a conversation is a must! I am a naturally nonchalant person, so setting oneself apart from the average will definitely keep my attention.

Id like to thank everyone at SHOW for this wonderful experience. The shoot was amazing and Ive met some awesome people. For more information about me, feel free to check out my personal website: rayareaves.com.

Also, be sure to follow me on twitter @OhhMissRaya. For booking inquiries, please contact info@millticketmodeling.com. Be sure to keep an eye out for me, Im on my way!



1
Total Galleries with
13
total photos of
Raya Reaves
from
SHOW #19
and other Issues