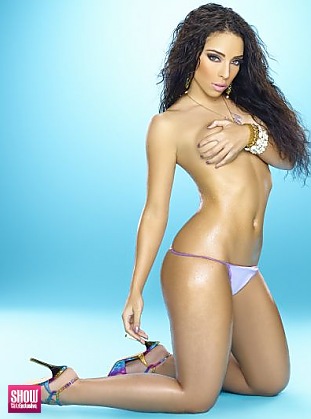 SGE Content for
Charm in
SHOW #19
Photos:
1
Galleries and growing
Photos:
19
Photos and growing
Photos:
13.3
MB of Photos
Videos:
3
Videos
Videos:
12
mins of footage
Videos:
126
MB of video
View
SHOW #19
issue information and galleries >>
AGE:
N/A |
FROM:
Los Angeles, CA |
FEATURED IN:
SHOW #19
Charm

Hey! My name is Charming. I m originally from San Bernardino, CA, but I now live in LA, and I love it! Most people cant tell by looking at me but I am really silly and love to make all my friends laugh and have a good time. I love seeing new places and meeting new people.

Im new to the modeling game and am so happy Sean Cummings noticed me and gave me a chance to be in SHOW. This is one of the best experiences I have ever had. I love looking at SHOW magazine and seeing all the beautiful women and I am very flattered to now be one of them. The shoot was great I got to get creative and show my sexuality. Sexy to me is mostly about how your presence exudes confidence and sexuality. Modeling was never one of my goals but I am very excited to see where things can go.

The things I find sexy in a man are sense of humor, a good dresser and someone who knows how to be a gentleman and treat a lady. If I can have fun with you, then youre my kind of guy.

My aspirations outside of modeling are to start my own group home and help at-risk youth. There is no better feeling than knowing you have helped someone move his or her life in the right direction.

Thanks for checking me out and hopefully youll be seeing more of me in the future.
to see more of me look me up at modelmayhem.com/charmingkillings.



1
Total Galleries with
19
total photos of
Charm
from
SHOW #19
and other Issues