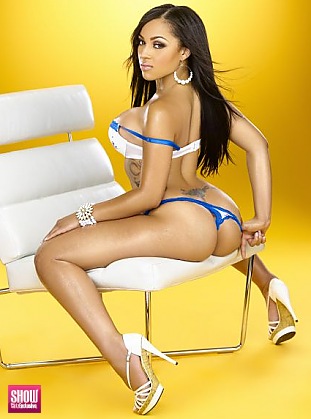 SGE Content for
Miss Joie in
SHOW #19
Photos:
0
Galleries and growing
Photos:
18
Photos and growing
Photos:
12.6
MB of Photos
Videos:
1
Videos
Videos:
4
mins of footage
Videos:
42
MB of video
View
SHOW #19
issue information and galleries >>
AGE:
N/A |
FROM:
Los Angeles, CA |
FEATURED IN:
SHOW #19
Hi, my name is Joie Chavis (also known as Miss Joie) "3bs" I like to call myself beauty, body, and brains! Im 21 years old, a Los Angeles native w/ the measurements of 34,26,40. Ive always believed life is what you make it. You create your destiny and pave your own path. With that being said, whether it is a picture or the game of life I always make my next move my BEST move.
When Im home I like to pick up a book or two, relax with my family, or enjoy the Los Angeles weather at the beach. Modeling is a craft, I choose to live, eat, breath my craft. Ive always let passion drive my profession by trusting my instincts, intuition doesnt lie. As far as my interest in men goes, I love men that are on my level sexually (knows what their doing) lol mentally, emotionally, and spiritually. I guess you can say Im a little selfish, because I like a man all to myself. It may sound strange but I like to get a man mad then have sex. It makes it ten times better knowing Im in control and he cant resist me. Providing a fantasy for men all across the globe, working the camera with more than just my body, but engaging a conversation with my eyes. Im camera ready 24 hours a day, at home, in the gym, even when I sleep.
When I dream I dream BIG, so I do what I can to make EVERY mans dream come true with every glance. A fantasy, desire, and an indulging conversation with my eyes, that turns a dream into reality. I want to give big thanks to SHOW magazine. Its an honor to be featured in the 19th issue, and Im beyond excited to show the world what I have in store! I had a great time working with Nick and the whole Slickforce team! Theyre AMAZING!! Most of all I want to give a big thank you to Sean Cummings for the great opportunity!! Hope the world is ready for me because there is more of me to come! EnJoie! xo
Booking info
rmation:
Bookingjoie@gmail.com
www.twitter.com/missjoie
Miss_joie


2
Total Galleries with
34
total photos of
Miss Joie
from
SHOW #19
and other Issues