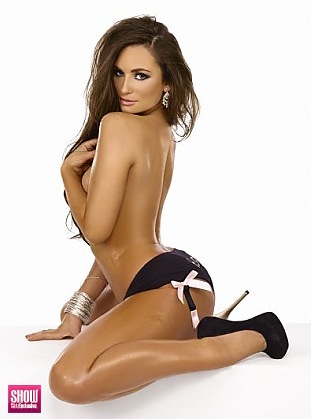 SGE Content for
Rosie in
BLACK LINGERIE #12
Photos:
0
Galleries and growing
Photos:
19
Photos and growing
Photos:
13.3
MB of Photos
Videos:
0
Videos
Videos:
0
mins of footage
Videos:
0
MB of video
View
BLACK LINGERIE #12
issue information and galleries >>
ROSIE

After seeing SHOW for the first time, I was so impressed that I knew I wanted to feature in it. The models had beautiful physiques; they looked womanly, exotic and natural. Slickforces photography captured the beauty of these girls perfectly. I just knew I had to shoot for the magazine! The way in which the girls are portrayed and the way their curves are celebrated really inspired me.

Id been working for Apple Bottom Jeans UK, posing as their main model in 2009 adverts and catalogues. Modeling for them opened up a whole set of new experiences for me, like more modeling work, free clothes and travelling abroad for work. As a company they always appreciated my look and I was hoping SHOW would too. I contacted Sean Cummings myself and finally got the chance to visit the USA on a modeling job, so stopped by at the office to meet Vanessa Veasley. She was lovely, and I stayed in touch with the magazine. I got the chance to shoot with SHOW when they visited London!

The day of the shoot was just as id imagined, both Nick the photographer and Sean himself were a pleasure to work with. I was happy that id pushed for the chance to be involved in the magazine.

My body shape is unusual in the UK glamour market at 30, 22, 38. We need more hips and booty! With American influences like Show Magazine I think we will see the English market changing soon! I predict a curve revolution!

Contact me for work through my agency at http://www.helsbelles.com
Thanks guys! See you again.



1
Total Galleries with
19
total photos of
Rosie
from
BLACK LINGERIE #12
and other Issues