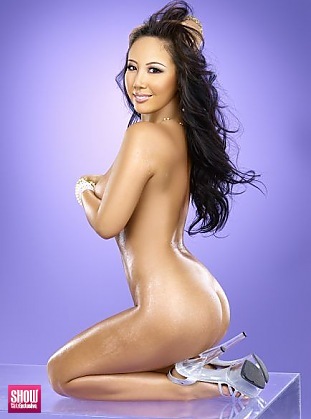 SGE Content for
Chelsea Co. in
SHOW #18 EAST
Photos:
1
Galleries and growing
Photos:
12
Photos and growing
Photos:
8.4
MB of Photos
Videos:
1
Videos
Videos:
4
mins of footage
Videos:
42
MB of video
View
SHOW #18 EAST
issue information and galleries >>
Born and raised in Japan, Chelsea always dreamed of a life in America. And with her recent move to California, her dreams of modeling are starting to take shape. Already shooting with the likes of Playboy and Low Rider, this all-natural beauty has got many more things to come.

Tell us your name and where youre from.
My name is Chelsea Co, and Im from Tokyo Japan.

How did you get your start in modeling?
My friends got me into Lowrider Girls magazine. That was my first magazine I appeared in.

What was your biggest accomplishment in modeling?
My biggest one was appearing in Playboy also im into pdiddy,chingy,omarions music video=) ive done couple magazines in here and japan.

Were you nervous?
I was so nervous since it was my first time naked. But later it became fun when I got used to it.

What kind of girl were you in highschool?
I attended a private school, which was really strict..i was super good girl in the world.....hahaha.

What do you do in your spare time?
I like hanging out with my girls in L.A..love having girls time!! movies,shopping as well.

Where do you see yourself in the next few years?
I see myself modeling more in L.A. and in Japan as well.

If you were a guy for a day, what would you do?
Id be a PIMP!LOL just kidding!but love to going out wit beautiful girls!!…Id like to have many experiences! Haha!

Do you have any pets?
Yes, I have a dog but hes in Japan right now. his name is kotaro!! I miss him!

What kind of music do you like?
I like R&B when Im at home chilling, and when Im in the clubs I loooove hip hop whoo hooo!!.

Where would you like to go visit?
I like to go to warm places like Hawaii or Miami and id love to go to europe sometime soon!.

Whats your favorite food?
My favorite is Japanese food of course.Im sushi girl!!!LOL I also like Chinese, Thai as well. Basically all asian food...i dont eat any meat now.

Can you cook?
Yes, I can cook and i like cook for somebody.... Japanese, Thai and Korean food.

What is your favorite part of your body and least favorite?
My favorite part is my belly button. It has a nice shape and its really clean. My least favorite is my butt wish i could have a JLO booty!!.

What type of guys do you go for?
I dont like guys that have no manners and are selfish. I like guys that are humble and who know how to treat others well..and romantic,sweet is very important too.

Are you currently single?
Yes, Ive been single.Ive been dating but I havent found the right guy....do u know any good guy in LA???LOL.

What turns you on in a guy?
I like a guy with muscles and who is very sweet,romantic and i can respect. But it really doesnt matter about looks, its all about what he has inside.

What puts you in a sexy mood?
Just going to a place thats nice and quiet, i dont like a loud place.

What is the craziest thing youve ever done?
sex in private jet!!!! sky highhhh!!! hahahaha.

Does size matter?
Yes, size does matter but i dont wanna too big&small.

Have you ever kissed a girl?
Of course! wink!



my three size are 38-24-38. i have a all natural body=)=) and i got a from my mama!!

i am a girl have a class and ambition.... thats why im in here....also im very fun and sweet!!hehe

i have a respect for anybody so i hate people not have respect.

i love sports especially swimming and table tennis!

i love icecream... i having one in a day!!!



thank you for having me to SHOW MAGAZINE..... love sean&vanessa!!

xoxoxo



1
Total Galleries with
12
total photos of
Chelsea Co.
from
SHOW #18 EAST
and other Issues