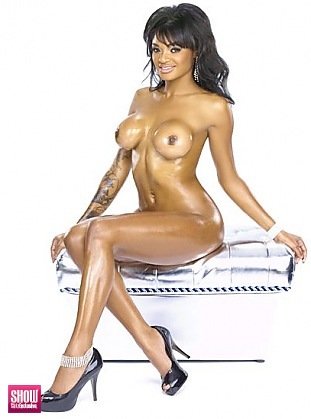 SGE Content for
Tierra in
BLACK LINGERIE #10
Photos:
1
Galleries and growing
Photos:
27
Photos and growing
Photos:
18.9
MB of Photos
Videos:
1
Videos
Videos:
4
mins of footage
Videos:
42
MB of video
View
BLACK LINGERIE #10
issue information and galleries >>
Tierra
PHOTOS BY:
Nick Saglimbeni, Slickforce.com
STYLING BY:
Diana Chan
HAIR STYLIST Tony Jones
KEY MAKEUP ARTIST:
Gaby Ramos using MUD Cosmetics
BOOKING INFO:
email bookings@club-tierra.com
My name is Tierra Im 22 years old from Tacoma Washington. Ive been modeling for 4 years and this is my very first time appearing in SHOW. Ive done a lot of local magazines, but have never done anything as fun as this! The shoot was amazing, I have never seen something so well put together as the way SHOW does it. Everyone was a lot of fun to work with and I cant wait to do it again!
The word "sexy" to me means, getting the world to do anything you want! The sexiest thing about a guy is his lips & sense of humor. It definitely goes a long way with me. I love someone who can make me smile and laugh all the time and I love kissing so nice lips are a MUST. The only hobby I have anymore is, getting tattoos! I have eight as of right now, including the full sleeve I just started on my arm! A few people hate my tattoos and but then a lot of people love them! Having them is my way of expressing myself to the world. I love getting inked right now; Its a serious addiction.
When Im old and cant model anymore I would love to work at becoming a radio host or TV show host. Ive always wanted to get involved with the media and entertainment world.
When Im not modeling I am usually at home at my computer working on my website, which I am proud to say I run all by myself. I spend an enormous amount of time online chatting with fans from all over the world. I meet tons of new people daily. If Im not doing that, Im relaxing at home, as I am a real chill person; nerdy with the glasses and everything. But, I am quite random at times and a spur of the moment type of person. I will attempt to do tons of crazy things and never with a plan, lol. I just like to have fun. You can see more of me at Club-Tierra.com or Myspace.com/clubtierra for booking email bookings@club-tierra.com


1
Total Galleries with
27
total photos of
Tierra
from
BLACK LINGERIE #10
and other Issues