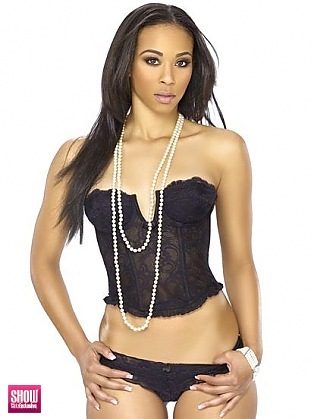 SGE Content for
Sabria in
BLACK LINGERIE #9
Photos:
2
Galleries and growing
Photos:
28
Photos and growing
Photos:
19.6
MB of Photos
Videos:
0
Videos
Videos:
0
mins of footage
Videos:
0
MB of video
View
BLACK LINGERIE #9
issue information and galleries >>
Sabria
PHOTOS BY:
Nick Saglimbeni, Slickforce.com
STYLING BY:
Diana Chan
HAIR STYLIST Al Ingram
KEY MAKEUP ARTIST:
Gaby Ramos using MUD Cosmetics
PRODUCTION FACILITIES PROVIDED BY:
Slickforce Studio
Hey guys, even gals I guess, Im pro-choice. lol. This being my first appearance in SHOW mag Im honored to share a little about myself. My name is Sabria which translates to Patience in Arabic. I was named after my grandmother on my mothers side. I am Egyptian and black, truly African American. I was born and raised in Lancaster, Ca on February 4. I came into this world an Aquarius by the stars and a Muslim by birth and was raised under the religions strict beliefs. Though, as I got older, our dedication to the religion faded. I still derive much of my morals, attitude and my tolerance towards diversity from the teachings and my rich culture. I have always been athletic and I love basketball and football. I am a genuine person with many responsibilities, goals, aspirations and dreams. I will receive my Masters in Counseling one day, as of now I am working on my Bachelors in Psychology. On the other side of the spectrum I want to venture into high fashion. I love the runway! And when the opportunity presents itself I am not against acting. As of right now I am focusing on me. I tend to be real faithful and submissive normally, putting people first. I love my men hard and make sure they are pleased. If I love them anything they want they can have and I mean anything! I am single as of now and I cannot say I do not love it. I mean Im young and Ive got a lot of life ahead of me and a 34-24-40 frame, you do the math. O and by the way Im 59". Im truly feeling the dating scene, but the man has to be worth my limited spare time. He must be patient, confident and have a great sense of humor. I love to laugh and Im kind of sarcastic, but its only love no matter how below the belt I go! Also he should be very open minded towards diverse situations and environments. I need a man to spoil me with thoughtful gifts from the heart and I need him to be consistent. I need a man to be a man! Down to earth and level headed like I am. When it comes to traveling there is so much I need to see. Theres a whole big world out there and I need to experience as much of it as I can before Im long gone and I will in due time. I know modeling will allow me to reach new heights and Im excitingly anticipating what this profession is waiting to offer me. I want to say thank you to my family and friends who without them I would be nothing! I love you all soo much! Thank you to everyone at show mag and the good men who connected me with this opportunity and always have my back! You know who you are. Until next time, I love you all and be blessed!


2
Total Galleries with
28
total photos of
Sabria
from
BLACK LINGERIE #9
and other Issues