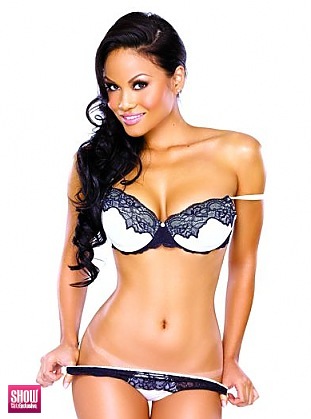 SGE Content for
Daphne Joy in
BLACK LINGERIE #9
Photos:
2
Galleries and growing
Photos:
38
Photos and growing
Photos:
26.6
MB of Photos
Videos:
1
Videos
Videos:
4
mins of footage
Videos:
42
MB of video
View
BLACK LINGERIE #9
issue information and galleries >>
Daphne Joy
PHOTOS BY:
Nick Saglimbeni, Slickforce.com
STYLING BY:
Diana Chan
HAIR STYLIST Al Ingram
KEY MAKEUP ARTIST:
Gaby Ramos using MUD Cosmetics
BOOKING INFO:
DaphneJoyBooking@yahoo.com
PRODUCTION FACILITIES PROVIDED BY:
Slickforce Studio
"My first love has always been cooking!"
"Id be the hottest chef alive!"
"I am sharing what could be my last lingerie shoot with all of you!"
This is my most anticipated cover yet, the Black Lingerie Issue! Im very excited to have been a part of this shoot. You know that you are a desired model when you are offered an opportunity to pose for SHOW Black Lingerie. Black Lingerie has always been the quintessentially sexy look that every woman has somewhere saved for that special someone. Well, this month, you are that special someone.
I am sharing what could be my last lingerie shoot with all of you! This year has been really good to me. I was the cover girl for the SHOW East edition, I did my first celebrity cover with T.I for Blackmens Magazine, I attended my first DUB show, and Hot Import Nights, which was a great opportunity to meet my fans and sign autographs. I love interacting with my fans, both men and women, on a more personal basis because I like people to see that I am a very relatable, down to earth, silly, person. Im also the new face for Ed Hardy & Christian Audigier 2009 Swimwear campaign! This was huge for me because as a teenager these are all the things I wanted for myself, to be on magazine covers and campaign ads! I really do appreciate everyone who has guided me, and helped me get to see my dreams become reality, I cant thank you enough.
My goal as a model and actress is to be very versatile, being sexy can really help, and can also limit you. But my first love has always been cooking! I know that probably has nothing to do with modeling or acting, but I am truly my happiest when I make all my amazing dishes and serve them to my family and friends. Its so funny when people taste my food and take a double take, as if pretty women cant throw down! I think if I really stick with cooking and become a chef one day, Id be the hottest chef alive! Really, think about it? Has there ever been a smokin hot, Filipino & Puerto Rican, bad ass chef? The answer is yes, and her name is Daphne Joy! Follow me at: Twitter.com/MissDaphneJoy for daily updates!


4
Total Galleries with
57
total photos of
Daphne Joy
from
BLACK LINGERIE #9
and other Issues