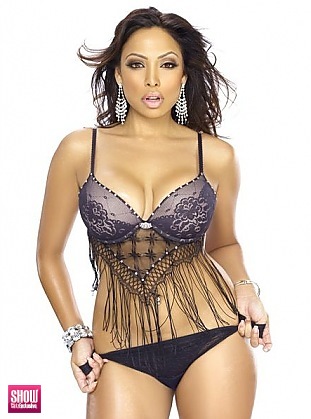 SGE Content for
Nadia in
BLACK LINGERIE #9
Photos:
2
Galleries and growing
Photos:
32
Photos and growing
Photos:
22.4
MB of Photos
Videos:
1
Videos
Videos:
4
mins of footage
Videos:
42
MB of video
View
BLACK LINGERIE #9
issue information and galleries >>
Nadia Dawn
PHOTOS BY:
Nick Saglimbeni, Slickforce.com
STYLING BY:
Diana Chan
HAIR STYLIST Tony Jones
KEY MAKEUP ARTIST:
Gaby Ramos using MUD Cosmetics
BOOKING INFO:
http://morena-entertainment.com/ - YAMI JOHNSON
PRODUCTION FACILITIES PROVIDED BY:
Slickforce Studio
IM ORGIANLLY FROM TORONTO CANADA AND AM OF INDIAN AND GUYANESSE DESCENT. YOU C AN FIND ME ON THE IMDB @ www.imdb.com/name/nm1821065/
It has been a rollercoaster, Ill tell you that. It 's so hard to keep on going but something in me wont let me stop. I dont want to be like the many others that stick their thong up their butt and expose everything to the world … I want to be known for my talents. Its such a fine line. I want to continue writing, acting and producing, and its soo easy just to make quick money by selling sex. Dont get me wrong I know my images sell sex but there is so much more to me than that. I have been working on a script entitled, "Choice." The synopsis is: "Do we take the road less travelled and in the end it leads to glorified results? Or do we take the road that seems to be golden, easy but has a meaningless end?
I have two films in pre-production, three films on the go, a ton of publications and I finally hired a P.R. Yea, so Im now red carpets. You can find me images on Wireimage, and Getty.
Sean has always been great in producing amazing, classy images for me, I thank him for that.
An artist by the name of Gift wrote a song entitled, "The Break of Dawn." Its number 4 on the R&B Billboard Charts. I play the singer and sign all the hooks. This title hopefully is serendipitous to my life --- Not a mental breakdown of course LOL but the break that I will have!
You can find me @ www.myspace.com/nadiadawn, nadiadawn.com, twitter.com/REALNADIADAWN - www.facebook.com/nadia.dawn
With all of these sites how is one suppose to get some privacy.. I guess they cant – Lol
My love life, looking to settle down and spend the rest of my life with that one special person!
I have grown and really want to make a difference here in Hollywood. The issue that comes closest to my heart is this:
Women have other ways of going about their lives than having SUGAR DADDIES or allowing men to cheat on them because they have money. What has this day and age come to? Why would we sell our soul for a quick buck? These type of women are all around me, especially in this industry. Lets be positive, lets help society progress, lets make a change, lets be the LIGHT.
NADIA DAWN
BOOKING INFO:
RMATION:
http://morena-entertainment.com/ - YAMI JOHNSON
I want to thank Yami Johnson for helping me to get my O Visa in order to be able to work in the United States, and last but not least, I want to thank my mother for being my best friend – without her I would not be the person I am today.
Nadia Dawn is attached to War of The Dragon, Face the Thunder and Reprecussions.


4
Total Galleries with
49
total photos of
Nadia
from
BLACK LINGERIE #9
and other Issues