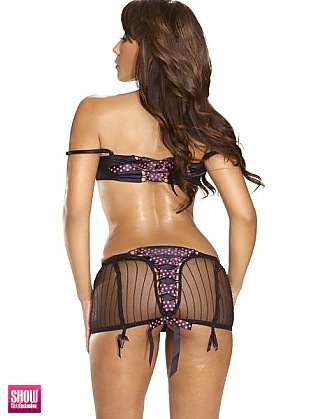 SGE Content for
Jacquelyn in
BLACK LINGERIE #8
Photos:
0
Galleries and growing
Photos:
7
Photos and growing
Photos:
4.9
MB of Photos
Videos:
0
Videos
Videos:
0
mins of footage
Videos:
0
MB of video
View
BLACK LINGERIE #8
issue information and galleries >>
PHOTOS BY:
Nick Saglimbeni, www.slickforce.com
STYLING BY:
Megan Halpin
KEY HAIR STYLIST:
Tony Jones
KEY MAKEUP ARTIST:
Gaby Ramos using MAC Cosmetics
BOOKING INFO:
Brendalynnonline.com or brendalynnonline@gmail.com
PRODUCTION FACILITIES PROVIDED BY:
Slickforce Studio
Born and raised in the city of Angels beautiful Los Angeles California. Virgo by the signs, Latin American by genes, my name is Jacquelyn Nunez. A free spirit, Daughter of a gentle ambitious Latin woman, and a strong wise Lebanese male, both are a gift from heaven. I admire an educated person and for that I strive to always continue my education. Having already earned a degree in business management I seek more, I believe in being extraordinary not ordinary. Dont ever settle for what you know seek more. Fluent in English and Spanish, by day you may find me in a court room, law office or hospital as an interpreter, on occasions you may find me at a promotional event for one of the many companies I represent, enjoying life! This is my life I make the rules, I approve my own schedule, and I like it that way. It doesnt imprison me to life predictability and for that I am privileged to live life in the moment. I love to spend time with my little nephews they keep my spirit high. I have a sister that goes by Sisi that I hold dear to my heart, She has so innocently taught me much about life and how to look beyond the trouble to see the brighter side a skill that she has mastered, I also really enjoy my little Sasha, she always brings a smile to my face, Shes a Blue American Pit Bull Terrier.
I have tons of energy and always looking for new things to do. I love all types of music from Hip Hop to Rock. I love to dance like most girls do, and if youre watching it really doesnt matter its me and the music lost in a trance, Love the classics 61 Lincoln, 66 Cadillac on suicide doors but never had the opportunity to really experience the time and dedication it takes to restore, customize and maintain these beauties, love motorcycles picture me rolling my new Yamaha R6! There does come a time when I just want to relax stay home watch a comedy, play some Guitar Hero or play my Nintendo DS, but my greatest joy would have to be..lending a helping hand to someone in need, that fills my heart with an indescribable feeling, I recognize it as a blessing,


2
Total Galleries with
22
total photos of
Jacquelyn
from
BLACK LINGERIE #8
and other Issues