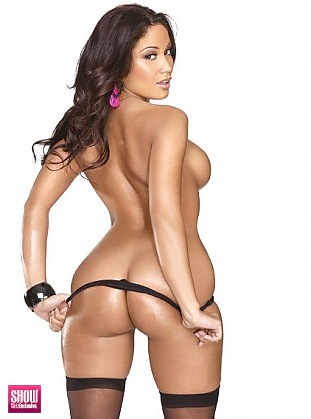 SGE Content for
NaNa in
BLACK LINGERIE #8
Photos:
1
Galleries and growing
Photos:
15
Photos and growing
Photos:
10.5
MB of Photos
Videos:
0
Videos
Videos:
0
mins of footage
Videos:
0
MB of video
View
BLACK LINGERIE #8
issue information and galleries >>
PHOTOS BY:
Nick Saglimbeni, www.slickforce.com
STYLING BY:
Megan Halpin
KEY HAIR STYLIST:
Tony Jones
KEY MAKEUP ARTIST:
Gaby Ramos using MAC Cosmetics
BOOKING INFO:
www.myspace.com/samoanqweennana
PRODUCTION FACILITIES PROVIDED BY:
Slickforce Studio
"Im actually very sweet and down to earth"
You saw me first in issue #11 and now on Im on the cover of SHOW… Thats just awesome! Its been an honor working with Sean Cummings and Nick Saglimbeni (whos also one of the best photographers out there!). Let me introduce myself again, my name is Natasha aka NaNa, aka Na. Na is a nickname that is somewhat special to me because it was given to me by my family. For those that think they know me like that, dont call me by my family name please. Its an insult! I am a Taurus, a bully! [Laughing] No. Im actually very sweet and down to earth.
I was introduced to Sean by a very good friend of mine, Aaron Million. I was in my hometown (THE YAY AREA!!!) working as a hostess at a nightclub, when Aaron came over and introduced himself to me and we hit it off as friends ever since. He encouraged me to shoot for SHOW, and I flew down to LA to check it out for myself. I immediately fell in love with the staff as they felt the same about me! I was ready to show the world what a real, curvaceous, Samoan beauty looks like.
I was amazed by how many people from all over the country contacted me on MySpace after seeing me in SHOW Issue #11. Your compliments were so wonderful! Thanks again everyone! Dont forget to visit me at www.myspace.com/samoanqweennana


2
Total Galleries with
36
total photos of
NaNa
from
BLACK LINGERIE #8
and other Issues