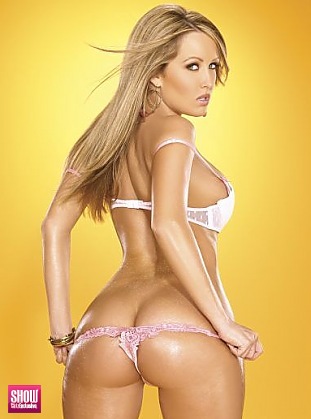 SGE Content for
Jessica Barton in
SHOW PEARLS #14
Photos:
5
Galleries and growing
Photos:
222
Photos and growing
Photos:
155.4
MB of Photos
Videos:
3
Videos
Videos:
12
mins of footage
Videos:
126
MB of video
View
SHOW PEARLS #14
issue information and galleries >>
PHOTOS BY:
Nick Saglimbeni, Slickforce.com
STYLING BY:
Megan Halpin, Meganhalpin.com
KEY HAIR STYLIST:
Tony Jones
KEY MAKEUP ARTIST:
Gaby Ramos using MAC Cosmetics
MAKE UP ARTIST:
David Rodriguez using MAC Cosmetics
BOOKING INFO:
Jessicabarton.com
PRODUCTION FACILITIES PROVIDED BY:
Slickforce Studio
"I now have a Toyota Supra pushing over 1100hp. I race it all the time!"
Hey! My name is Jessica Barton and Im 25 years old, from Orlando, Florida. I was born in Rome, Georgia but grew up in Cocoa Beach, Florida. It was a small little beach town where I stood out quite a bit as goth kid. Luckily I grew out of that phase and moved to Orlando, Florida to pursue more interesting career paths. The first one was as a bartender downtown. While working one night a modeling agent asked me if I would go to a casting the next day… and I did. I didnt get the job, but the photographer brought me on as a makeup artist. I worked for a year doing that and snapping some modeling photos here and there and before I knew it, I was a full-time model. I got work in magazines such as FHM, American Curves and any and every import car magazine. The import car magazines came around because of my involvement in the sport compact scene as a true car enthusiast. My whole family had been into cars, so it was only natural for me to fall into line with them. I got my first Toyota Supra at 18 years old and started modifying it right away. I brought that one up to around 500rwhp and got it featured in a few magazines. An unfortunate incident of a mom running a red-light in her SUV took the life of that car and I decided to build an even better one. I now have a Toyota Supra pushing over 1100hp. I race it all the time and actually won my first event this year. Hopefully I can pick up more sponsors to race this car or get into a professional ride sometime in the future. Working in the car industry has also helped me out in my Television career. My first gig was actually hosting for the NHRA Sport Compact division on ESPN2! I was so excited and got to work for that show for 2 years. I have gotten quite a few other hosting gigs from it and hope to do much more in my future. Now, I know from that I may not be your average girl, but I think that it is part of what makes every single girl in this world different and sexy in their own way. I really hope all of you enjoy my spread in SHOW Magazine because I really had a blast shooting it. If you want to learn more about me or get in contact with me for bookings, please check out jessicabarton.com and myspace.com/supragrl93.


9
Total Galleries with
275
total photos of
Jessica Barton
from
SHOW PEARLS #14
and other Issues