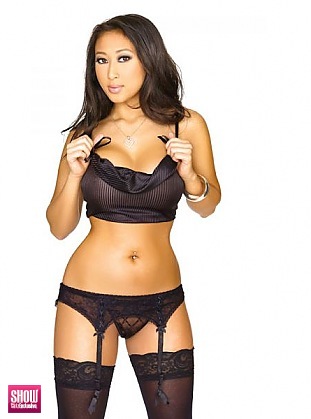 SGE Content for
Cali in
BLACK LINGERIE #7
Photos:
5
Galleries and growing
Photos:
126
Photos and growing
Photos:
88.2
MB of Photos
Videos:
0
Videos
Videos:
0
mins of footage
Videos:
0
MB of video
View
BLACK LINGERIE #7
issue information and galleries >>
"I just like to have fun and keep around more than one!"
My name is Christine Zamora or better known as "Cali" from Real Chance of Love! Im a 23 year old Filipino, Vietnamese and Spanish girl. Im a Capricorn so Im pretty easy to get along with. Even though I am easy to get along with, I am very fickle with who I keep around as friends. Its very hard for me to trust people! As far as relationship goes, Im very passionate and romantic when it comes to a boyfriend but when I am single you can compare me to a guy, because I just like to have fun and keep around more than one (wink) I was given the name "Cali" on the show because I was born and raised in California. Born in Fresno, raised in Orange County and currently am living in LA. Im very athletic. Ive played volleyball, basketball and softball for 7 years, and Ive been boxing for 3 years. I love ALL sports; Id much rather be playing it than watching it! I was a tomboy growing up because I grew up with 4 older brothers that taught be how to be a tough person and not take crap from anybody. Music is everything to me. Its what pumps me up before anything, and its what calms me down when Im stressed. I prefer rap music over anything. My favorite rappers right now would have to be Lil Wayne, the Game and T.I. I dont drink or smoke, but I love to go out and hit the clubs and dance my ass off. I can be very home bodied also and spend my days with my family. They are the most important thing to me...my parents, 4 brothers, a lil sister and a lot of nieces and nephews!! I have 4 major turn ons with a guy: (1) Tattoos (and I mean tatted up, arms, chest, neck etc), (2) Goatees, (3) Some bomb ass cologne and (4) Accents(Country accents, east coast accents, Midwest accents or even raspy voices) Hot, Hot, Hot! As far as my goals in life, I want it all: Acting, modeling, my own clothing line, owning my own business, and traveling. I want to live it up and do whatever I can get my hands on!
PHOTOS BY:
Nick Saglimbeni, Slickforce.com
FASHION DIRECTION:
BY Diana Chan
KEY HAIR STYLIST:
Tony Jones
KEY MAKEUP ARTIST:
Gaby Ramos using MAC Cosmetics
BOOKING INFO:
palmtreebooking@gmail.com
PRODUCTION FACILITIES PROVIDED BY:
Slickforce Studio


5
Total Galleries with
126
total photos of
Cali
from
BLACK LINGERIE #7
and other Issues