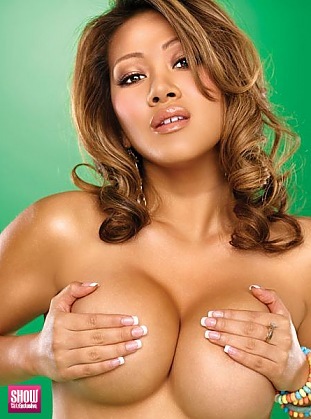 SGE Content for
My in
ISSUE #13
Photos:
1
Galleries and growing
Photos:
17
Photos and growing
Photos:
11.9
MB of Photos
Videos:
0
Videos
Videos:
0
mins of footage
Videos:
0
MB of video
View
ISSUE #13
issue information and galleries >>
AGE:
N/A |
FROM:
Vancouver Canada |
FEATURED IN:
ISSUE #13
"I service people before I service myself"
I grew up in Vancouver Canada. I have one sister and two brothers that are older than me. At a young age, I knew that nobody is gonna do me, better than me. So whatever I wanted I had to work hard to get it. Growing up in a big family we were all disciplined, independence was a major factor in my life. My dream and goal in life is to conquer my clothing line called "My Couture" and become more than a model/actress. I love going to events, comedy shows, sports games, concerts, and fights. On my fitness side I love the gym, out doors environment, like canyons, boardwalks, jet skiing, yachting, etc.
I may be a dork sometimes cause I love to crack jokes Im never dull, Im a social person, and comfortable with any settings!!
My hobbies are writing to R&B, Hip Hop, and House Music and designing my clothing line. I was influenced by intelligent underground hip hop writers/artists while growing up, which I followed behind. I knew I had passion for music ever since my first live show when I was 13, to see the response was the greatest feeling ever. Just like when I wear my designs or have my friends wear my designs and to hear positive feedback from other people, just motivated me more. So being in this industry was always comfortable for me, its like home. At the age of 21 my sister and I opened up our clothing boutique called "Mysi Majority," which carries Mens & Womens apparel, it currently is going strong. I service people before I service myself. Im generous and thoughtful when it comes to work and friends. My mind works like clockwork. I usually invent or create new ideas that havent been produced yet. I would say I am entrepreneur dominant, creative, artistic, outgoing, loyal, humorous, sincere, passionate, and self motivated. Thats me in a bundle.
PHOTOS BY:
Nick Saglimbeni, www.slickforce.com
STYLING BY:
Megan Halpin, www.meganhalpin.com
KEY HAIR STYLIST:
Tony Jones
KEY MAKEUP ARTIST:
Gaby Ramos using MAC Cosmetics
MAKE UP ARTIST:
David Rodriguez using MAC Cosmetics
BOOKING INFO:
SHOW Model Management, www.showgirlzexclusive.com
PRODUCTION FACILITIES PROVIDED BY:
Slickforce Studio


1
Total Galleries with
17
total photos of
My
from
ISSUE #13
and other Issues