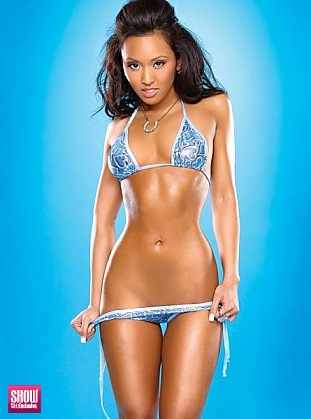 SGE Content for
Kristina in
ISSUE #13
Photos:
7
Galleries and growing
Photos:
253
Photos and growing
Photos:
177.1
MB of Photos
Videos:
1
Videos
Videos:
4
mins of footage
Videos:
42
MB of video
View
ISSUE #13
issue information and galleries >>
AGE:
34 |
FROM:
Tustin, CA |
FEATURED IN:
ISSUE #13
"I do what I want and I live my life laughing and loving"

My name is Kristina Mendoza, I am full Filipina and I grew up in Tustin, CA. Im a 21 year old Virgo; I love life and what the world has to offer.
First off Id like to thank Sean Cummings for the opportunity to be featured in Show Magazine. I would also like to thank Nick Saglimbeni, the photographer, and camera crew for taking such awesome pictures, the outcome is truly art. This is the first magazine Ive gotten to be featured in and I love how it shows beautiful women in a very classy but sexy way.
So, I wouldnt exactly consider myself a "model" but Ive done a couple of photo shoots and modeling jobs. One of the most fun photo shoots Ive done was when I was 18 years old. I was chosen, along with 13 other Asian girls from all over North America, to partake in a photo shoot project called "Tilas Play Girls in Las Vegas". It was my first professional shoot with hair and makeup artists. Getting flown to Vegas, looking beautiful, taking pictures, meeting hot girls including Tila Tequila was such an exciting first time experience.
Ive worked a couple of car shows like HIN (Hot import Nights) and Auto Crave for Nos Energy Drink and Chynna Dolls. When I was 19 I worked at L.A. Erotica for Chynna Dolls, Heather the owner of [C.D.] and my good friend, makes all my bikinis to fit my body and curves perfect, Chynna Dolls is the best! I enjoy doing photo shoots and modeling gigs but its more of a "for fun" side thing for me.


7
Total Galleries with
253
total photos of
Kristina
from
ISSUE #13
and other Issues