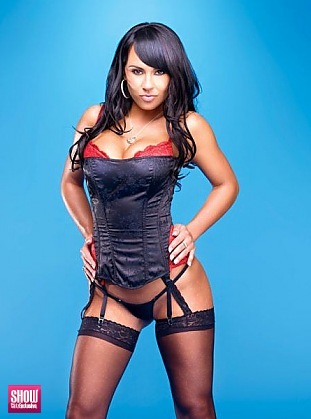 SGE Content for
Mariah in
BLACK LINGERIE #6
Photos:
4
Galleries and growing
Photos:
195
Photos and growing
Photos:
136.5
MB of Photos
Videos:
0
Videos
Videos:
0
mins of footage
Videos:
0
MB of video
View
BLACK LINGERIE #6
issue information and galleries >>
"The thought of people watching me turned me on like I had never known!"
"Mariah probably likes women as much as she likes men"
I got started in the Adult Film Business 9 days after my 18th birthday! I ran into a girl from grade school at a nail salon and she told me she was doing movies and showed me a magazine she had just shot for. I was scared and excited at the same time. I had only been with one guy ever and was so shy, but the thought of people watching turned me on like I had never known! So she took me that day to a shoot and I met the people and they all told me how much money I could make and I agreed, but they had to wait two weeks until after my 18th birthday! So I did it the first time and when I saw the camera and everyone watching I was turned on more than ever in my life! I went on to do 240 movies and 30 magazines from 1998 to 2000 and then took a break simply because I was sick of it.
I returned to Adult Cinema in 2007 as my own boss deciding which projects I would do and this time with complete control over my career and the direction it took. Since March of 2007 I have done over 70 movies for the biggest web sites and production companies in the world. Ive shot for everyone from Playboy and Penthouse to Wicked, Vivid, Hustler, Jules Jordan and too many more to name. Game on baby!
PHOTOS BY:
Nick Saglimbeni, www.slickforce.com
STYLING BY:
Tiffany Dean
KEY HAIR STYLIST:
Tony Jones
KEY MAKEUP ARTIST:
Gaby Ramos using MAC Cosmetics
MAKE UP ARTIST:
David Rodriguez using MAC Cosmetics
BOOKING INFO:
booking@mariahxxx.net
PRODUCTION FACILITIES PROVIDED BY:
Slickforce Studio


5
Total Galleries with
195
total photos of
Mariah
from
BLACK LINGERIE #6
and other Issues