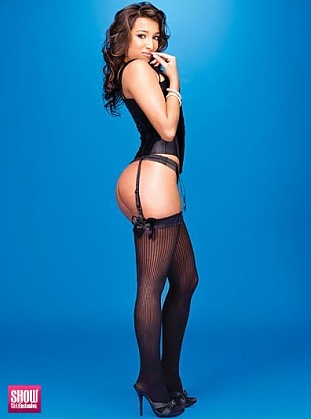 SGE Content for
Adriana in
BLACK LINGERIE #6
Photos:
0
Galleries and growing
Photos:
8
Photos and growing
Photos:
5.6
MB of Photos
Videos:
0
Videos
Videos:
0
mins of footage
Videos:
0
MB of video
View
BLACK LINGERIE #6
issue information and galleries >>
"You can say Im a good girl gone bad."
"Adrianna really knows how to move her ass"
My name is Adriana Fasano I am 21 and have been modeling for 3 years now. My first music video was Lil Wayne "Fireman". I have been featured in a few others such as 50 Cent and Ciera "Gucci Man Freaky Girl", "So Hood" remix, MySpace freak Issued in Source and Smooth magazine. I am also a celebrity personality host interviewing celebs such as T-Pain, Trina, Rick Ross, Trey Songz, Pretty Ricky, Shawty Lo, Ray-J, Bow Wow, and others. I was also featured on the cover of Young Dros album for 2007.
Currently I am a sales executive for an advertising and marketing company. I plan to continue modeling for a few more years. In five years I see myself owning my own company and being married with children. Life is too short and I want to make sure I get everything I dream of before its too late.
I lived in Miami for a year and then moved to Atlanta for two. I got into some trouble; you can say Im a good girl gone bad. I had to move back to Florida by court order. To make a long story short I have a federal charge of being guilty of association. Now I have a felon on my record and lost my privileges to vote for the rest of my life. Thanks to God he has blessed me with a sentence in which I still have my freedom. I could have been sitting in jail for the next few years of my life. I am truly blessed. I would have never made this possible if I did not help of the lord, putting him 1st made ANYTHING possible!
God bless
PHOTOS BY:
Nick Saglimbeni, www.slickforce.com
STYLING BY:
Tiffany Dean
KEY HAIR STYLIST:
Tony Jones
KEY MAKEUP ARTIST:
Gaby Ramos using MAC Cosmetics
MAKE UP ARTIST:
David Rodriguez using MAC Cosmetics
BOOKING INFO:
SHOW Model Management, www.showgirlzexclusive.com
PRODUCTION FACILITIES PROVIDED BY:
Slickforce Studio


1
Total Galleries with
8
total photos of
Adriana
from
BLACK LINGERIE #6
and other Issues